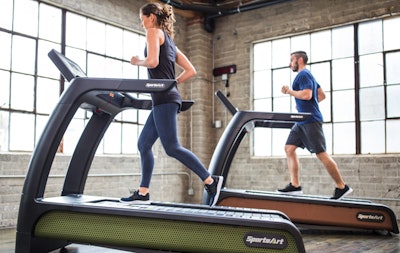 This sponsored content was provided by SportsArt. What is sponsored content?
University campuses have long been a house for amplifying and normalizing societal changes. As we move deeper into the era of climate change and identifying our environmental impact, universities are leading the charge. With goals like reducing campus energy consumption by 2025 or reaching full carbon neutrality by 2050, campuses are implementing innovative solutions that continue to evolve with changes in technology.
Student recreation centers often struggle with these goals due to the amount of lights, electronics and fitness machinery that run for 18 hours a day. Making changes to energy-efficient lighting and low-flow bathroom fixtures is a great start in reducing energy consumption, but it is only a small part in the overall sustainable ecosystem of rec center facilities. Looking at a cardio area, which receive some of the highest traffic per day, a single treadmill workout uses an estimated .5 KW.
Universities across the country are looking for ways to reduce the massive energy consumption of workouts and have found an innovative solution in energy-producing fitness equipment. Rather than drawing power to increase your heart rate, machines like the new SportsArt ECO-POWR line converts the human energy generated during a workout and turns calories burned into usable electricity for the facility. That electricity can then be used to power televisions and other devices rather than having to draw it from the utilities.
Recently the Ohio State student body decided to implement the new ECO-POWR Technology in two of their fitness facilities as a small step toward a larger sustainability goal. The real impact they are seeing is the change in the way students are approaching their fitness goals. Now students can not only see their mileage and their calories, but they can also see the amount of watts that they are generating.
"I think the problem with sustainability is it's tough to feel the tangibility and the difference you make," "With this equipment, you see how many watts you've generated and get to say 'I'm helping out the university, helping out the environment, and helping out my body.' "

— Zayn Dweik, Student Body President
Visualizing the energy impact of a single workout is now providing students the ability to connect to the campus sustainability goals on an individual basis. Making that one to one connection adds a layer of meaning to workouts at rec centers.
To learn more about SportsArt, visit their website.