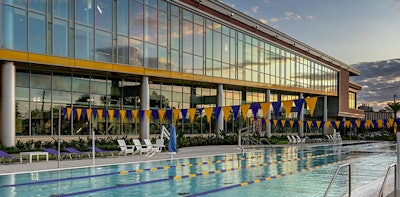 The north elevation of Louisiana State University's UREC is almost entirely glass, affording the type of transparency and visual communication of activity often desired in recreation center design.
But architects at HOK took the concept a step further. UREC's massive curtainwall is bisected by a bold band of LSU gold that not only suggests the second-to-third-level ascension of the interior running/walking track — the band is the track in cross section. Stretching some 225 feet of straightaway at an ADA-accommodating 1:20 grade, the track's profile punches through the glazing that overlooks an exterior pool deck. It extends outward by nearly its entire width over windows surrounding the ground-floor fitness spaces, exposing the base of structural support columns in a contemporary nod to the Northern Italian Renaissance style seen elsewhere on the LSU campus. The track, inspired by LSU mascot Mike the Tiger's tail, became a unifying program element — indoors and out. "That helped us as designers to have a target to react back to: 'If we make a move, is it still representing this idea of a tiger tail?' " says HOK project architect Gene Lund. "This all culminated in the idea that the track would cantilever out over the lower level, and then it just kind of resonated that this yellow object — this tiger tail track — would be represented honestly on the facade."
---
This article originally appeared in the January | February 2019 issue of Athletic Business with the title "Indoor track makes bold expression on exterior." Athletic Business is a free magazine for professionals in the athletic, fitness and recreation industry. Click here to subscribe.