Initial impressions of Shane Homes YMCA invariably focus on its signature undulating roof.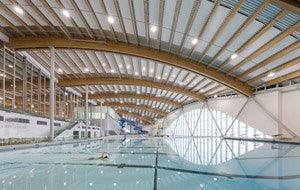 Less obvious upon first glance is that the roof responds as much to what's inside the building as to its Alberta foothills surroundings.
By designing roof heights over individual interior program spaces to better match each activity's volume requirements, Calgary's GEC Architecture avoided the aesthetic monotony of a segregated big-box recreation facility, while enhancing air-handling efficiencies and reducing the overall area of expensive, heavily insulated exterior walls clad in brass. Designers accomplished this by arraying glulam beams within a radial grid and lifting or lowering their ends where necessary to shape the roof. The beams themselves are identical save for custom-milled tops to accommodate changes to the roof's pitch. "You could just put a flat roof over the entire massive volume, but economically you wind up overbuilding spaces," says Adrian Benoit, one of two design architects on a project that houses everything from a suspended running track to leisure ice to a 200-seat theater. "The undulation naturally came out of a reduction process. What's the minimum volume required for the specific activities? In the natatorium, we had a slide that had a higher volume requirement than the lap pool, and the roof shape results from that. There is also a metaphoric connection to the location. Having a hill-inspired type of project was a driver, so the parallel of function and landscape inspiration really jibed in this case."
---
This article originally appeared in the April 2019 issue of Athletic Business with the title "Undulating roof responds to interior, exterior landscapes." Athletic Business is a free magazine for professionals in the athletic, fitness and recreation industry. Click here to subscribe.