It is well known that healthy competition breeds hard work and excellence. And, as North American colleges and universities compete to attract the best and brightest students, faculty, athletes and coaches, several are advancing inspiring facility solutions that reshape collegiate athletics, recreation and wellness.
Amidst this highly competitive landscape, these institutions are also responding to new technologies, shifting generational preferences and expectations, and new cultural norms. Today's students seek entirely different experiences than preceding generations, and this inherently breeds change across the entire higher education ecosystem.
While it's easy to view this competition as an arms race, there's actually much more in play than simply building more space and adding amenities. Colleges and universities are creating entirely new typologies of buildings, blending programs previously disparate on campus and competing on new scales and in new markets. Here's a look at three key trends reshaping collegiate facilities today:

The rise of wellness
The definition of wellness has evolved over the past decade from simply the absence of disease to a much more holistic view of mental, emotional and physical wellbeing. Today's students are more empowered than ever to track their activity levels, heart rates and stress indicators. They can download fitness plans and apps in a moment's notice from anywhere, and yet, today's students aren't necessarily well. Consider the statistics in the next column.
These measures don't paint an overly healthy picture of today's collegiate student body, but they are motivating institutions to rethink how they move beyond just recreation to create centers that help students deal with challenges and achieve more holistic wellness. Virginia Tech is one such institution setting a new standard for recreation and wellness integration with its War Memorial Hall project.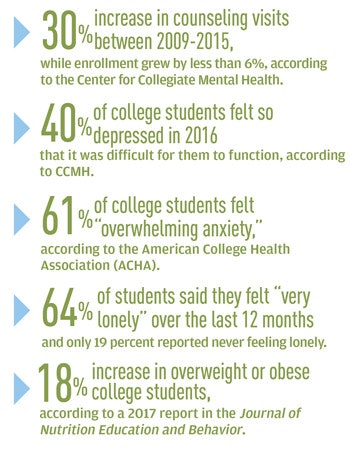 Set to open in 2021, the renovated and expanded War Memorial Hall will unite the university's School of Education; Department of Human Nutrition, Foods and Exercise; Hokie Wellness; and Recreational Sports under a single roof to best help students live healthy lives. Yes, the building will feature basketball courts and weights and cardio spaces, but it will also offer nutritional kitchens, relaxation spaces, touch-down counseling spaces and more for students.
"The rejuvenated War Memorial Hall will also amplify health and wellness in our academic units, like Public Health," says Ali Cross, Virginia Tech's recreational sports director. "As our academic teams learn more about what we can do and offer, the synergies and programs that develop will help students on new levels."
Chris Wise, vice president for student affairs at Virginia Tech, shares that the project looks beyond its own walls, too. "Once this building opens, we're also going to establish a new live-learn community focused on wellbeing in the residential hall next to War Memorial. The two buildings are literally footsteps from one another. I think it's going to be one of the most unique LLC environments in the country, and it demonstrates how partnerships with other departments can equate to better health outcomes for students."
The University of Colorado Denver is another institution leading by example with its Anschutz Health and Wellness Center, designed to foster a culture of sustainability, healthy lifestyles and disease prevention. The facility is unique in its combination of a fitness center, health clinic and research labs, a green roof with vegetable and herb gardens, a healthy bistro, a research and educational grocery lab, and meeting and classroom space.
This shift toward wellness is truly still in its infancy. Understanding this, Virginia Tech is even infusing an entrance link into its War Memorial building that Wise says can be used as a testing area for new student wellness ideas and offerings. "It's really unique to have a location where we can pilot leading-edge health and wellness trends and determine which make the most sense to integrate into the center of the future," he added.


Multidisciplinary focus
When thinking about how higher education competes for top-tier athletes, a great deal of focus is often given to scholarships and leading-edge, innovative training and competitive facilities that house jaw-dropping amenities. However, increased focus on human performance, academic success, and student-athlete health and safety is driving important shifts in facility development.
One prime example is the University of Maryland's Cole Field House. The university recently converted its historic basketball arena into a state-of-the-art football practice facility, but one equipped with much more than an indoor field and weight-training space. Instead, the building surrounds these more traditional practice facility elements with unique complementary spaces, including:
• A Center for Sports Medicine, Health and Human Performance, which brings together leading researchers from UM Baltimore and UM College Park to lead advanced studies focused on concussion and traumatic brain injury, genomics, brain imaging and other fields related to injury prevention and rehabilitation.
• The Academy for Innovation and Entrepreneurship, a dynamic space for connecting students and student-athletes with experiential learning opportunities to work across disciplines and launch innovative ideas, products and companies.
• An Orthopedic Clinical Treatment Center that will serve thousands of regional patients with more than 40,000 square feet of dedicated treatment space.
Its multidisciplinary focus makes Cole Field House much more than an athletic training facility. By blending academics, entrepreneurship, health sciences, care delivery and more, the dynamic building serves multiple purposes for athletes and coaches, as well as the campus and community. It is a leading model for how institutions can fully support top athletes with comprehensive spaces calibrated to their development needs.


Creative partnerships
Running concurrent to these other trends in collegiate recreation, athletics and wellness is the emergence of community colleges. While many of these institutions have traditionally struggled to advance student recreation and wellness centers on campus, new creative funding models and partnerships are now making this possible. These partnerships can take on a variety of personalities, but the majority focus on shared resources and funding. If successful, they can close a funding gap that will allow a project to move forward.
Harper College in Palatine, Ill., has succeeded in leading this evolution with its Foglia Foundation Health and Recreation Center. The building was conceived as a partnership between the college, Northwest Community Healthcare and the Palatine Park District. The result is a building that blends spaces and programs to meet the needs of students, athletes and community members. It features a natatorium, fitness spaces, a gymnasium, a full-service health clinic, classrooms and more that can all be used by the different populations. "With this one facility, we hit the trifecta," says Mike Clark, executive director of the Palatine Park District.
Similar success can be found at Wilfrid Laurier University in Brantford, Ontario, with the new Brantford YMCA and Recreation Center. This building serves both Brantford community residents and university students with an aquatics center, gymnasium space, health consultation rooms, multipurpose space, a student lounge and more. The $67 million (Canadian) project was collaboratively funded with $16.7 million from provincial and federal governments, $5.2 million from the City of Brantford, $5.7 million from a community capital campaign and the remainder from the YMCA and Laurier.
Facilities like those at Wilfrid Laurier and Harper College are inspiring examples for other community colleges seeking to create valuable wellness and recreation spaces for their students. They demonstrate how collaborative funding models can make a project previously deemed impossible become reality.

The blending of these new types of spaces and services across the continuum of athletics, recreation and wellness are examples of thoughtful responses to a shifting landscape. In order to recruit and retain the best students, institutions are searching for creative solutions that advance more holistic approaches to wellness and human performance. There is great hope and potential in these projects leading the charge. They offer a glimpse of how higher education can best contribute to healthier futures for students, staff and the communities they serve.
---
This article originally appeared in the June 2019 issue of Athletic Business with the title "A Bold New Future Emerges for campus facilities." Athletic Business is a free magazine for professionals in the athletic, fitness and recreation industry. Click here to subscribe.