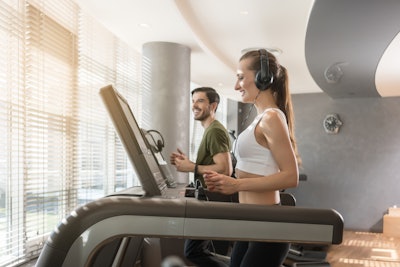 In a recent post, I wrote about challenges posed by the distribution of broadcast signals in recreation facilities equipped with myriad televisions and expansive AV options.
But when patrons aren't watching programming provided by the facility, they're often streaming content on their own personal devices. In fact, streaming devices eventually could replace the majority of embedded devices in recreation centers, according to Kevin Devore and Jeremy Cook, digital network design specialists at ME Engineers in Denver, Colo.
Indeed, the appetite for streaming has become insatiable and continues to grow, as more and more patrons prefer to stream video or music from their own devices. It's gotten to the point in which Wi-Fi demand alone can exceed the capacity of a facility's service provider. As a result, building owners are put in the prickly position of having to throttle bandwidth dedicated to public Wi-Fi service in order to maintain the viability of their own private networks.
I asked Devore and Cook what recreation facility operators need to know about the evolving world of wireless connectivity.
Stephen Springs: How do facility operators know what providers and bandwidth options are available for their facility?
Kevin Devore: Start with a web search. If you only find one provider, don't be afraid to ask that provider who the other service providers are in your area.
SS: Do you have tips for negotiating with bandwidth providers?
KD: Talk to more than one provider whenever possible. Discuss options for "burst" speeds during peak times, if they offer that commercially. That way, you can avoid overpaying during the majority of the facility's operating hours.
SS: Is limiting or denying video streaming (or monetizing higher bandwidth connectivity) applicable to rec centers and fitness facilities? If so, could you provide an example of how that might work?
Jeremy Cook: A successful IT manager will carefully evaluate the budget and available bandwidth and try to achieve a balance in relation to the facility's size and operational requirements. Without managing the bandwidth, basic facility operations such as telephone or internet access could fail to function. If a particular facility has the appropriate business model, it makes perfect sense to have patrons pay for higher connection speeds, but there are many liabilities and risks to consider that are beyond the scope of this conversation.
Here is an overly simple example: Say your facility can accommodate 100 patrons at peak times, and after your operational internet needs are met, you have 1,000mbps of available bandwidth that you provide to public patrons for internet access. Assume 10 percent of the patron video streaming demand is 4K video at 25mbps; that would mean only 40 patrons could successfully consume content. An IT manager may decide to limit bandwidth to 10mbps, and now that same facility could support all 100 patrons consuming HD video. Seems like a reasonable tradeoff, since it might not be economically feasible to pay for an internet service that allows all 100 patrons to simultaneously stream 4K content.
For that reason, I see nothing wrong with a facility limiting inbound/outbound user traffic on a network in order to save on operational costs. ISPs and cellular data providers have been doing it for years.
SS: How can you future-proof a facility's digital infrastructure?
JC: With technology systems, a key focus should always be designing for flexibility. For a rec center, that can be as simple as providing additional conduit pathways, even if there is no apparent need for it on Day One. In larger facilities, increasing the fiberoptic strand count on Day One usually costs less than having a contractor come back in later on.
It's always beneficial to evaluate and establish a proper technology operational budget that covers things like service contracts for maintenance, upgrades and replacements. Unfortunately, we've seen clients drain their entire budget on the front-end, and then maintenance and upkeep goes out the door — potentially forcing reactive behaviors such as equipment replacement before the refresh cycle has even elapsed.
SS: What's next in terms of wireless systems?
KD: The next generation of wireless will be Cellular 5G and Wi-Fi version 6. Both will have higher frequencies, meaning better bandwidth, but the signals will not reach as far. Essentially, it will require more wireless end points within the facility for Wi-Fi and around the facility perimeter for cellular, which may include 5G nodes mounted to facility light poles.
As with all aspects of technology, the wireless world is rapidly changing. And with 5G on the horizon in various regions of the United States, knowing and understanding your facility's bandwidth capabilities will be more important than ever.