When the brand-new Boston Sports Institute in Wellesley, Mass., opens its doors this month, one of the primary amenities — the pool — will have already been around for seven years.
That pool, the subject of a 2012 story in this magazine was purchased by Boston's Charles River Aquatics after being used in the 2012 U.S. Olympic Trials. But beyond providing a second life for one pool, the facility offers a business model that could lead communities to reconsider how they build and manage sports facilities.
"Outside in the public, you're hiring three different firms to collaborate on one project," says Leslie Bove, controller with Bedford, Mass.-based EDGE Sports Group (ESG). "We combine sports management, in addition to the financial world, in addition to the architectural world. It's definitely a model that you don't see in the nation."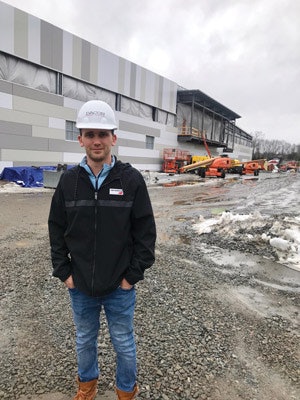 Public private partnerships
The Boston Sports Institute is one of several facilities planned, designed, built and managed by ESG. The company operates a number of facilities throughout New England and has several projects in development. The 130,000-square-foot Wellesley Sports Center represents a public-private partnership between the Town of Wellesley and ESG, which means the company had to negotiate not only between community entities, but also with private equity firms to secure facility funding.
"Before the shovel goes in the ground, you put a lot of time into these — building the financials for a program and asking not one section of people, but two sections of people to buy into it and fund it," Bove says.
In the case of the Sports Center, the shovel gave way to not only the pool, but two NHL-sized ice rinks and a synthetic turf field. "The Wellesley facility had to go through town procurement as far as the land goes," she says. "So, we got the land from them that we pay a land lease on, and we get a tax break for it, letting the town use it and have preferential treatment as far as scheduling."
In negotiations, community sports groups were able to secure the most in-demand times for their own programs. Says ESG operations director Chris Collins, "Part of the ground lease was that the Wellesley Swim Association, Wellesley High School Swimming, Wellesley Youth Hockey and Wellesley High School Hockey got preferred times on those surfaces."
From there, ESG simply sells the remaining time to private groups. Even before the facility opened its doors, Collins estimated that more than 80 percent of the time remaining open for private groups had already been sold for the year. "There's only a couple of hundred hours over the year that are unused right now, which is pretty amazing for a facility like this."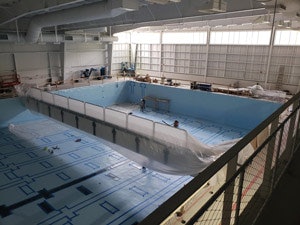 Additional revenue streams
In addition to selling surface and pool time to sports groups, the Boston Sports Institute generates revenue from third-party tenants that lease space within the building, which ESG owns and operates.
"What we've tried to do is to create a nice little ecosystem around these facilities," Collins says. "It's an ecosystem of core users on the surfaces, along with the tenants, that create a self-sustaining environment."
One such tenant is Steward Health Care, which will occupy 6,900 square feet of strength and conditioning and physical therapy space within the facility. The space will serve high-end fitness users and will also function as a training space for the teams that use the facilities.
Partnering with Steward Health Care provides an additional benefit: allowing athletes a one-stop shop for their sports performance and recovery needs. "The physical therapy is here, your team is playing here, your strength and conditioning is going to be here," Collins says, adding, "It just rolls the patient through and truly helps the athlete recover."
Inspirica Test Prep and Tutoring has signed on as another tenant and, according to Collins, will provide on-demand services to student-athletes already spending time at the facility. "What we've seen in our other facilities and in being around the sports world forever is that if you neglect the classroom, then you're not playing at the next level," he says.
Finally, the Boston Sports Institute is experimenting with a co-working space concept, an idea that came from being asked about office space at other projects. "One question we kept getting asked was, 'Can I set up shop here? Do you guys have any office space for me?' " says Collins. "The answer was always no."
With that in mind, the center was designed with a number of office spaces ranging in size from 100 to 250 square feet, wrapping around a central conference room which is available for rent. Mailboxes, copiers, printers — all the standard office equipment — will be made available in these spaces, but they aren't available to just anyone.
"We're not actively marketing it to Joe Schmo's accounting firm down the street," Collins says. "We're actively targeting people of like mind to truly make it a unique space in the sports world."
Bove adds that this concept will keep the facility active year-round. "There's dead time, and a lot of places will close down at certain times of year," she says. "Having a driving school here in the summertime when there's no hockey in play or when everyone wants to be outside will keep generating activity in the building."

By partnering with ESG, towns are able to leave the management of their sports facilities to the professionals while still getting an amazing facility for local groups.
"We come in and create the town's dream ecosystem and truly knock it out of the park by adding all of our years and years of expertise, and different components and know-how," Collins says. "These places need to be much more than a hockey rink, a pool, a turf field. It's an entire community center."
Informed programming
When programming of the Boston Sports Institute in Wellesley, Mass., EDGE Sports Group combines meeting the requirements set out by the RFP with studying the feasibility of potential programs.
"They gave us a list of things that they wanted and you get X-amount of points for a rink, X-amount of points for a turf field, X-amount of points for a track," says Boston Sports Institute's operations director Chris Collins. "That's sort of their process."
The result of that process is a facility with a wide array of sports options — including a competition pool, a smaller warm-up pool, an indoor synthetic turf field and two NHL-sized ice sheets — each made available at priority times to community sports organizations. Other groups are allowed to schedule use of the facilities at less premium times, a strategy that allows EDGE Sports Group to keep each program area busy.
"Learn-to-swim and swim lessons are very underserved. In most communities they're an afterthought, but in reality they're very important to keep pools alive and keep pools floating," says Collins of the programming strategy around the aquatics area. "We needed to make sure that that lesson pool was accounted for so you can run your lessons in it from 7 a.m. all the way up until 8 p.m., and that doesn't disrupt your regularly scheduled programming."
Having dual ice surfaces was particularly important to addressing the community's needs — as hockey-crazed Boston doesn't have enough available ice time to support interest in the sport, according to Collins.
NHL-sized rinks enable the facility to play host to teams and players training for any level of the sport — from youth hockey all the way up to the professional and Olympic levels. "You're more attractive to tournaments and college showcases, junior hockey teams — everything, if you have that NHL-sized sheet," says Collins.
One of the facility's ice sheets is ADA-compliant and sled-hockey compatible, a feature that Collins hopes will make the venue more visible to the U.S. Paralympic sled hockey team when it's time to begin training for the next Games.
Boston and beyond
In addition to the Boston Sports Institute, EDGE Sports Group manages a number of other facilities in the northeast operating under the same sports ecosystem strategy — and there are plans for more.
"We're approached once or twice a week with a new project in Massachusetts," says Collins. "It's all the time. It's a good spot to be in."
Collins notes that although the company is making inroads in Connecticut, Delaware, Maine and Rhode Island it hopes to extend beyond the northeast and traditional sports center constituencies. Collins describes his vision for the "next evolution of the ecosystem," encompassing child care and senior care, in addition to the more active and organized sports communities they currently serve.
What makes EDGE Sports Group an attractive partner, in Collins' view, is their expertise.
"When we go out and talk to a lot of these towns about building these sports centers, we kind of start going over the model and it honestly blows their mind what we're doing," he says.
---
This article originally appeared in the July | August 2019 issue of Athletic Business with the title "From the ground up: Sports group brings unique approach to facility development, management." Athletic Business is a free magazine for professionals in the athletic, fitness and recreation industry. Click here to subscribe.