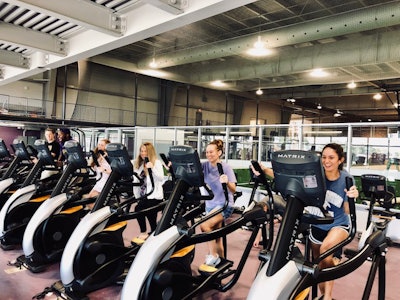 Dr. Edgar Reed wears many hats at Hardin-Simmons University in Abilene, Texas. In addition to overseeing the Dr. Jesse C. and Dorothy J. Fletcher Fitness Center as the director of campus recreation, Reed is also an assistant professor in the school's Department of Kinesiology, Health and Recreation and a licensed athletic trainer. That wealth of experience was valuable when he worked with a team of architects on designing the new Fletcher Fitness Center, which opened this past October. Athletic Business spoke with Reed about the new space and the equipment HSU chose to fill it.
What are some of your responsibilities at Hardin-Simmons?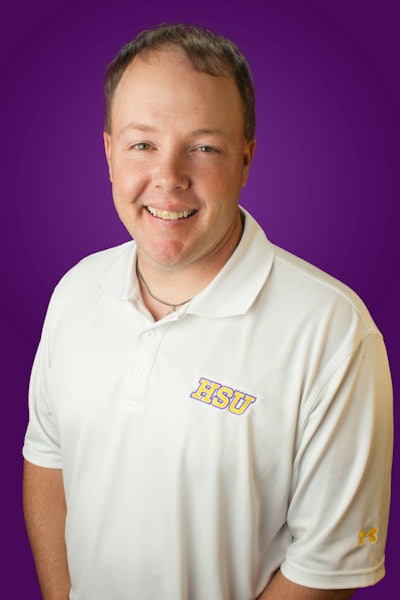 Well, I've been here for 13 years, and I teach in the Kinesiology, Health and Recreation Department. I take care of the fitness center, intramurals and club sports and aquatics facilities, and work in our student affairs division. I just help our campus community thrive for our students.
Can you tell me a bit about the new facility?
We have been starving for some sort of student hub for a while, and I have been fortunate enough to be a part of new facility projects at a couple of different places. Getting to take those experiences and bringing those ideas here I think helped me design and organize the equipment and help with the architects on laying out our floor plan.
The Fletcher itself, I'm probably the most proud of it out of all of the facilities I've ever worked at because there's no wasted space. Every square foot of space for this center is utilized. Some of the bigger places that I've helped at or been to — they've had to find things to do with the space. We had a budget and we had to stick to our budget, and so everything was planned around the equipment and the space that the equipment was going to be used for. We had our end-goal in mind as we started building the facility, and I think that really drove the process.
We had architects that listened to us and I think that really, really worked well for us.
What about the new equipment?
I'm pretty sure we've got 87 total different pieces of equipment, and that includes cardio and then the weight equipment. And for us, moving from our old fitness center, which had 21 pieces — we quadrupled the pieces of equipment for free weights and we more than tripled the pieces of cardio equipment.
How is the facility organized?
We really divided into three "zones." We have cardio, and then we have the free weight area, and then we have the selectorized area. I tried to categorically put everything in kind of a pattern to where it's logical and it moves and doesn't stress out novice users or people who are unfamiliar with the equipment.
I separated the selectorized equipment and the free weights because I wanted the novice area — or the selectorized, because that's where probably most of my beginners will be — I wanted them to have the most supervision that I could provide. I have the front desk and a weight supervisor that supervises the selectorized area. That way there's somebody there that can help. For my grad students that are a little bit higher level, because I do have students that are personal trainers, that are CSCS (Certified Strength and Conditioning Specialist), that are on staff that can help us with posture and correct form and all of those things that can actually give some technique guidelines as well.
How did you go about deciding which equipment to include in the space?
So, a couple of things really jumped out at us when we were looking at vendors for that. I was really wanting a unified vendor for everything because of service contracts and repair processes. And then Matrix also offers this piece called Asset Management. It's a web-based piece that you can report any sort of service issue, it takes care of all of your usage and tracking, and it sends me text messages and lets me know if we've had a power outage or a network disconnection or this particular piece didn't update.
If we have any trouble with a piece of equipment, the majority of the time I get text messages from the service guys before I've even realized that I've gotten an alert from Asset Management. 'Hey, we've already seen that error, we're gonna take a look at it and see if we can fix it on our end or we'll get a tech out there.' So I mean it's pretty dang nice that it's that intuitive and that efficient. And I'm hearing that from all of my buddies in the industry. They're saying that they're that prompt and that efficient. My friends out at UTEP and Texas Tech and Angelo, and the people in West Texas here that are dealing with Matrix — this isn't an isolated thing. Matrix is holding their own on how they're handling their service and their prompt response.
Something that also can't be understated is how accessible all the equipment is. Whether you're an older user or a younger user, it really doesn't matter. Whether you're 7-feet tall or 4-feet tall, it really doesn't matter. The equipment is going to fit you, and fit you well. Matrix has done a good job of finding that sweet spot on their equipment, and it fits the patrons.
What role did technology play in your decision to go with Matrix?
It certainly wasn't the sole factor, but it was a heavy factor. We made the decision that we weren't going to do AV in the facility. I wasn't going to put up 25 TVs. We were going to build in the TVs.
Our displays are very intuitive and everybody seems to be liking the accounts. They create an account for themselves and it keeps track of their dashboard. That's something that's pretty cool. If you go on and make your Matrix dashboard on an elliptical, but if you come in tomorrow and you want to use a recumbent bike, that dashboard will move with you if you login. So, Facebook or Netflix is all in the same place where ever you login, and you can have your favorite workouts wherever you go. It's very cool how user-friendly it is. Our students and even our older visitors are able to use it.
What's the response been like from the campus community?
They've responded very well to using the facility. Our group exercise classes have responded very well. Intramurals have gone over very well. Our alumni are coming in and using the facility more. Our faculty and staff are coming in and using it.
We are a campus of 2,200-ish people. And from late January to early April is when I ran the report, we had 43,000 swipes. That's a significant chunk of people.
This has been a fun process, getting to see this facility come to its completion. Getting everything in place for it to be open and getting to actually serve the people it's intended to serve. And so, we're very grateful for our partnership with Matrix. They have been wonderful to work with.
---
For more information on Matrix Fitness' equipment solutions, visit matrixfitness.com.