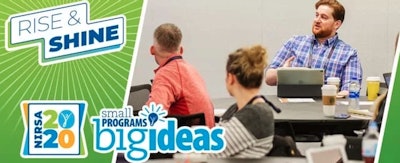 Two preconference sessions tailored to staff who work at small recreation programs will be held on Saturday, April 18 prior to the 2020 NIRSA Annual Conference & Campus Rec and Wellness Expo. The preconference events are born out of feedback NIRSA received from small school and community college staff regarding their need for focused training opportunities. The NIRSA Small Program Advisory Council is leading the workshop for the third year in a row.
The morning session "Small Programs Campus Rec: Where Do I Even Start?" is geared toward people who are new to campus rec. Experienced small rec program professionals from diverse campus structures will lead the workshop. They will provide training while sharing key learnings and tips & tricks for developing new aspects of a campus rec program. The goal is to have attendees leave with a wide variety of resources they can access anytime once back on campus.
The afternoon session "Small Programs Campus Rec: Using the Framework of Health and Wellbeing to Position Your Department on Campus" is designed for all levels of professionals, and will provide attendees with guidance on how to advance their campus recreation programs. The workshop will provide multiple learning formats. In addition to traditional presentations, there will be panel discussions and group problem solving to provide attendees with tools they can use back on campus.
During the workshop, attendees will learn:
Ways to strengthen their program by building partnerships
How to advocate for their program to upper-level administrators
What tools and resources are available to demonstrate the value of their program to their school
How to get the most out of their NIRSA conference
Need help getting approval to attend NIRSA 2020? Check out the Convince Your Boss Toolkit! And remember that space is limited for these preconference opportunities—sign up today for one or both of the small college and community college preconference sessions when you register for NIRSA 2020! This is not a conference you'll want to miss.
Learn about other NIRSA development opportunities for staff at small campus rec programs by following all of the NIRSA news about small programs. You can also connect directly with other members from small schools and community colleges by joining the Small Programs Connect Community.
---
This article was republished with permission from our partners at NIRSA — Leaders in Collegiate Recreation. Read the original here.