Presented with limited space, designers of the University of Houston's Clear Lake Recreation & Wellness Center nonetheless managed to preserve lofty ambitions.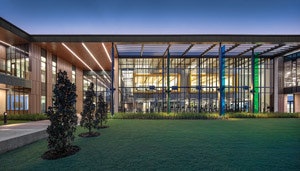 In order to create a voluminous fitness area without wasting excess vertical square footage, SmithGroup created upper-level group exercise rooms that cantilever over the fitness floor. Their prominently framed window boxes allow natural light in and views out — given that the fitness space below is walled floor to ceiling in exterior glass — while protecting the privacy of group exercisers. "You know those yellow boxes are up there, and you know what happens in there, but you can't actually see the activity that's going on from the fitness area," says SmithGroup's Clint Menefee, who served the project as principal in charge. "It's understanding what each space is trying to do and then seeing how they can work together to create a unique solution for those key visions of the project." The double-skin approach served multilayered aesthetic purposes, as well. "We get the best of both worlds," Menefee says. "Those yellow boxes really became a visually striking and organizing element of the interior and exterior architecture."
---
This article originally appeared in the May 2020 issue of Athletic Business with the title "Cantilevered exercise rooms help check several boxes." Athletic Business is a free magazine for professionals in the athletic, fitness and recreation industry. Click here to subscribe.