Through employment in campus recreation, I have made friendships I know will last a lifetime, gained confidence and skills I never knew I had, and thrived being surrounded by peers and mentors who want to better themselves and make a positive impact on others.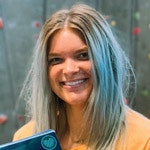 When given the opportunity to speak to students beginning their collegiate careers, I always recommend working in the recreation center, as it will personally and professionally develop you in more ways than you can imagine.
Since a young age, I have enjoyed participating in physical activities. Playing basketball, softball, working out and running have always been my favorite things to do.
During my first semester at the University of North Carolina at Greensboro, I stepped foot in the newly established Leonard J. Kaplan Center for Wellness and instantly was in awe. After spending the semester as a participant in programs, I decided to take a leap and apply to join the student staff.
Little did I know, this decision was going to define my entire future.
Although I am a fashion major, I was given the opportunity to work as a fitness assistant — monitoring the facility, encouraging patrons through their workout, and building relationships with students, faculty and staff. As I began connecting with the professional staff within the Department of Recreation and Wellness, I learned that I could work in campus recreation for the rest of my life.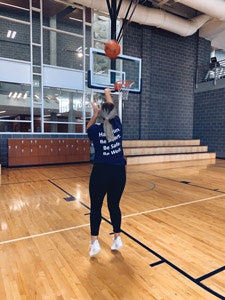 After a year of working at the Kaplan Center, I was awarded the fitness assistant Rookie of the Year Award. This was very unexpected, and it solidified my decision to change my career path from fashion to campus recreation. As I continued to expand my knowledge, I was hired as an intramural official and found my true passion within the Competitive Sports atmosphere.
I am currently employed in a variety of roles, including as fitness operations program assistant, facility supervisor, group exercise instructor and Competitive Sports supervisor. I am also the president of club softball, which allows me to experience both aspects of competitive sports — intramural and club sports.
Through all of these roles and experiences, I have decided to pursue a Graduate Assistantship in Competitive Sports, with the goal of becoming a Competitive Sports coordinator and eventually director of Campus Recreation.
The Department of Recreation and Wellness at UNC-Greensboro has five core values: collaboration, education, inclusion, sustainability and wellbeing. From the emphasis on career readiness for student employees to implementing adaptive recreation events on campus, our department not only states our values, but proves them in everything we do.
Looking to the future, campus recreation will need to continue innovative services to support students, emphasizing support for those who are nontraditional or online/distance learning students. The "must-haves" for the next generation of campus recreation centers include an emphasis on social wellbeing by providing programs to support education, building relationships with peers and providing space to study within the facility.
To any student considering working at their campus recreation center, I'd urge you to do it. You won't regret it.
Although the journey in finding my career was frightening at first, I know with complete confidence I will always have the guidance and support from the staff at UNCG Recreation and Wellness. My greatest hope for the future is to make a positive impact through recreation and encourage personal wellbeing for the next generation of students.
---
This article originally appeared in the May 2020 issue of Athletic Business with the title "Recreation work fuels passion, sparks new career." Athletic Business is a free magazine for professionals in the athletic, fitness and recreation industry. Click here to subscribe.