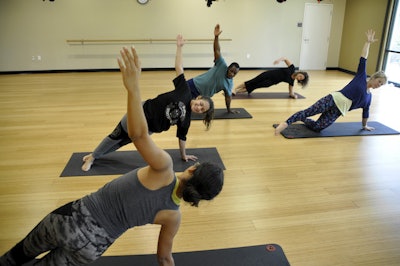 This content was supported by Matrix Fitness What is sponsored content?
The University of Central Florida is a current collegiate recreation partner of Matrix Fitness. As a partner in fitness, Matrix is dedicated to the well-being of campus recreation and their beloved communities. While physical rec space is inaccessible during this time, Matrix offers fitness resources to their partners and applauds collegiate rec as they find alternate ways to encourage activity for their diverse campus communities.
Kyra Dickie is the assistant director for fitness at the University of Central Florida's Recreation and Wellness Center. A former undergraduate student at UCF, Dickie worked at the rec center for three years during that time. Athletic Business caught up with Dickie to talk about how her job has changed along with the rest of college recreation during this challenging time.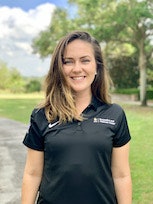 How would you describe the Recreation and Wellness department at UCF?
If I had to describe the Recreation and Wellness there, I would say it's a place of feeling included. Not only do we work to cultivate knowledge about college, but we also provide opportunities for everyone to partake in to stay active. No matter what your physical ability is, no matter what your background is or what you look like, there are different opportunities for you to get involved and create community.
What is the current COVID-19 situation in your area of work?
We were asked to work from home as staff members until further notice. We employ over 500 student staff members, and the student staff were originally out of work when the center closed. But our leadership team goes to bat for us time and time again, and we were able to bring remote students on. Now we have several students working from home, and we're providing training opportunities for them. Not only will they be able to brush up on their CPR, AED, first aid and get paid for it, but we also offer professional development opportunities like how to write a resume, how to create a strong cover letter or how to have a brilliant interview for future employers. In fitness specifically, we've been doing fitness-related training — how to talk to your personal training clients about nutrition, or how to manage teaching multiple group exercise class formats. We're really proud of the training we put together in a short amount of time, and all of our students really appreciate the opportunity to continue growing and developing at this time. We are unclear about summer at this time, but we are planning to keep students on over the summer until told otherwise.
Do you normally have remote training programs, and do you think you'll continue these when students return to campus?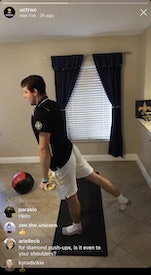 I would say that our online presence has grown exponentially because of COVID-19. It's interesting because I think the direction of fitness is starting to become a little bit more technological. I remember in my interview for the assistant director position, I spoke about what it would look like to have virtual personal training. I had no idea that that would happen so fast, but that's another program that we are launching, as well as 'Ask a Trainer,' which are 20-minute consultations where any UCF student, faculty or staff member can consult with a personal trainer about what a proper workout routine looks like for them right now at home. They can target specific muscle groups and learn more about motivating themselves during these uncertain times when maintaining a routine is really important.
Why is it important for students and everyone to keep staying active while they might be stuck at home?
I think fitness is always a component of wellness that reduces stress. It provides us with endorphins that make us happier people. Most importantly, I think that exercise and routine provide us with a sense of structure. Right now, with all the uncertainty that's happening, there's so many things out of our control. So to just provide a group exercise live schedule like we've done, it's something for students to look forward to and fill their calendars with that might make things feel a little more in their control — I think that's the biggest thing people are struggling with right now. Exercise is also important for students specifically because of memory retention. There are several studies that show that some maximum intensity exercise improves memory retention over and over again. So if you do a yoga class before a big exam, you're more likely to remember all of that information.
Any suggestions for schools that might be looking to start a program like this?
I think most universities are looking for opportunities they can provide to their communities right now. I've been on NIRSA calls where everyone is pitching their ideas, and it's a really great place to share what everyone's been doing. Something that I'd really recommend to campus rec professionals is to connect with their marketing and communications departments. The reason for that is, we just started a Workout Wednesday on the UCF.edu Instagram page. It's not our campus rec page, it's the page for the entire university. There are over 50,000 followers on that page, so it's really an opportunity for us to broadcast our services and reach a wider audience and get more people moving. So that would be my first recommendation — connect with your university marketing and communications and see if there's any type of remote offering you can collaborate with them on.
In terms of the student staff, I think my next point would be to continue to connect with them. They want to hear from you. So many seniors right now are not going to walk across the stage like they originally planned. So many of them are not ending the way that they intended to end, so it's really heartbreaking to talk to them. But I think feeling heard by their colleagues is a way they know that their employer cares. That's what we do in campus rec, we're called to create that sense of community and care.
There are so many external resources that we're providing. Intramural sports have different things that they're doing, outdoor adventure has recipes you can try out from home and different activities you can do like touring national parks online. We have mindfulness meditation through our wellness and health promotions area. Another big campus rec role is trying to keep the community mindful, and we are providing those external resources too. I think we're at a time when we need to lift each other up as campus rec professionals and bounce ideas off each other. And that's what we've been doing, with NIRSA being a helpful organization in that sense.