This content was supported by Matrix. What is sponsored content?
Scott Kazar took an atypical path into the campus recreation profession, earning a Master's of Science degree in counseling (with a specialization in higher education) from Central Connecticut State University, where he has served as a recreation specialist at RECentral since December 2015. In his first five years on the job, Kazar helped equip CCSU's $23 million C.J. Huang Recreation Center and then steered it through an atypical first year of existence — opening in January 2020 only to close two months later due to the coronavirus pandemic. Athletic Business asked Kazar, 31, to talk about his career choices and the challenges of opening a state-of-the-art, 70,000-square-foot facility, then reopening it this past August under vastly different circumstances.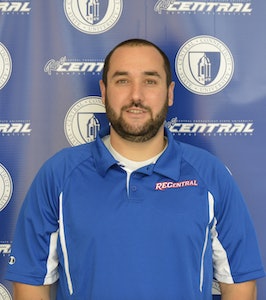 When you sought the counseling degree, was your goal always to wind up in campus recreation?
Oddly enough, yes. Not many rec professionals take the route I took. Usually, many rec professionals do sports management or recreation leisure studies. I went with the higher education degree, with which more people lean toward student center operations or student activities or student conduct. I took a little bit different route because I wanted to make myself a little more marketable and different. Even though I wanted to get the degree in higher ed and see what else is out there, I always had a passion and wanted to be in campus recreation.
Were you an active campus rec consumer as an undergrad at the University of New Haven?
I was, actually. Since my freshman year, I worked in rec. I played intramurals, I was a referee, I was a building supervisor. Very active in campus recreation.
It's become a trend on college campuses to offer a fitness component right where kids live. Is there a fitness component to residence halls on CCSU's campus?
We used to have fitness centers in several of the residence halls until we built this brand new rec center, so the Dept. of Residence Life repurposed those rooms for additional programming and activities. But in residential life's activity programming, specific funds exist for fitness programming — usually some partnership with us to get them over to the rec.
Can you provide an example of what form such a partnership might take?
A lot of the resident assistants will reach out and ask us to either do a presentation on different workouts they can do in the residence hall, workouts they can do in the building, or other classes or fitness opportunities that we offer. Many times we'll come in and do a yoga class for them. We will theme different classes. Sometimes we'll do a HIIT workout, or Zumba with an '80s theme.
Did you have any influence over how the rec center was designed or would be equipped?
The planning started before I was here, but it was still in the earlier stages. It took a while to get to the table, but I did. So, I had a very big influence on the equipment — it was basically myself, along with my colleagues Cassie Bishop, Scott Hazan and Matrix deciding what would be in the building. Special thanks to Matt Kehoe, our rep from Matrix. He was critical to the success of our building.
Why Matrix?
We got bids from multiple companies and thought out what they were giving us. We evaluated the bids and representation, and Matrix stuck out because they were just willing to work with us. They kept saying, "We want to make sure the students are happy," and we didn't hear that very often from other vendors. That was really the selling point. Besides them giving a great offer and being willing to work with us, they kept reminding us they're here for the students, and that's what we wanted.
What are the equipment offerings within the new facility?
We have 15 brand new, state-of-the-art spin bikes for our fitness classes. We have all the selectorized equipment you could imagine. We have an eight-station cable machine in our selectorized area. We have a beautiful functional fitness area that's turfed. In our free weights area, we have two sets of dumbbells from 5 pounds all the way up to 100 pounds. We have eight different squat rack stations where users can squat and bench, incline or decline. In our cardio area, we have treadmills, ellipticals, stair climbers, stationary bikes. We pretty much have anything and everything in this building as far as what you would see in any other fitness area. Matrix assisted us in designing it all.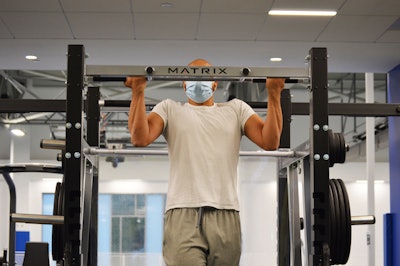 What was the reaction among students to the facility opening?
The big reaction was, "Finally, we have a rec center" — an open space that has light. A lot of our spaces were in the basements of residence halls, so smaller with dim lighting. Students were just excited to have a space that has brand new, state-of-the-art equipment — a space they can come and work out and have a healthier lifestyle. Our club sports actually have team practices here. It just opened a whole door of opportunity for our students.
How different does the center look now compared to January in terms of pandemic-mitigation measures?
When we first opened, we had to take all of our policies and procedures and adapt them to the new building. We redeveloped everything for our grand opening. Then we shut down, and then this summer, we had to redo everything again, and basically redesign our entire building — spread out equipment, get everything at least 6 feet apart, put dividers between our squat racks, brand new cleaning procedures, brand new entrance procedures, touchless readers. We had to redo literally everything to make sure the building was as safe as possible. It was a lot of undertaking. We basically reopened the building twice within a year, believe it or not.
You didn't sign up for that when you went into campus recreation.
I did not. No. It's a great learning experience. I will say that.
Were you able to space and maintain all of your equipment offerings?
Almost. There were about eight pieces of equipment that we had to take offline. We evaluated. With Matrix, we can log in and see which equipment gets the most use and the least amount of use, and from surveying our students, we had to select the eight things that most students didn't use as much. But, also, two of them were an incline and decline bench. We took those away, but you can still do those within the squat rack. So, there was always some way to still do the workout that we were taking away.
Matrix also offers customizable welcome screens on cardio consoles as a feature of their Connected Solutions portfolio. Do you use that capability to communicate to rec center users?
We do. We uploaded all new fliers and graphics to our cardio machines that have the screens, and we just say, "Keep safe. Keep your mask on. RECentral is with you." We were able to promote different things. We usually try to throw different events up there and try to promote the university, but now more of our signs are about keeping safe and keeping your mask on.
Is it true the rec center served as a temporary hospital?
We are a state institution, so when the pandemic hit, the state came and took over the rec center and gymnasium and prepared them to become emergency field hospitals if needed. Luckily, the state never reached the point of needing to use the spaces.
When the rec center shut down, what occupied your time?
Connecting with students. Making sure their mental health was okay. Providing them workouts they could do at home. Virtual programming. Connecting with them at night. Webinars, conversations, anything we could do virtually to get our students connected and staying healthy was our priority. Besides that, we were planning for the fall, and every week it changed because new information came out. Every week we were doing virtual Fitness Fridays, and our student instructors would do live classes on Instagram. Anything we could do to virtually connect was really our priority at that point.
How successful were you?
I would like to say we were very successful. Through all that, we now have on our website a virtual section on virtual workouts, virtual outdoors — how you can go by yourself and walk in the park near us and go canoeing and different things — so it opens up a whole new door. And we even started our own book club at campus recreation, which has 20 students participating. It's a great thing, because the biggest thing about campus recreation is it's not just physical. It's mental, as well. It's not just working out. It's being able to be healthy, physically and mentally at the same time.
I noticed a "virtual" tile prominently displayed among many tiles on your home page.
That's new and a result of the pandemic. The biggest thing I kept trying to tell our staff was, "Alright, how can we make this positive and keep some of this moving forward?" Besides that, now we do a lot of meeting virtually, so our commuters who are managers don't have to drive to campus for a meeting. We can do it on Microsoft Teams and do it virtually, which helps.
Is there a silver lining in the pandemic, in that the contacts you engaged virtually have translated or could still translate into face-to-face usage of the rec center moving forward?
I think so. I think we've had a lot of positive feedback from students when they've seen a workout and said, "I can't wait to get back in the rec center," or, "We miss it." Just reminding them of the community that we built there and how beautiful the building is. And those who see the videos want to come. They are getting connected in different ways that they never thought they could. I think there's a huge silver lining for us, and we're just going to keep trying to capitalize on it.