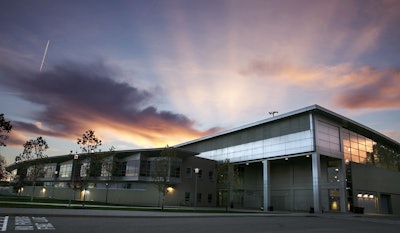 The following content is supported by one of our advertising partners. To learn more about sponsored content, click here.
York College of Pennsylvania has faced two distinct but related challenges in recent years — steadily decreasing student enrollment and a global pandemic. Keeping students who remained on campus engaged in their own long-term health and wellbeing, while maintaining their immediate safety, fell upon Rachael Finley, director of campus recreation and York's Grumbacher Sport and Fitness Center. The 7,600-square-foot fitness center serves as a hub of recreational life, athletics events and physical education classes. And with more than 100 pieces of equipment, including all Matrix cardio equipment, it serves as the primary strength and conditioning facility on campus. Athletic Business asked Finley to describe how her job has evolved as she continually tries to expand her department's reach.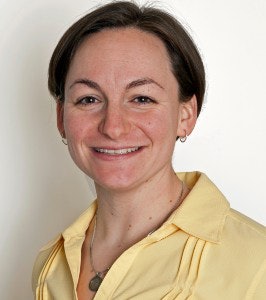 Can you provide a brief description of your program and your personal role within it?
We are a small program — a small private school with around 3,500 to 3,700 students on campus — but we actually have a pretty incredible facility. We have a 170,000-square-foot athletic and recreation center, and our fitness center is about 7,600 square feet.
My role as director of recreation is to oversee all of our programming and programming areas. That includes the fitness center, which has all of our cardio and strength equipment, our climbing wall and our group exercise classes. I'm the chair of our Student Wellness Committee, the chair of our Employee Wellness Committee, and intramurals and club sports falls under me, as well. Because I'm in charge of the fitness center, I'm in charge of all our equipment purchasing.
I've been in this role going on five years. I was part time, and part of making me full time was to push the campus rec agenda. We have expanded the intramurals and clubs we're offering. That was a big thing for us. We've expanded some programs, and we've increased or held our participation in programs and in our facilities even while our enrollment has dropped. In the eight years I've been here, our enrollment has dropped by more than 1,000 students, which is huge, but participation numbers have been about the same or in some areas rising. We've done a really good job of maintaining or increasing engagement.
What goes into making sure your facility offers something for everyone?
One of the things we did that made a big difference is that our first focus was on the student staff. We completely changed the culture of employment here. It went from being very militant, three strikes and you're out. You forget your nametag twice and you show up a minute late the third time, you're fired — no questions asked. We changed the training, completely flipped the culture and went from barely getting enough applicants to having so many applicants that we needed a weeding-out process.
Basically, we focused on student employees, and that created a culture of people really wanting to be here. It made it feel like a family and it became students' social group. We were their sorority or fraternity, we were their team, we were where they wanted to be. That flipped the culture of the building, so now more people wanted to just be here to hang out.
We started having faculty hold office hours in our building, because they knew they'd see more students. We'd have faculty have office hours at the climbing wall, and students would come climb with them while they talked about class. That all started shifting five or six years ago. Now we had more students who just wanted to come here, and then they heard more about our programs, they saw things they wanted to get involved with and they saw some of the opportunities. Unfortunately, we lost a lot of that momentum with COVID, but we're developing a plan for this fall to really get back to where we were going.
How did the COVID-19 pandemic specifically impact campus rec at York College?
Our administration made the decision to bring everybody back full time with 6 feet of distance and masks at all times. If students wanted an exception to wearing a mask, then they were fully remote. That actually made our job very easy, because there was no gray area. It was black and white — 6 feet, masks all the time, no questions asked.
We were able to get pretty creative. Because we have such a large facility, we were able to spread our equipment out in our fitness center, which was awesome. We took up a quarter of our fieldhouse and made that the cardio area, so all 33 pieces of our cardio equipment were moved to a basketball court with 12 feet of spacing around each, and masks still required.
We limited our open rec options. You couldn't play pickup basketball because you'd get within 6 feet of each other. We altered our intramural sport offerings. One of the really cool things we did was purchase Knockerball. They're basically giant bubbles that students wear. Their legs are exposed so they can run with these giant bubbles that are almost 6 feet in diameter. We ran leagues with those, and they did not have to wear masks because the bubble served as a mask.
That was wildly successful for us. We had more participants in Knocker Soccer than we did in any other single league in the history of our intramural program. It was awesome. They got to knock each other around, and it didn't even matter how good or bad you were at soccer — it was just fun.
We felt really good about our safety protocols, and it was a blast. It was a huge success for us this year. That was a pivot we made that worked for the better, because we have a new sport that the students are jazzed about.
We didn't have the participation we typically do, but we had far more than we expected. So, it was a win.
What goes into developing a new program?
One of the benefits to changing the student-employee culture is there is a lot more buy-in. We go to our student employees and say, "What do you think about this idea? We think it's cool, but what do you think?" They had some other ideas that we were getting ready to launch, and then the campus went into a two-week break because our COVID numbers had risen. We ended up hitting pause on those programs, but the students were pumped. The students were the ones who actually developed the rules and training programs for Knocker Soccer. The students just owned it.
We rely heavily on our student employees, so that's where we get some of our ideas and flesh out what's going to work and what's not going to work. We've found that if the students are jazzed about something, it doesn't matter how ridiculous we think it is. If it's safe and the students are invested, it's going to work.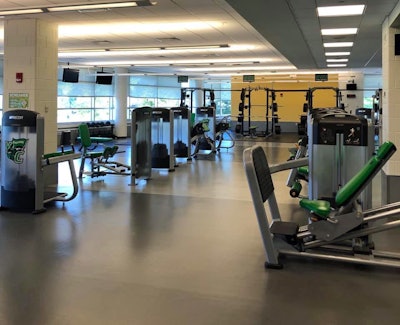 What do you offer in the fitness center?
We have 33 cardio pieces — 10 treadmills, 11 ellipticals, three ClimbMills, two rowers, three upright bikes and three recumbent bikes. All of our cardio equipment is Matrix.
Then we have six double-sided racks set up for bench press, deadlifts and squats, with different attachments and those types of things. We have 14 pieces in our circuit, and then we have a bunch of plate-loaded machines: Smith machine, squat machine, calf press, leg press.
And then we have a big jungle gym. It's like an eight-station piece, a cable crossover. We also have a free weight area. We have six benches in there with two full sets of free weights going up to 110 pounds. And we have a Matrix functional trainer that has another cable cross and 300-pound stacks.
We offer a lot of diversity in a small space, and we've been very spoiled this year. The students love the new layout this year because everything's spaced out.
How do the athletic programs interact with the general student body?
We have a phenomenal relationship.
In a departmental meeting two years ago, athletic director Paul Saikia told the coaches that if they want to keep the campus healthy, they need to value campus rec as much as their team. We're very protective of recreation time and space.
This was the first year, and probably only year, that we had athletic-only strength and conditioning time in the fitness center. We only did that this year because of COVID. If a team is going to go in there for a team workout, they're supposed to go during our non-peak hours, early in the morning, or they can come in when we're closed on the weekends.
We meet with the coaches and say, "When are your games? When are your practices?" Because we're going to plan around those things. We have an amazing relationship. The coaches are involved when we look at approving new club sports. We just approved club soccer and we met with both soccer coaches to ask if they were supportive and how they would make it work. I feel very lucky.
Is all the equipment a similar age or has it been added over time?
We've always had these types of equipment, but we try to replace equipment every five years. Some things have long-term durability. For example, the circuit machines have a 10-year shelf life, and we've done a good job with our maintenance. Same thing with the racks. We don't need to replace racks every five years. But all the cardio equipment is on a five-year replacement plan, and the dumbbells are six.
We used to have 14 ellipticals and ascent trainers total, and what we found surveying our students is that the students didn't realize that ascent trainers have additional features to adjust the incline and resistance, providing a different experience than on a traditional elliptical. They just got on and hit "Go." So, we decided to try another machine in Matrix's cardio line and got the ClimbMills. And students love the ClimbMills. They have been a huge hit for us, and as we come up to the next cycle in a couple of years, I'm wondering if we should invest in more ClimbMills.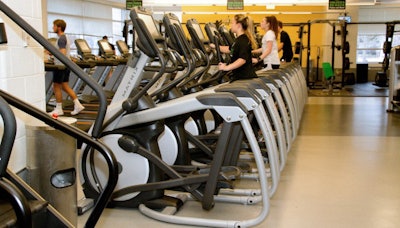 How do you decide what specific pieces of equipment to purchase?
Price plays a big role. We have a very specific budget. Prior to me being in charge, we've always worked with a supplier. At one point, they were selling Matrix equipment, then they moved to Precor. We had Matrix equipment for cardio, and they were tanks. We had almost no issues with any of them.
When we were looking to replace them, even though the supplier that we normally go with no longer has Matrix, we decided to go directly to Matrix because we just loved the product. We wanted to get a quote from them to see what it would look like, and they came in at the best price. That was for treadmills.
The other selling point for us is they have built-in programming. That ended up being a huge success for us, and we were able to work fitness programming through programs that were already on the machines. Having easy programming options with the machines was important to us.
Affordability and the maintenance aspect of them is super important. That's why we ended up continuing with Matrix when that wasn't the original plan. We have a great relationship.