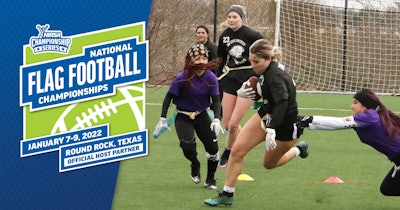 By Mario Rios, NIRSA
After a long 734 days, the NIRSA National Flag Football Championships returned to action in Round Rock, Texas, from Jan. 7-9 to crown champions in four divisions. Thirty teams from 21 schools competed in the windy chilly Texas air for national titles following the 2021 NIRSA Championship Series flag football season.
Division play
In the CoRec Division, UCF Get Co-Rekt played a controlled and dominating style to arrive at the championship game against Maryland CoRec. Central Florida did not allow a point in pool play and bracket play up to the championship game. Maryland struggled at the beginning of the tournament with two losses to open play. They turned up the defense and did not allow a point from that moment on until their championship matchup with UCF.
In the national championship game, it was Maryland who came out to a fast start going up 14-0 quickly over Central Florida. But UCF kept their poise and took over the scoring from that point on. Led by MVPs Caroline Coplinger and Jake Zimmerman, Central Florida came back and put the game away with a late touchdown in the fourth quarter to defeat Maryland 27-14.
In the Women's Division, the matchup between the UCF Lady Knights and the UF Orange seemed destined from the very beginning. Central Florida marched through to the national championship game outscoring opponents 140-6 along the way. Florida paved their way to the final by outscoring their opponents 148-6. While the final matchup wasn't heavy on scoring, it did have maximum drama and a little something extra.
The Women's national championship game was epic. Each time each team found ways to drive the field, the other would find ways to stop their advancement; it was 0-0 midway through the fourth quarter. UCF scored on an opportunistic pick after a Florida completion and backward pass attempt. It was a 45-yard return for a touchdown. Florida responded immediately with a 66-yard pass and lateral that tied the game, which then headed into overtime. Central Florida stopped Florida after four attempts to score. It was Central Florida's turn to score next. A six-yard fade pass on fourth down to MVP Jenna Springthorpe for a touchdown gave UCF a 13-7 overtime win and their second national title of the tournament. Springthorpe also led her team in touchdowns scored.
In the Unified Division, Nebraska took control of the division in pool play and had a bye through to the final. Colorado State earned their spot in the final after a 31-20 win over Utah. The Unified national championship game was a tremendous atmosphere of sporting behavior and great play. Nebraska won each of their games in the tournament comfortably and the final was no different. They sprinted out to a big lead in the final against Colorado State and held it as they won the Unified national title 29-13. Nebraska was led by tournament MVP Matt Hoffman who led the team in touchdowns and sacks.
The Men's Division also seemed to have a destined matchup. The Georgia College RNC outscored their opponents by 154 points on their way to final. The South Texas College King Fish held a 191-point advantage over their opponents on their path to the final. The national championship game was to be a battle between two dominating opponents. Instead, it became a showcase for one dominating player who decided who the national champions would be.
In the Men's national championship there was one player who made the difference: Robert Tovar. The tournament MVP led South Texas College in touchdowns throughout the tournament and in the final. South Texas College scored first on a Tovar TD reception over Georgia College. In the next series, Tovar ended up with the ball in his hands on defense and returned that for a TD. After a Georgia College safety cut the lead to 14-2, South Texas College took a late drive in the first half to score a 21-yard TD pass to Tovar. Georgia College cut the lead to 21-8 in the second half. Late in the fourth quarter, South Texas College put the game to bed on a 71-yard touchdown pass to Tovar. The final score was 28-8 with South Texas College claiming the national title.
Congratulations to the All-Tournament teams!
Co-Rec Division
MVP: Caroline Caplinger, University of Central Florida – Get Co-Rekt
MVP: Jake Zimmerman, University of Central Florida – Get Co-Rekt
Anna Seaton, Dixie State – Trailblazers
Augustus Dahl, University of Central Florida – Get Co-Rekt
Macey Hatton, University of Central Florida – Get Co-Rekt
Logan Masters, Maryland CoRec
Alyssa Drain, Maryland CoRec
Tyler Cariaga, Maryland CoRec
Women' s Division
MVP: Jenna Springthorpe, University of Central Florida – Lady Knights
Anna Margaret Jones, Georgia College – Beast
Lehiwa Benson, Dixie State Trailblazers
Sydney Stout, University of Florida – Orange
Kimberly Ryan Slinkowsky, University of Florida – Orange
Maggie Miller, University of Central Florida – Lady Knights
Brittney Jabot, University of Florida – Orange
Men's Division
MVP: Robert Tovar, South Texas College – Kingfish
Xavier Sanchez, Angelo State – Troll Tide
Miguel Gonzalez, UMD Club Flag Football
Joshua Garza, South Texas College – Kingfish
Guadalupe Perez, South Texas College – Kingfish
Joshua Hammond, Georgia College – RNC
Brice Davis, Georgia College – RNC
Unified Division
MVP: Matt Hoffman, University of Nebraska – Lincoln
Jacob Schriter, University of Utah
Davey Mathis, Colorado State
Tyler Anderson, Colorado State
Austin Hoffman, University of Nebraska – Lincoln
Positive Sporting Behavior Awards
Winning the positive sporting behavior awards were Texas A&M University in the CoRec Division, University of Texas San Antonio A in the Women's Division, and Georgia Southern University in the Men's Division. All schools should be commended for adhering to the integral component of intercollegiate competition: positive sporting behavior.
Thank you!
A resounding thanks go out to all our student officials. Their contributions to the tournament experience are invaluable. Congratulations to all, including our All-American officials!
Josh Smith, University of Maryland
Doug Ream, University of Kentucky
Broderick Hammond, Georgia Southern University
Matt Amezaga, Texas A&M University
Isaac Estrada, Oklahoma State University
Nick Mauro, University of Maryland
Hannah Williams, North Carolina State University
Clifford Richardson, Oklahoma State University
James Blount, The University of Alabama
Nathan Ha, Texas A&M University – Commerce
A big THANK YOU to our staff for their part in supporting this tournament. We can't provide these quality tournaments and memorable experiences for our student participants and officials without our amazing volunteers from across the nation!
Amanda Alpert, University of Mississippi
Anna Castillo, Southwestern University
Arturo Cabrera, The University of Texas-Rio Grande Valley
Britton Lyon, Georgia Southern University
Clint Jones, St. Edward's University
Cynthia Lally, Methodist University
Dan Wrenholt, Washburn University
Dave Stewart, Towson University
Dom Dunn, The Ohio State University
Gabby Sokol, University of Mississippi
Jerrell Kelly, Western Kentucky University
Joe Wise, University of Texas at Austin
Julie Johnson, Saint Louis University
Kaulin Andric, Texas A&M University
Keegan Ashbee, Auburn University
Mario Rios, Texas State University
Matthew Cooley, University of Washington Bothell
Megan Brady, Florida State University
Mike Chadee, University of Texas Southwestern
Montrell Cade, University of Maryland
Nick White, Missouri S&T
Nikki Vance, University of Oregon
Roger Jerez, University of Pennsylvania
Ryan Wingers, Georgia Southern University
Stephanie Calhoun, University of Georgia
Tyler Burroughs, Kansas State University
Thank you to our Supporting Sponsor USA Football for their participation in this year's tournament.
Thank you to our hosts and recreation partners from St. Edward's University, Southwestern University, and The University of Texas at Austin.
A special thanks go out to the City of Round Rock and the crew from the Round Rock Multipurpose Complex for their outstanding contributions to a great tournament!
It was great to have a NIRSA national flag football tournament again after such a long wait. It would not have been possible without the contributions of everyone involved.
Congratulations to all the teams and staff for making the tournament experience a wonderful one. We hope to see everyone next year at the 2022 NIRSA National Flag Football Championships!
Mario Rios is currently the assistant director of sport clubs at Texas State University.