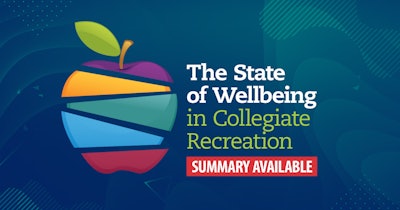 By Erin O'Sullivan, NIRSA 
In 2019, NIRSA's first Health & Wellbeing Task Force launched its "The State of Wellbeing in Collegiate Recreation" survey. That same volunteer group repeated this important survey in the summer of 2021 and a summary of responses is now available.
While the COVID-19 pandemic impacted the survey—from the respondents to the examination of the data—the task force knew it was important to administer in order to help NIRSA continue to build data about campus recreation's role in the important work of health and wellbeing.
A few of the questions in the 2021 survey were amended—either for clarity or to condense the overall number of questions asked—but, overall, it aimed to stay consistent with the 2019 survey so results could be compared more easily. Like the 2019 survey, it sought to investigate the following critical areas:
Members' baseline understanding of health and wellbeing concepts and their specific work in supporting student wellbeing
The landscape for and underlying challenges of integrating wellbeing on U.S. and Canadian campuses
NIRSA would like to thank all who participated in this survey—especially in the midst of all the challenge and turbulence that was being brought on by the COVID-19 pandemic.
It is also important to acknowledge two task force members—Cindy Cowden, Senior Associate Director for Campus Recreation at SUNY at Binghamton, and Marci Iverson, Director of Recreation and Leadership at Viterbo University—who continued to work on analyzing 2021 results and authoring the survey summery even though their volunteer term had concluded. Thank you, Cindy and Marci, for continuing to volunteer your time and expertise!
The work continues
The current Health & Wellbeing Task Force, including their newly appointed Research Work Group, will be reviewing this survey tool further, evolving it as needed, and looking to administer it in the future. Please be sure to stay tuned to NIRSA communications to take advantage of the opportunity to lend your voice to this important work!
---
Erin O'Sullivan is currently the Director of Advocacy & Strategic Partnerships at NIRSA.