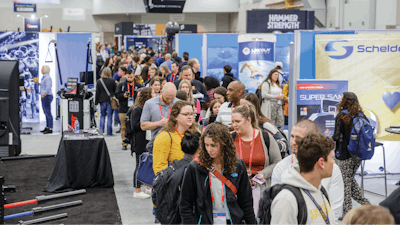 If you're still seeking a career-related New Year's resolution, consider making 2023 the year you leverage as many professional development opportunities as possible. After all, nearly three years after the pandemic forced campus recreation professionals to rethink how they do their jobs and serve their students, it might be time for a major reset.
"Higher education has been nonstop," says Justin Anderson, the youth protection coordinator at the University of Virginia and chair of the 2023 NIRSA Annual Conference Program Committee. "And those people fortunate enough to maintain their employment through all of this were asked to think outside the box and come up with new and creative and invigorating opportunities to keep students, faculty and staff engaged on their campuses. That led to burnout, and in-person professional development opportunities can reignite the passion that initially drew people to campus recreation."
NIRSA has a full slate of in-person professional development opportunities planned in 2023 — from its annual conference and regional events to specialty institutes. But the organization is not abandoning the virtual components that helped members successfully navigate the pandemic via a series of successful "Ideas in Motion" virtual roundtables, webinars and other online programming.
"A combination of in-person and virtual events allows for increased accessibility and frequency of learning opportunities," says Brittany Rejda, NIRSA's director of learning. "We also know that not everybody is able to come to in-person events, for a variety of reasons."
That breadth of diversity results in a "balanced portfolio," Rejda says, adding that NIRSA recently hired a digital learning manager. "Our members are really champing at the bit, looking forward to those in-person events," she says. "But we're also looking to grow opportunities in the virtual space, so we can be even nimbler — especially when it comes to hot topics."
Pointing to Pittsburgh
The biggest professional development opportunity available to campus recreation professionals in 2023 will be, of course, the NIRSA Annual Conference and Campus Rec & Wellness Expo, happening March 23-26 in Pittsburgh. For that event, Anderson and his committee members are focusing on the value of connectivity and reinvigoration as much as ongoing education.
"When you go to the annual conference, you want it to be this fun and inviting experience for everyone," he says. "But there are students who have never attended an annual conference and have no networking experience and no connections. Over the past three years, we haven't been able to afford that opportunity to our students and our young professionals to help them build those relationships with people who understand the why behind what we do."
To that end, many conference sessions are expected to offer deep dives into niche programming, such as outdoor recreation and aquatics, and supervisors will be encouraged to attend with staff members to, as Anderson says, "bridge internal gaps in knowledge and understanding."
Additionally, plans call for the return of the "J. Michael Dunn Student Professional Development" and "Women Leading Women" preconference workshops, as well as diversity, equity and inclusion initiatives related to the shifting dynamics of students and the student workforce.
Walking exhibit hall aisles also can reignite professional passion. "Everyone in the industry pivoted during COVID-19 by using Zoom and attending virtual shows," says Brittany Barrett, director of campus recreation business development for PLAE, an athletic surfaces and strength equipment manufacturer that also is a NIRSA partner, associate member and expo exhibitor. "We found with virtual shows, attendee engagement is much lower than live events. For attendees, it can be a little uncomfortable joining a virtual waiting room or private virtual meeting with exhibitors you might not know versus stopping by and introducing yourself. In person, it is easier to feel an immediate connection." (See "Trade Show Confidential.")
From a virtual perspective, NIRSA's Collegiate Esports Virtual Institute, which debuted in 2021, will return in 2023, and Rejda says additional offerings are in the works. "Now that we have a dedicated person who is able to explore new opportunities, I think we'll see a lot more robust opportunities being offered online by NIRSA in the coming year."
Limited resources? No problem
With so many ways to engage in professional development, yet limited resources to fully leverage those opportunities, it's critical to develop a strategy.
"The most important thing is to figure out where your knowledge gaps are," Rejda says. "Maybe consider going to the NIRSA Recreation Facilities Institute rather than the annual conference."
Anderson suggests that internal opportunities shouldn't be overlooked.
"When you have limited resources, you have to take professional development and mold it into what works for the individual and the department," Anderson says, noting that other campus departments — facilities management or student affairs, for example — might offer relevant learning opportunities. He also suggests visiting other campuses in the area, whether they be a university or a community college, to find out what makes their operations successful.
"I also think a lot of knowledge can be found within your own department," Anderson says. "Take a look at your staff and create your own professional development series with them: 'Here's what's going on in my area. Where is some overlap, and how can we better work with each other?' It doesn't have to involve traveling to a national conference. You can go to a state workshop, you can go to a regional conference, you can do it in-house. There are tons of resources to do professional development."