By Chelsea Jones, NIRSA Student Leader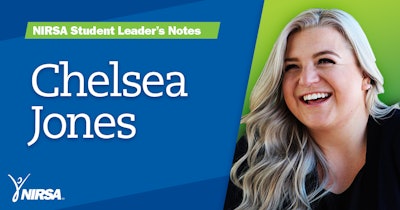 You know how there are some people who just need to know everything about something before they do anything? Well, I am one of those people. I want to know all the details before attending an event or activity so that when I get there, I know I'm going to be prepared. Sounding familiar? Or maybe not at all? Well, either way, this is the blog for you!
Here are a few tips and tricks on how to prepare for Pittsburgh—what to do before conference, what to pack, and a few things in between. So come along with me as I overthink and overprepare my Pittsburgh preparation!
I am a "list" person. I like to make things into neat and tidy organized lists to help me make sure I'm ready to roll for my next big event! The lists below are broken down into categories to help you pack and prepare for the conference. These lists include some items to do before heading to NIRSA 2023, what travel items you might need, conference essentials, and clothing essentials. These lists, which will hopefully be very helpful, are not all encompassing but they should offer a great starting point for anyone looking to Prepare for Pittsburgh early.
Now let's get to listing!
Before Conference To-Do
Confirm registration—Did I really register?
Confirm lodging arrangements—Do I have a place to stay?
Confirm travel details—Do I have my flight or car rental info?
Check weather—Am I going to freeze while I'm there?
Update resume with your current job, duties, organizations, and—of course—conference attendance
Update LinkedIn profile
Update NIRSA membership profile
Make sure ID is valid and not expired
Download PheedLoop and begin considering your conference schedule

Visit the app store on your smart phone, download the Pheedloop Go! app, and login with your attendee credentials
Travel Items
Sleep mask
Backpack
Identification (passport, driver's license, etc.)
Travel pillow
Travel playlist
Headphones
Conference Must-Haves
Refillable water bottle
Refillable coffee/tea mug
Notebook and pen(s)
Printed copies of your updated resume
Business cards
Sweater or cardigan for changes in room temperature
Sneakers for when those dress shoes become just a little too much at the end of the day
Technology
Phone charger (including portable charger)
A tablet or computer could be helpful
Headphones (for the plane or that important phone interview)
Attire Options
Mix of business casual and casual for both day and night activities
Athletic wear for any workouts or activities you plan to do
Extra layers because it's March in Pittsburgh
Your school's gear if you have it! (great to help other attendees get to know you)
Now that we have a great starting list of what to pack and prepare, you should be off to a good start in Preparing for Pittsburgh! As noted above, these lists don't cover everything, but they are a great starting point and should serve as a solid reminder of those early preparations NIRSA 2023 attendees should be making.
Stay tuned for the next Preparing for Pittsburgh blog where we'll hear what the members of the Student Leadership Team are looking forward to at NIRSA 2023.