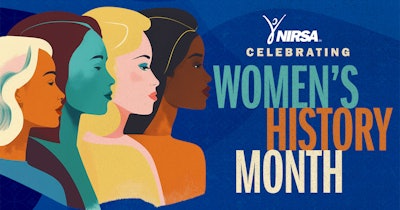 NIRSA.org
March is Women's History Month for many institutions and organizations. While women have played an important role since the organization's founding, the association hasn't always had an easy, welcoming relationship with its women members. Women were officially barred from holding membership for more than a decade, and only through the persistent, pioneering spirit of many women in NIRSA did they blaze a trail to leadership positions in the Association and on their campuses.
Take some time this month to celebrate some of the most significant milestones lead by women in NIRSA. Consider taking advantage of some of the upcoming learning and networking opportunities planned this month or explore some of the Association's on-demand content that looks at women's career experiences in campus recreation. Earlier this year, NIRSA lost one of the profession's most celebrated leaders: Juliette Moore—NIRSA's first Black female President and Honor Award recipient—passed away this past January. Read about her life and legacy and spend some time exploring some of the resources shared below.
"NIRSA would not be the organization it is today without the decades of contributions from women. While there was a stint where women were banned from NIRSA, women were part of NIRSA's Foundation in 1950 and women continue to contribute to the development of our NIRSA in big ways," says Rachael Finley, Director of Campus Recreation at York College of Pennsylvania. "Women like Juliette Moore, who relentlessly pushed for change and social justice, and Maureen McGonagle, who was an integral part of restructuring NIRSA's governance model, are just the tip of the iceberg in demonstrating the impact women have had on our Association. By the year 2026, 18 different women will have served as NIRSA President, with six of them serving between 2020 and 2026. The future is bright and ripe for continued growth as we evolve as an organization with women at the helm," she adds.
Where should NIRSA members start?
If you haven't already read them, NIRSA members should explore the recent "Women making history" series of articles:
Coauthored by NIRSA members Katie Geter, Annual Director on the NIRSA Board of Directors, Becky Todd, Executive Director, University of Arkansas, Cheyanne Clouse, Associate Director, Campus Fitness Programs, High Point University, Greta LeDoyen, Director of Eagle Fitness/Wellness, Embry-Riddle Aeronautical University-Daytona Beach, and Donavon Hailey, Program Manager, Sport Programs at Texas Tech University in the summer of 2021, this series takes readers through many of the significant contributors to NIRSA's history and their breakthrough milestones along the way.
Want to learn more about the complexities women experience as they progress in their professional careers in campus recreation? You'll want to read "Passage Through the Leadership Labyrinth: Women's Journey in the Collegiate Recreation Profession," by Past President of NIRSA and Associate Professor at Elon University, Cara Lucia and Director of Campus Recreation and Wellness at the University of South Carolina Aiken and current NIRSA President, Mila Padgett. The article draws on interviews of 36 women and offers readers a qualitative study that explores the direct experiences of women.
Will you be at NIRSA 2023 in Pittsburgh?
If so, consider registering for the "Women Leading Women Workshop" where women-identifying attendees will come together for a day filled with personal and professional development, self-reflection, storytelling, and best practices to MOVE your career forward. The workshop will have sessions that explore motivation, taking ownership of your success story, and ways to encourage ourselves and each other through challenging times. The workshop includes a topic-driven lunch as well as a networking hour.
"Women learning from other women is crucial as we develop our abilities to lead others. Connecting with other women who share similar experiences or whose journeys resemble our own helps remove feelings of being alone and can help in dealing with the balancing act of being a wife, mother, caregiver, all while trying to effectively lead others," says Lashica Thomas, Interim Director of Campus Recreation at Columbus State University. "Seeing other women succeed in this male dominated field is inspiring and hopefully will motivate more and more women to join the campus recreation and wellbeing profession," she adds.
Be sure to attend the Opening General Session, where the official 2023 NIRSA Honor Award presentation will take place. Kathleen Hatch, Morrison Family Associate Vice President for Student Well-being at Kansas State University and Past President of NIRSA will become the fifteenth woman to be recognized with the Association's most prestigious accolade.
If you're looking to increase your knowledge of women in campus recreation or to grow your network of dedicated women leaders in the field and you'll be in Pittsburgh for the 2023 NIRSA Annual Conference, here are a few other sessions you won't want to miss:
About Women's History Month
Women's History Month had its origins as a national celebration in 1981 when Congress authorized and requested the President to proclaim the week beginning March 7, 1982 as "Women's History Week." Throughout the next five years, Congress continued to pass joint resolutions designating a week in March as "Women's History Week." In 1987 after being petitioned by the National Women's History Project, Congress passed Pub. L. 100-9 which designated the month of March 1987 as "Women's History Month." Between 1988 and 1994, Congress passed additional resolutions requesting and authorizing the President to proclaim March of each year as Women's History Month.
Since 1995, presidents have issued a series of annual proclamations designating the month of March as "Women's History Month." These proclamations celebrate the contributions women have made to the United States and recognize the specific achievements women have made over the course of American history in a variety of fields.