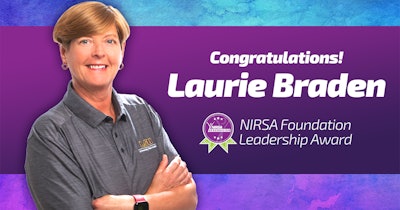 NIRSA.org
By Sophia Marshall, NIRSA Foundation president-elect
Each year, the NIRSA Foundation Board of Directors recognizes someone who has had a transformational impact on the Foundation to receive the NIRSA Foundation Leadership Award. The award celebrates the exceptional dedication of a person or group that has actively participated in fulfilling the Foundation's purpose of providing NIRSA members with meaningful opportunities for scholarship, research, and personal and professional development.
The NIRSA Foundation Board is excited to announce and applaud our 2023 recipient, Laurie Braden, founder of the Fredrick R. Braden Endowment for Social Justice and tireless champion for the LGBTQIA+ community in NIRSA.
Laurie has made a lasting impact on NIRSA and the NIRSA Foundation. Her dedication to and pride in NIRSA is on full display whenever she speaks and her love for this organization and the collegiate recreation profession is evident in her actions. By conferring this award, the NIRSA Foundation is pleased to celebrate her leadership.
Laurie has pushed and challenged the generation of campus recreation professionals who came before her to be more open and inclusive. She has inspired a generation of campus recreation professionals who have followed her into the profession—including me—to lead with passion and purpose. Since I first came into this field, I have counted Laurie as one of my unofficial mentors. Put simply, Laurie talks the talk and walks the walk.
The Laurie Effect can best be explained through the words of Darcy Bingham, the first recipient of the NIRSA Foundation Leadership Award: "Laurie's influence on the NIRSA Foundation dates back to her active participation in and support of NIRSA Foundation community service projects when she was a NIRSA Board member, and during her term as NIRSA President. Her longevity and generosity set her apart as one of the NIRSA Foundation's most significant individual donors." Laurie is one of only 15 individuals who have attained Leadership Level status on the NIRSA Foundation Honor Roll, putting her alongside the Foundation's top tier of contributors.
Her support for the NIRSA Foundation includes the creation of the Fredrick R. Braden Scholarship for Social Justice in 2016.
Arguably the most transformative endowed scholarship in Foundation history, this scholarship supports the Association's LGBTQIA+ community by annually providing a NIRSA professional member and a NIRSA student member with access to learning opportunities. "While it now receives tremendous support from the NIRSA community, the Fredrick R. Braden Scholarship was initially funded solely by Laurie in her father's memory," explains Darcy. "This scholarship and the celebration of its recipients has led to more active acceptance of the LGBTQIA+ community in NIRSA."
"Laurie's dedication to NIRSA and to the development of countless collegiate recreation students and professionals is undeniable. Laurie's endowment of this scholarship will continue to provide opportunities for NIRSA members for generations to come" says Suzanne Ries, Director, University Recreation & Wellness Center, Florida Gulf Coast University.
Rachael Finley, Director of Campus Recreation at York College of Pennsylvania, adds that Laurie "created this incredible opportunity for students and professionals to be recognized and rewarded for their social justice work in recreational sports."
NIRSA Executive Director Pam Watts explains just how transformational Laurie's work has been: "Laurie not only started the scholarship endowment conceptually and financially, but she also has inspired a high level of giving ever since its inception. It's become one of the Foundation's largest endowments and continues to bring new donors to the organization."
Kevin George, Director of Campus Recreation at Rowan University and current member of the NIRSA Foundation Board of Directors and the Leadership Award Committee, says, "Laurie is a champion for NIRSA's strategic values and strives for inclusive excellence. Her work has supported equity, diversity, and inclusion; leadership; and service."
Kevin adds, "With the Fredrick Braden Scholarship, Laurie has impacted the wellbeing of so many members of the LGBTQIA+ community. The scholarship has also resulted in NIRSA members becoming more aware that anyone can be an ally and advocate for this community. Her previous leadership contributions, especially her service as the NIRSA President, has made a lasting impact that continues to move NIRSA forward as a leader in higher education."
Laurie currently serves as the Executive Director of University Recreation at Louisiana State University (LSU). She is a lifetime member of NIRSA, initially joining the Association in 1988. Throughout her tenure as a member, she has volunteered to serve on countless work teams, committees, boards, and other leadership groups. She served in the NIRSA President role from 2014–2015 and has subsequently served on the NIRSA Assembly and on the NIRSA Member Network.
Laurie is a true leader with a long track record of successes in higher education, collegiate recreation, and NIRSA. She is beyond deserving of this accolade. Her service is greatly valued and her contributions to the organization are deeply appreciated.
---
Sophia Marshall is the UREC senior associate director at the University of North Carolina at Charlotte and president-elect of the NIRSA Foundation; reach her at sophia.marshall@uncc.edu.