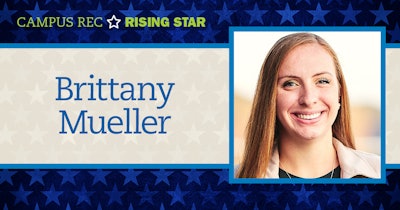 Brittany Mueller is an emerging professional who is making a significant impact in the world of campus recreation. She got her start working in campus rec at Mercer University in Macon, Ga., where she served as student director of programming and student director of marketing.
While she says that campus recreation "happened to fall into my life," it seemed to be in her future from an early age. Brittany has been playing soccer since she was 2 years old; she followed in the footsteps of her father, brother, and sister, joining the family ranks as a soccer official in her youth. It was her first job in her hometown of Kings Park, N.Y., and the first job she took on campus when she started pursuing her Bachelor of Science degree in elementary and special education in Macon.
During her time working as a student official at Mercer University, she met Michael Castaneda, now director of recreation and Wellness at Loyola University. Castaneda came to Mercer University the same year she transitioned into a student supervisor role. Brittany credits Castaneda with helping her "realize there was more than just our school in the world of NIRSA and helping me put a plan in action when I was looking for my graduate assistantship and then for professional positions. I can't thank him enough for helping me sit in the seat I am today."
Ten years on, the seat she's in today—as assistant director of Intramural Sports at Florida State University — is one that involves "working with all things sports" at FSU. She develops student officials through trainings and works alongside FSU's office staff. In her role, she's now the one giving students direction and mentorship as they oversee payroll, marketing, programming, and student development. "I also work with other campus partners to bring new programming to Intramural Sports at FSU," says Brittany. "Some of these partnerships include Special Olympics, the University of Choice, and the Center of Global Engagement."
One of FSU's successful partnerships is with Special Olympics; they've been offering Unified Sports since 2019. FSU has offered Unified leagues in basketball and flag football, sent Unified teams to compete in regional NIRSA tournaments, and been recognized as a Special Olympics Unified Champion School. FSU's Intramural Sports has even earned a grant from within the Division of Student Affairs to fund Special Olympics Coaching Certificates to those coaching its specific leagues.
"This past year we also collaborated with the University of Choice for an Adaptive Rec Day event which included goalball and sitting volleyball," says Brittany. "We were able to bring in goalball coaches from the Paralympics to speak about their experiences, and to teach the rules before competition. And, in April, we partnered with FSU's Center of Global Engagement for International Day of Sport to highlight different sports around the world," she adds.
Brittany takes her passion for inclusive recreation beyond her own campus in Tallahassee. For the past two years, she has served as the Chair of the Unified Sports Work Team for the NIRSA Championship Series; she served on the Unified Sports Task Force before it transitioned to the Work Team. She credits the experience with showing her that Unified Sports is growing exponentially in the world of higher education. "I am proud to be a part of that growth and sharing that story with everyone in campus recreation," says Brittany. As a volunteer, she's been able to contribute edits to the Flag & Touch Rules Book & Officials' Manual as well as help regional host sites when they offer Unified divisions. "We also are expanding the world of Unified Sports to those who may not know about them through presenting at NIRSA regional and annual conferences, sharing our newsletter, and partnering with Special Olympics North America," she says.
Brittany is also a coach for a Special Olympics basketball team; her team was able to go to the 2022 Special Olympics USA Games where they brought back a silver medal. She still enjoys playing intramural sports today, branching out from just soccer to also play flag football, volleyball, basketball, and even wallyball. Brittany's dedication to her work and her passion for helping students is evident in everything she does.
NIRSA is proud to have such a talented and dedicated professional among its membership ranks. Her involvement in NIRSA has not only provided her with opportunities for personal and professional growth, but it has also allowed her to make meaningful connections with others who share her passion for campus recreation. When asked about her involvement in NIRSA, Brittany said that she most values her connections within the organization: "There are so many opportunities allowing me to connect with old and new friends," she says. "I have found some of my very best friends through the world of NIRSA—whether it be at a conference, a tournament, or through volunteering on a work team—and for that I am very thankful."