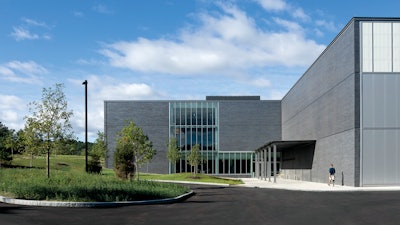 Necessity — the saying goes — is the mother of invention. With inhospitable winters all but inevitable in Waterville, Maine, the contractor managing construction of Colby College's Harold Alfond Athletics and Recreation Center urged designers to help expedite completion of the building's envelope before the snow flew to keep the entire project on schedule.
Architects did so by covering substantial portions of the structure's exterior with insulated metal wall panels using an innovative installation tactic.
Instead of screwing fasteners through the panels into intermediate steel supports, Sasaki framed the panels much like traditional glass curtainwall — which, incidentally, the building has plenty of, too. The panels were scaled to drop easily into aluminum framing and clamped into place, without any penetrations in the panels themselves, making the center's fieldhouse and ice arena particularly air- and watertight. Complementary brick veneer appears on high-impact locations along the building exterior, but the insulated wall panels saved not only months of construction time, but steel and multi-trade labor costs, as well.
"The construction manager thought an insulated wall panel was an efficient, fast, easy way to get this thing weathertight and thermally protected. That was the driver," Sasaki senior associate Gerry Gutierrez says. "We thought this is not a bad way to approach it. Let's not screw anything through the panel. Let's just support it through this aluminum frame. It's all by compression, like curtainwall glass is held by compression. The aluminum frame is doing all the work, and the panel is just distributing the load to the frame."