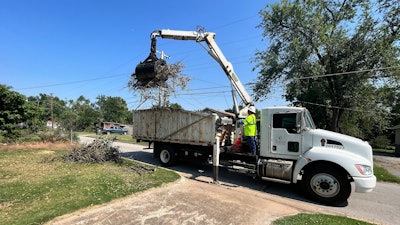 Courtesy the City of Tulsa
The Tulsa Parks and Recreation Department said crews are still working to clear debris after more than 100 of the city's parks received extensive damage in severe storms earlier this month.
The city closed 27 parks last week due to falling limbs and large debris that pose safety hazards for park visitors.
During the severe storms on June 17-18, over 100 of Tulsa's 135 parks received extensive damage, KTUL-TV reported.
"This is a moving target, but right now, we are focusing on removing anything dangerous from parks and regaining building access at our closed facilities," Anna America, parks director, said. "If you see caution tape or barricades, avoid those areas. You may not recognize the damage or possible dangers inside a barricade. We ask people to use common sense, not climb on large piles of debris or limbs. It's just not safe."
Tulsa Parks said the Whiteside Community Center reopened Monday, and the city's rec centers were back to operating normally starting Tuesday.
Tulsa parks that remain closed are Henthorne, Howard, Hunter, McClure, Mohawk, Oxley Nature Center, Tulsa Garden Center and Woodward.
Reed and Lacy pool will remain open throughout the week and crews are hoping to have Whiteside and McClure pools opened this week.