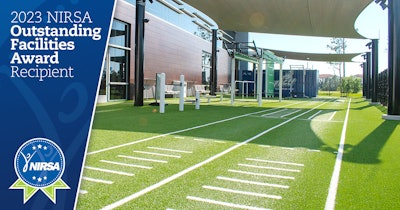 By Natasha Fischer, NIRSA member engagement manager
Earlier this year, Florida Gulf Coast University was the recipient of a NIRSA Outstanding Facilities Award for its Rec Deck, a 6,300-square-foot outdoor expansion to the strength-training floor of the University Recreation and Wellness Center.
Opening in November 2021, the Rec Deck is now utilized daily and provides students with workout space in a unique venue that also provides access to nature.
Located in Fort Myers, Florida Gulf Coast University serves a population of 16,000 students. In January 2020, the university opened its University Recreation and Wellness Center and immediately noticed that the strength training floor was experiencing overcrowding. Rec Deck, designed to meet the need for additional strength training space, has not only increased the available square footage but has also facilitated an increase in female participation and allowed students to participate in a wider variety of strength activities.
About the Rec Deck
Accessible directly from the strength training floor at the University Recreation and Wellness Center, the Rec Deck was designed for both individual and group use and allows users to access all the university's strength training opportunities in a single location. It's one of the only outdoor functional fitness spaces in the country that is attached to the main recreation building. Since its opening, the staff has received multiple requests for information; they've shared their experience with the facility's design and implementation in several interviews and presentations.
"The Rec Deck has allowed us to be able to provide a more comprehensive and inclusive experience for our users. The space also lets us maximize and showcase our Florida environment and incorporate more outdoor workouts for participants. It definitely is a show stopper when prospective students and parents are touring campus," says Lisa Caldwell, Assistant Director of Fitness Programs.
The Rec Deck contains a variety of equipment for strength and functional training. The additional space even allows staff to incorporate areas for practicing Olympic-style lifting. Rec Deck users can incorporate the following equipment into their workouts:
20-foot PLAExBeaverFit Scout locker with four half racks and space inside the locker to store kettlebells, battle ropes, medicine balls, and Olympic bars
15 feet of monkey bars with finger boards and boulder grips
12-foot ball wall for medicine ball tosses or to test one's vertical jump
Parallel bars
Balance beam
Incline push-up bars
Stall bars
Plyo steps at four different heights
The Rec Deck is covered with Blitz turf from PLAE with 40-yard dash lines, agility ladders, and broad jump lines. The Rec Deck also features outdoor lighting and speakers, benches, and ornamental security fencing that lets the beauty of the natural environment to shine through.
Safety was carefully considered in the facility's design; several elements of the space were chosen to mitigate some of the risks inherent with both strength training activities and the Florida weather. While the Rec Deck occupies a separate space from the main building, the floor-to-ceiling glass windows connecting the two allow for easy supervision of both spaces. Several access points allow instructors to easily flow back and forth between the indoor and outdoor space as needed. Shade canopies protect users from the sun, and a lightning detection system alerts the desk staff of incoming storm activity so that the deck may be cleared and secured before severe weather strikes. Having the indoor space immediately adjacent allows class participants to move indoors with minimal disruption to their workout.
Impact on student wellbeing
The Rec Deck is used daily and has created opportunities that meet the needs of diverse groups of students. The space was designed with elements that provide workout options for users with differing needs, including a ramp which increases accessibility to the Scout locker.
There has also been a dramatic increase in participation among women; a much higher percentage of women use the outdoor space compared to the indoor space. University staff attributes the increase in female participation to the strength training classes offered in that space as well as to the Rec Deck's location in a space that is not as centralized as the main strength training floor.
"Our favorite part about the Rec Deck is the endless possibilities and the availability to implement creative and inclusive programs," says Joe Arledge, Interim Assistant Director of Facility Operations. "The functional space makes it welcoming for students to try and perform whatever element of physical activity they enjoy. We encourage participants to try Olympic lifting and other momentum movements through education and experience-based programs that can only be run in a facility like the Rec Deck. The Rec Deck is a cornerstone fixture in the University Recreation and Wellness Center and makes our facility unique. This space is beloved by the patrons who utilize this space daily."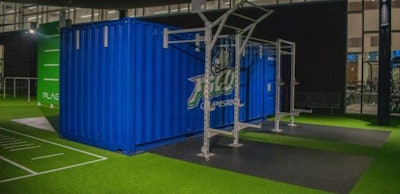 Spending time outdoors has also been proven to have a positive impact on wellbeing. The Rec Deck's design promotes that connection with nature by ensuring that users have clear views of their surroundings. Since being outside positively affects mental wellbeing, an outdoor workout space allows the recreation and wellness department to promote physical and mental wellness simultaneously. This helps fulfill one of the goals of their strategic plan by "promoting personal development, physical and mental health, wellness, and safety as foundations for student success and academic excellence."
About the Architect
Rec Deck was designed by Harvard Jolly Architecture with collaboration with Hastings+Chivetta Architects and from PLAE. Harvard Jolly is one of the largest architectural firms in Florida with seven offices throughout the state. Since its inception in 1938, the firm's portfolio has grown to feature a diverse collection of project types including education, healthcare, museums, libraries, and performing arts. Other higher education projects the firm has worked on include the Miami Animation and Gaming International Complex at Miami-Dade College, the Visual Arts Building at Eckerd College in St. Petersburg, the Student Commons Renovation at the University of South Florida Sarasota-Manatee, and the Biological Sciences Building at the University of North Florida.
"Harvard Jolly's team was tasked with providing outdoor space that would be an extension of the adjacent indoor fitness area, with prominent views to the outdoor fitness area and nature as a backdrop," says Michael Johnson, RA, LEED AP, Vice President at Harvard Jolly. "FGCU's staff was well prepared and a pleasure to work with, as was PLAE. The project was highly anticipated and well received and has become very popular and a focal point of the larger facility."
"It's been really exciting to see and hear the feedback about the space. When you help design a new concept, you plan for all the trends you think will stick around and as we have seen in the last few years, performance based training is here to stay," adds Brittany Barret, Director – Campus Recreation Business Development at PLAE. "The more unique and exciting part of this trend for me is witnessing the drastic uptick in female participation. The Rec Deck has provided a less intimidating space away from the main weight floor for women to learn about strength training. Each time I visit, the outdoor racks are always full with female participants. The FGCU team did an incredible job creating a safe and inclusive space and it's evident every time I visit!"
Harvard Jolly has been the recipient of numerous architectural awards including two 25-Year Test of Time Awards from the American Institute of Architects. The firm is committed to incorporating elements of sustainable design in its projects and has completed more than 20 projects which have been LEED-certified by the U.S. Green Building Council.
About NIRSA's Outstanding Facilities Awards
The annual NIRSA Outstanding Facilities Awards recognize the innovative designs of new, renovated, or expanded collegiate recreational facilities of NIRSA member institutions. Facilities receiving this award are considered to be a standard by which other campus recreation facilities should be measured, and from which others can benefit.
Applications for the 2024 NIRSA Outstanding Facilities Award recipients will open in Fall 2023. Eligibility guidelines, selection criteria, and entry fee details can be found on the NIRSA website.
---