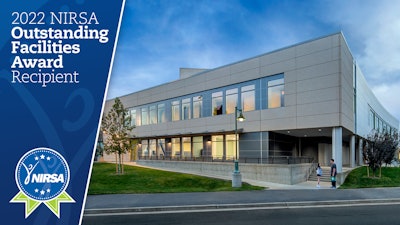 By NIRSA Communications
A comprehensive expansion and renovation of the 260,263-square-foot facility that opened in 2010, The Wellness, Education, Leisure, and Lifestyle (WELL) expansion project impeccably blends the original building's iconic character with approximately 18,000 square feet of fitness and recreation amenities and 11,000 square feet of health services, each housed in separate parts of the building.
These, plus an additional 26,000 square feet of renovations to the existing facility, allow The WELL to more effectively serve an exponentially growing student population and fulfill its mission of "Lifetime Wellness Through Collaboration, Education, and Innovation."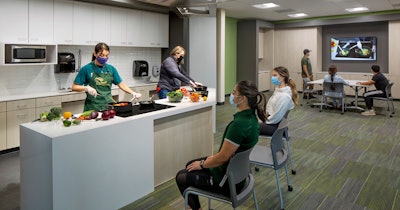 An urban oasis on 305 acres in the heart of California's capital, Sacramento State is the 11th-oldest and sixth-largest school in the California State University system. Nestled along the American River to the east and featuring a lush University Arboretum and botanic garden on the north-end of campus, "Tree Campus USA" boasts miles of trails and more than 3,500 trees.
The WELL at Sacramento State University reflects multiple NIRSA strategic values and initiatives in the Association's strategic plan: It stands as an exceptional example of integrated health and wellness, accessibility, and inclusivity. It's easy to see why this was one of two entries for the 2022 NIRSA Outstanding Facility Awards that review committee members unanimously agreed should receive the NIRSA award.
About The WELL
Pre-pandemic, The WELL saw 3,500 daily users with 78% of students holding an active membership. Sacramento State saw the highest utilization rate of Student Health and Counseling Services (SHCS) of all 32 campuses in the CSU system; 52% of Sacramento State students used at least one of its services.
The WELL's $34 million makeover and expansion, completed nearly four months ahead of schedule, came just in time: Fall 2021 saw record enrollment for Sacramento State. The 31,500-plus students represented a 12.5% increase in the campus population since The WELL's 2010 opening, putting pressure on the facility with lines crowding to use its state-of-the-art equipment.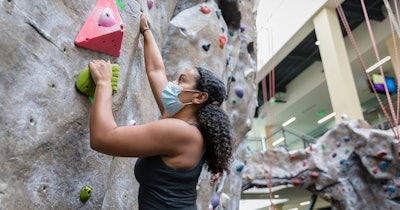 The accelerated timeline allowed the facility to be operational to students returning to a campus newly reopened from the pandemic. The building opened for in-person, indoor recreation, and fitness in late August with a grand opening and ribbon cutting on October 12, 2021.
Financed through student fees and reserves from Union WELL Inc. and SHCS, the project expanded physical and mental health services, fitness and recreational amenities, and accessible and inclusive facilities.
Key features of fitness and rec center include:
Doubled locker capacity with new and renovated lockers rooms with ADA keyless manual locks and a locker rental program to serve students experiencing housing insecurity
Upgraded cardio suite
Additional strength and free weight space, equipment, and mirror space
Dedicated spin studio with projector system providing heart rate monitoring and immersive, sound-connected visual and lighting effects
Two group fitness studios that expanded capacity by 25% and feature a retractable, soundproof diving wall for two classes of 42 or one of 84, plus lighting tied to the sound system
Plans to add a gymnasium with two basketball courts
Breaking down barriers to and eliminating stigmas of mental health, the SHCS-occupied section of the building permitted counseling services to expand 50%. The facility boasts health and wellness amenities such as:
Two urgent care counseling spaces
Confidential advocate's office
New exam rooms, counseling offices, group therapy rooms, and classrooms
Expanded and renovated urgent care facility
Expanded athletic training space with separate treatment, exam, and whirlpool rooms that serve all students, including those participating in recreational and club sports
Student Health Cooking Cove, a demonstration kitchen that doubled in size and features new cameras to project food prep and stovetop cooking
Student pharmacy
Plans to add student dental services, which opened in 2022
"The overall commitment to an integrated approach to health and wellness remained a cornerstone in all decisions that were made," says Director of The WELL Kate Smith. "We spent time collecting feedback and conducting focus groups to understand the greatest needs of students and the campus community at large."
A major outcome from student feedback seen in the final design is "all-gender spaces in a safe and welcoming environment," says Kate. These spaces include multiple all-gender restrooms, showers, and dressing rooms.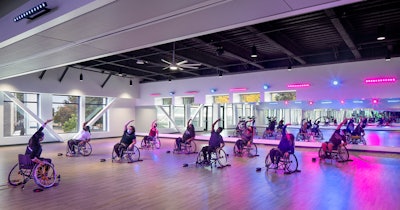 The facility incorporates universal design standards into all renovated and new changing, restroom, and shower areas to better support students in standard and sport wheelchairs. Automated doors, larger benches, and wider doorways are seen alongside the removal of barriers along all pathways and a universally accessible, cabana-style shower and changing areas.
"One of the project's main objectives was not just to make the building 'good looking,' but also 'good for its occupants,"says Raija Clar CID, LEED AP ID+C, Senior Project Manager at HMC Architects, says.
About the lead architect
"The building was designed to be a collaborative working environment where all occupants work together as one unit," Raija Clar CID, LEED AP ID+C, Senior Project Manager at HMC Architects, says. "Though the two uses are separate and occupy different parts of the building, they tie together with an overarching theme and purpose of health, mind, and body."
The WELL project, a collaborative build with Swinerton, makes broader impacts beyond the student body and soul, targeting excellence in sustainable, eco-friendly architecture: The established building was LEED Gold certified, and the expansion also is working towards LEED Gold certification and is aiming for additional certification from the International WELL Building Institute.
Positively impacting communities is at the core of HMC Architects' work. The 100% employee-owned firm lives up to its slogan, "Design for Good," by focusing on opportunities that make direct contributions to their local communities—opportunities like healthcare, education, and civic projects. The firm, founded in 1940, invests in research to provide holistic solutions and innovation based on a combination of intelligence and creativity.
About NIRSA's Outstanding Facilities Awards
The annual NIRSA Outstanding Facilities Awards recognize the innovative designs of new, renovated, or expanded collegiate recreational facilities of NIRSA member institutions. Facilities receiving this award are considered to be a standard by which other campus recreation facilities should be measured and from which others can benefit. Applications for the 2024 class of NIRSA Outstanding Facilities Award recipients will open in Fall 2023.