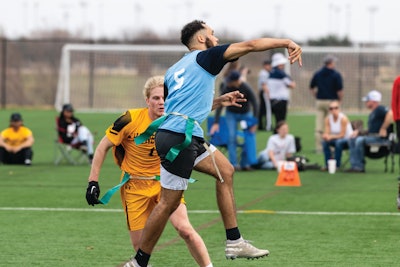 No fewer than seven states sanction high school girls' flag football, with at least one more (New York) joining the ranks in 2024. And roughly 20 states offer pilot programs in the sport.
What's more, institutions at all three levels of collegiate sport — NCAA, NAIA and NJCAA — offer, or will soon offer, women's flag football. Heck, even the National Football League is embracing flag like never before, converting the NFL Pro Bowl into a star-studded flag football game this year and propelling NFL FLAG — which kicked off in 1994 — to the world's largest youth flag football league in the United States.
The evolution of the sport reached a new level in March, when NIRSA and RCX Sports — the official operating partner of NFL FLAG — announced a new partnership aimed at increasing flag football participation, programming and training across college campuses in the intramural and club sports arenas. Representatives of both organizations say it also will enhance NIRSA's regional and national flag football tournaments, as well as help train officials. More than 900 NIRSA-member colleges and universities in North America offer seven-on-seven club and intramural flag football programs.
"We are seeing an increase in the number of teams over the past couple years, and a lot of that has to do with the exposure from NFL FLAG and the number of women coming out of high school who have already experienced the sport," says Kurt Klier, director of club sports at the University of Maryland, which boasts about 300 flag football teams every fall.
Klier also is an editorial board member for the NIRSA Flag & Touch Football Rules Book & Officials' Manual, which is followed by the National Federation of State High School Associations. The book's first edition appeared in 1983; the 21st and latest edition was published in June.
"Flag football at the collegiate level is massive in size and scope," says Izell Reese, the former NFL safety who is now chief executive officer of RCX Sports (which in addition to NFL FLAG also operates Jr. NBA and MLS GO leagues, NHL Street, and Major League Baseball's Pitch, Hit & Run and Jr. Home Run Derby programs). "And NIRSA has set a standard for how the game is played."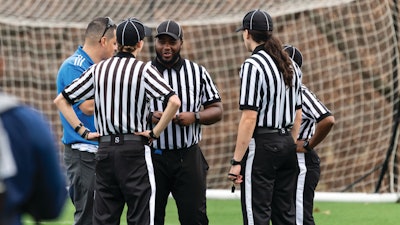 Enhanced officials training
A new season of NIRSA flag football begins in October with regional play that runs through December, culminating in the 2023 NIRSA National Flag Football Championships at Oklahoma State University. Klier anticipates nearly 60 teams will participate at the men's, women's co-rec and Special Olympics Unified Sports® levels.
Unified Sports teams are comprised of players with intellectual challenges paired up with other college students who serve as "partners." Unified Sports flag football teams compete in their own leagues, and about eight to 10 are expected to play in this year's national tournament, according to Klier. It's a reflection of how the game offers colleges and universities an additional opportunity to demonstrate inclusion as a core value of campus recreation.
The partnership with RCX Sports also offers new opportunities for referee training. While NIRSA is known for its grassroots development of game officials — former flag football officials now work in the NFL, Klier notes, and several former intramural basketball referees are in the NBA — the organization's collaboration with RCX Sports will provide not only additional funding for flag football operations but also money and resources to enhance training of tournament game officials.
"This is huge," Klier says, adding that streamlining the training process will help ensure that officials at Maryland receive the same type of training as those at, say, UCLA. Enhanced and more consistent training will begin at the regional tournament level this fall, with four- to six-hour clinics prior to the first game, followed by on-field evaluations of every official. NIRSA professionals will provide the personnel.
"We're going to start at the regional level, and it will transfer to the national level," Klier says. "Then, indirectly, it will trickle down. All those officials who trained at the regional level will take that information back to their campuses and start teaching it that way on a local level."
The goal is to develop more officials with the desire and skills to take what they learned while refereeing flag football at the campus rec level and apply it to the high school and youth levels in their own communities — thus helping address the national shortage of local sports officials.
Another goal of the partnership is to encourage college recreation flag football players to keep competing after they graduate. NFL FLAG hosted its first adult tournament in April in conjunction with the NFL Draft in Kansas City, Mo.
"Not only can college students play intramurals, but if the interest is there they can come play in our tournaments and continue to compete beyond college," Reese says. "We don't have leagues right now; we're starting with events. We're doing tournaments in partnership with NFL teams to see if leagues will be the next step. Right now, it's come one, come all. We even have military teams from local bases wanting to play."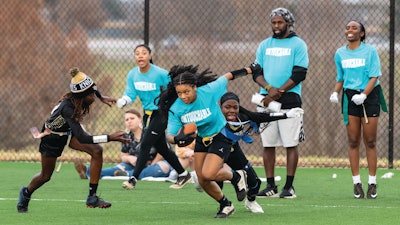 'This is a movement'
NIRSA's latest edition of its rules book includes a handful of major changes, including the option for teams to attempt an onside conversion by moving the ball a specific distance to retain possession after scoring. The change is intended to improve competitiveness late in games, because a team down by more than one score with time running out still will have a chance to get the ball back after a late conversion.
There are no kickoffs in NIRSA's brand of flag football, part of a decades-long strategy to minimize injuries. Still, concussions remain a concern for Klier.
"We don't allow contact blocking; we don't allow people to stiff arm," he says. "We may see contact between a defensive player and an offensive player going up to catch a pass, though, and we've had some ugly concussions. But because of how our rules are written and applied, we reduce the risks of injuries compared to other leagues that offer more contact."
Reese says the expanding number of females interested in the game is driving flag football's popularity more than its potential to alleviate concussions. Yet he does not minimize head injuries, either.
"Every sport is evolving its rules and structure," he says. "Injuries can happen [in flag football]. So you want to constantly look at that, which is what NIRSA and NFL FLAG do."
Neither Klier nor Reese see flag football's momentum slowing down anytime soon. "This is a movement," Reese says. "This isn't a 'here today, gone tomorrow' thing. The sport is here to stay, and it's only getting bigger by the month."