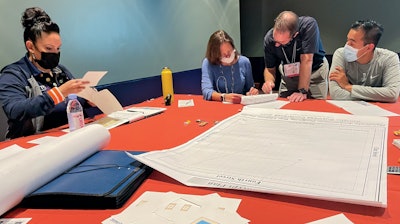 For many campus recreation professionals, AB Show 2021 in San Antonio was the first in-person industry event they attended since at least 2019, and it might have felt a little weird.
"It was definitely different, but it was nice to see people again," says Frances Caron, assistant director of the aquatics program at the University of California, Riverside, who was one of more than 65 speakers at the four-day event held in October. Caron wore a face mask at all times, even while presenting, as did most other attendees. "People had a mutual respect for each other, and everybody was so polite."
That's encouraging news for people hitting the road for the 2022 NIRSA Conference in Portland, March 29 through April 1. Either proof of full vaccination against COVID-19 or proof of a negative test taken no more than 72 hours before the start of the event will be required of all attendees, speakers, exhibitors, contractors and event staff, and an indoor mask mandate is expected to remain in place at the Oregon Convention Center.
For other campus recreation professionals, personal health and safety concerns may be keeping individuals away from industry events for a bit longer. So might budget constraints that, in some cases, are requiring staff members to attend on their own dime — or not go at all. But as Dr. A'Naja Newsome notes, continuing education in the profession has never been more critical.
"Professional development is so important right now, because nothing about the foreseeable future will be like it was. Nothing," says the chair of 2022 NIRSA Conference Program Committee. "I think we are forever changed as an industry within higher education — in a good way, in a way that will move us forward. And as professionals, we have to be ready and willing to adapt. We have to be innovators. We have to be resourceful. And if our goal is the health, safety, wellbeing and academic success of our students, we're going to have to work together to understand things that may be outside of our job description. We're really going to have to expand our competencies as professionals."
To that end, the educational program at the 2022 NIRSA Conference will reflect the evolving demographics, behaviors, expectations and needs of today's students. The pandemic pushed mental health to the forefront, while the social unrest of 2020 spurred many students and professionals to become ardent advocates for equity, diversity and inclusion.
"Personal and professional development extends far beyond our office culture," Newsome says. "It's about taking care of ourselves as people, and I think that part is often overlooked within the context of professional development. We need to care for ourselves first to improve our capacity for communication and empathy and to become resilient in our desire to help the students we serve."
Technology, outdoor programming and — in celebration of the 50th anniversary of Title IX — women in leadership also will be themes emphasized within NIRSA sessions. "Our goal is to put together an educational menu that will appeal to a variety of backgrounds, experience levels and interests," Newsome says.
New for aquatics professionals
AB Show 2021 provided Melissa Fadler an opportunity to not only focus on professional development but reconnect with vendors at the event's trade show.
"We still need to make those connections and do business," says the associate director of marketing and promotions for the Recreational Sports Department at Sam Houston State University. "So, to be able to actually try out equipment, look at what your facility needs are and determine how you can fulfill those needs also was important. You definitely can't do that on Zoom."
Fadler also is the marketing and member engagement director for the Association of Aquatic Professionals and helped with programming of the 2022 AOAP Conference and Exposition, slated for Feb. 5-10 in St. Pete Beach, Fla. Sessions targeting college aquatics operations are expected to focus on student development, instructor training, new programming options, partnerships with outside agencies and other topics.
"I reached out to NIRSA because it was a great opportunity to collaborate and help AOAP advance aquatics professionals beyond the municipal, military and nonprofit sectors — to really expand that reach into the university setting," says Fadler, who has been an aquatics professional in the municipal, nonprofit and university sectors. For its part, NIRSA will be able to deliver a focused track of learning sessions to aquatics professionals inside and beyond campus recreation at a time when COVID has limited people's ability to travel.
The AOAP will livestream select events for virtual attendees who aren't yet ready for large gatherings, and the event also will offer "indicator wristbands" to all in-person attendees. Different colors will indicate how much social distance the wearer prefers to maintain.
"It's Florida, so there are no restrictions," Fadler says. "But we're aware that people will be traveling from places that have tighter restrictions, and we're not taking that lightly. We want people to be comfortable while they're at our conference."
'More exciting this time'
Those fortunate enough to attend conferences this year (at least early on) likely will see reminders of COVID-19 everywhere, from socially distanced seating in seminar rooms to face-masked colleagues on the expo floor. The key to having a successful event experience, Caron suggests, is overcoming anxieties and embracing the opportunity.
"Step back and realize that, 'Wow, I haven't had anything for two years and now I'm back,' " Caron says. "I'm excited to go to the NIRSA conference and other conferences, because I feel like so often, pre-pandemic, we attended the same events year after year and heard a lot of the same speakers — which was great. But all of a sudden, we were forced to kind of pause and refresh. So, I actually feel like everything is more exciting this time around, because we've had that pause. It's invigorating."