Sports commissions, Convention and Visitors Bureaus, and parks and recreation departments in hundreds of communities see sporting events as the key to bringing in dollars and prestige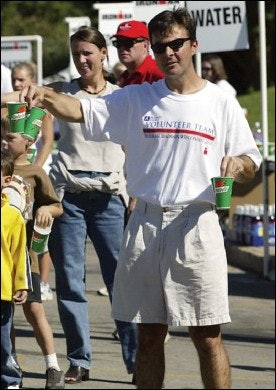 Pick any area of the United States in 2003, and you can find a story like the one unfolding in Greenville, S.C. Seven years ago, residents of nearby Easley approved a referendum to increase taxes by eight mills so the city could help build the J.B. "Red" Owens Recreational Complex. Around the time that facility was completed, residents of Mauldin approved the construction of Sunset Park. Nearby Simpsonville got in the tournament game soon thereafter, as did Anderson, which in 1999 developed the $20 million Anderson Sports and Entertainment Complex.
As the number of amateur events being held within this 30-mile radius grew, it began to dawn on business leaders in Clemson that attracting tournaments could be potentially more lucrative than a string of football Saturdays. The Clemson Area Chamber of Commerce's Sports Council was born.
Easley has now twice played host to the Independent Softball Association's Super World Series. Mauldin has brought in the Dixie Ponytails All-Stars and Dixie Belles All-Stars state championships. Simpsonville got the Dixie Angels state tournament. Anderson hosted the Balloon Federation of America National Championship and the Southern Softball Athletic Association World Championships. And in its first year of existence, Clemson's Sports Council landed the U.S. Cycling Federation Junior/Espoir National Road Championships and the Olympic Torch Run.
Can that many groups devoted to sports - not to mention all the different local recreation departments that could also host special events - coexist peacefully in such a small area? That's a question faced by communities everywhere with the meteoric rise of the sports commission, which 10 years ago was the almost exclusive domain of first- and second-tier cities hoping to land the Olympics, the Super Bowl or the Final Four. Now, sports commissions - configured independently or as an arm of a local Convention and Visitors Bureau - overlap in region after region, in some of the unlikeliest of places. Noting that the International Association of Convention and Visitors Bureaus' 450 American members represent perhaps half of the total bureaus in the United States, Don Schumacher - himself executive director of the 276-member National Association of Sports Commissions - says, "The world has undergone a sea change since 1993. There could be upwards of a thousand cities or regions or crossroads with sports commissions now, and a lot of them don't even have 'Walk/Don't Walk' on the corner."
The NASC is doing its part to grow the number of sports organizations setting up shop in cities, counties and hamlets. Founded in 1992 with just 15 members, the NASC represents at this writing 225 American cities. About 100 of its members are full-fledged sports commissions operating independently of their local CVBs.
Scan the association's membership list, and you're likely to find quite a bit of overlap. For example, hop I-85 north out of Greenville to Charlotte, N.C., an hour's drive away, and you'll reach the zone of influence of Visit Charlotte, the Charlotte Regional Sports Commission and the Cabarrus County Convention & Visitors Bureau in Kannapolis. All are members of the NASC, as is the Hickory Metro Sports Commission, a mere 40 miles away.
That's quite a change from 1989, when Schumacher left arena management to help found the Cincinnati Sports Commission. At the time, Cincinnati's was one of 35 commissions operating, and like most of those it worked closely with the city's CVB to match dates with hotel availability, negotiate special hotel rates and so on. Such a symbiotic relationship between the commission (whose members came from sports event management) and the CVB (which dealt mainly with conventions) was, and remains, a logical one. Many of the industry's newer players, however, are either CVBs whose members lack a sports background or sports commissions without well-forged local business relationships. As a result, the NASC spends much of its time enlightening wannabes and newcomers alike with Best Practices seminars and educational sessions. "We have members for whom Sports Commissions 101 is a real challenge," Schumacher admits.
Of the two categories of fledgling professionals, Schumacher says that those familiar with sporting events have an easier time. "CVBs don't necessarily understand what they need to know to participate in the sports event and travel market," he says. "With a convention, when you make the sale, you're sort of finished. Conventions work with the on-site coordinators and call the shots. Those of us who come from the events side know that it's when you make the sale that the work starts."
Prospective sports commission founders might think that they must start by wrestling with knotty issues such as the proper organizational structure or the makeup of the group's board of directors. However, the NASC believes that all sports commissions undergo a natural process of evolution - typically, from an arm of a larger organization to an independent, nonprofit corporation. More difficult is the issue of funding, since existing organizations that might run events - CVBs, colleges, parks and recreation departments - will all be trying to sip from the same watering hole. Most sports commissions draw a fair chunk of their financing from hospitality taxes (other revenue streams involve memberships, corporate donations, grants and event management fees), but how they get to that money varies. Some cities wanting to create a sports commission have to put such a tax increase to the voters; others merely dip into the existing pot.
The possibility for friction is high in both circumstances, since corporate funding for sporting events is likely to be limited in a given municipality no matter how many sports organizations there are. But it goes beyond funding issues. The introduction of a sports commission, or the sudden entry of a CVB into the realm of sports competitions, puts tremendous pressure on local facilities operators to accommodate the new events. Working relationships can become strained, and a recreation department's customers can become outraged when, for example, they go to the pool and find that open swim has been muscled out by a bunch of out-of-state swim teams.
"The way people do it incorrectly is to bid on an event and then afterward call the parks and recreation department and say, 'You've got to help us, we've got to have all the town's softball diamonds for a week,' " Schumacher says. "That kind of approach almost always produces hurt feelings. On the other hand, if you get them involved early and promise no surprises, it's hard for them to resist, because it's really good for the community. It will displace residents, but people will be coming in and sleeping in our hotels, shopping in our stores, eating in our restaurants, and they're going to go home having left behind $500 or $1,000 apiece. Whenever you hear people venting frustration at a sports commission or CVB, it's because they didn't handle the bid process properly. They weren't thinking that the parks and recreation people had a job to do."
The frustration, though, cuts both ways. Jeff Toler, director of sports marketing for the sports commission arm of the Coastal Fairfield County (Conn.) Convention and Visitors Bureau, says he has already met a great deal of resistance during his commission's nine-month history.
"I have cities that won't give up their parks for a day," Toler says. "Some of them just refuse to see the benefit of hosting an event. And I'm not asking for their fields for free; their towns are going to see some economic impact, and their departments are going to be able to apply the usage fees to fixing up their fields. I think some of them are missing the ball, especially during times of the year when their fields are sitting empty."
This past January, the Buffalo Niagara Convention & Visitors Bureau hosted the National Senior Games men's ice hockey championship at a publicly owned facility that is partially funded by private skate clubs. Noting the region and time of year, Kristen Wood, the Buffalo Niagara CVB's account executive for sports, says simply, "Tough sell."
Wood's primary task during the process of bidding for the event was to sell the event not to the venue operator, but to the town board and all the different user groups who would be, as it were, frozen out. "The selling points were the traditional stuff - economic impact, visibility," Wood says. "We also tried to get buy-in from the community by paying the members of the club teams, who would normally be skating there, as scorekeepers and so on. We presented it as an opportunity to make money for their organizations, and they made a decent chunk of change. And the National Senior Games people were smart. They gave the hockey clubs some freebies - caps and shirts and stuff - and invited them to the banquet, so it made them feel like it was their event. It worked out for everybody."
Toler and Wood both see a need for active involvement of their organizations with recreation departments and other organizations with whom they may have to - or want to - work in the future. Toler is planning a "mixer" that he hopes will draw the directors of all 13 recreation departments in his area. Wood says she tries to involve recreation departments in her events and wants to be involved in theirs.
"We try to make good relationships with local municipalities, get them to not only tell us they're having an event, but tell us early, while they're still in the planning stages," Wood says. "Some say, 'We have our own travel agency we work with, we're running the tournament, we don't need you.' Our job is to educate them about our services and how we can help. Certainly one of the things we can do is help them with the bid process, and give them a better chance of winning an event. We can show them ways to make additional revenues off the event. We can provide funding, to a degree. We can assist with event management, or put them in touch with others who can. They're very good at putting on the event, but sometimes not very good at fund-raising and promotion."
During the decade that has seen the rise of the sports commission, there have been some spectacular falls, as well. It was in May 1991 that Athletic Business reported on the efforts of the Greater Buffalo Athletic Corp. and its chair, Burt Flickinger, to win the bid to host the 1993 World University Games. Flickinger's group was successful (it would be the first time the event was held on American soil), but he was blunt in his assessment of the venture's risks. "Particularly in the case of a larger event, where a lot of people are going to be watching you, you have to be concerned about doing it well, or else you and your city look like jackasses," Flickinger said then. "One of the primary reasons you're doing it is to enhance your community, and if you screw up, you're worse off than if you never had it."
Flickinger could not have known just how prescient those words would turn out to be. Billed as an event "second only to the Olympics in amateur sports prestige," as the Buffalo News called it at the time, the '93 Games more than failed to live up to the hype. Promoted as a boon to Buffalo's image and a surefire producer of up to $150 million in tourism dollars, the Games attracted no notice outside of the immediate area and filled no more hotel rooms than a typical July. Flickinger suffered several small strokes (stress-related, it was widely surmised) during the last weekend of the Games and missed the closing ceremonies - after which, if you can believe it, things got even worse.
In 1994, Flickinger was one of 10 officials named in a $2.4 million lawsuit filed by the Federation Internationale du Sport Universitaire. Citing debts of $3.6 million on the $34 million event, Flickinger's group announced it would not pay money owed to 400 local vendors, a public relations disaster that wasn't helped much by the negotiated settlement that November of 50 percent payment. The individual defendants were eventually dismissed from the lawsuit, but Erie County and the Western New York Sports Commission (which had also been involved in luring the Games to Buffalo) were forced to pick up the tab. The WNYSC folded in 1997, at around the time Flickinger died of yet another stroke.
Such a story would be almost unbearable without some flicker of light, and Wood says there are two: The Burt Flickinger Athletic Center on the campus of Erie Community College, and the Amherst Pepsi Center on the University at Buffalo's Amherst campus, both legacies of the Games. This year, the Flickinger natatorium will host 7,000 Empire State Games athletes, while the Amherst Center's track will host the 2003 USA Track & Field National Youth Championships.
"I'll tell you, we received a tremendous amount of business off that poor event," Wood says of the World University Games. "We constructed two facilities, and have gotten a ton of mileage from them."
As for the demise of the region's sports commission, Wood says that's just part of the cycle that all commissions go through. "If you're doing really well, nobody bothers you," she says. "If you lose money on an event, even if it's one out of 20 that you do, everybody will criticize how you're set up. The CVB was a separate organization, but we were also impacted in a public perception sort of way. Even now, if you go into the community and ask them to endorse an event, someone is liable to say, 'Look what happened to the World University Games.' It's been 10 years now, and people still remember that."
One of the differences now is that, in the absence of a sports commission, the Buffalo Niagara CVB works to attract sporting events - or, rather, Wood does. Calling it a "hybrid organization," Wood is one of six salespeople in the CVB; she handles sports, while the other five work on the other 20 market segments that the group serves. Wood says the CVB isn't as prone to risk as a sports commission would be, because hers is entirely funded by Buffalo's hotel tax. "If an event does bad, a sports commission loses revenue," she says. "We don't receive less bed tax money."
Still, the bureau's latest successful bid sounds awfully risky. This winter, the Buffalo Niagara CVB landed the 2005 North American Indigenous Games. News reports leading up to the successful bid noted that at least 7,000 athletes would be drawn to Buffalo from the U.S. and Canada; however, not a single published article made note of the fact that between 60 and 70 percent of the athletes are Canadian and will thus be fighting a debilitating exchange rate. Nor, even, that one of the two previous times the triennial event was to be held south of the 49th parallel, financial and flooding problems forced the host city (Fargo, N.D.) to give up the Games, which instead took place in Winnipeg, Manitoba.
Wood concedes, also, that the event - which will cost $10 million and (it is hoped) bring in $40 million in economic impact - is a hard sell to local businesses. Hoteliers, for example, are not so keen to offer lower rates for these athletes since the event will take place from July 28 to Aug. 7, in the middle of the peak season for tourism in the Niagara region.
"We have a healthy level of caution with hosting the Games, but I still think we're going to get a significant Canadian constituency, and that we're going to gain a ton of American constituents," Wood says. "We started grassroots promotions and fund-raising efforts before we won the event. Our coordinator spent a month going to casinos. A market analysis done by Sport Canada showed that the majority of Indigenous Games spectators are relatives of the athletes, and they tend to bring a few more spectators per athlete than traditional events. It's a very family-oriented group, and they bring not only mom, dad and sis, but grandparents and elders."
"A healthy level of caution" is what prevents many commissions or CVBs from bidding for more well-known events. But once an organization gets a taste of holding a successful event, it's almost inevitable that the stakes get bigger. One commission bent on raising its own bar is the Greater Springfield (Mo.) Area Sports Commission, which in its first three years was probably best known for hosting Snickers Cup soccer. In the past year, however, as the city's Jordan Valley Park nears completion, the commission has landed the 2004 National Christian College Athletic Association national basketball tournament and is setting its sights on NCAA and NAIA baseball, basketball and volleyball tournaments.
Yet, as Brad Eldridge, the commission's executive director, points out, an event doesn't have to have a national following to be considered, well, big. Springfield, the state's third-largest city, increasingly finds itself in competition with St. Louis and Kansas City for events such as the state horseshoe pitching tournament, which this August will make its Springfield debut. Eldridge hopes that event will be a springboard for attracting the national horseshoe pitching championship; meanwhile, he's angling for a powerboat event at nearby Fellows Lake.
"People think a horseshoe tournament sounds funny, but it should be lucrative for us," Eldridge says. "We're looking at having 600 to 1,000 participants and their families coming to the area."
It's the participant-driven (not ticket-driven) events that are increasingly seen as being without risk. The athletes and their families will make the trip, the theory goes, and even if no one comes to watch, the region's economic engine will remain greased. Schumacher points out that the American Athletic Union alone has 150 championships every summer, only 50 of which take place at the AAU's home site (Disney's Wide World of Sports in Orlando, Fla.). The others, he says, "are all looking for a home."
If there's a downside, it's that the burgeoning number of sports commissions trying to lure these events is leading amateur athletic organizations to make more of their own demands, or even to play one region off another. All of which suggests that one need not fail on a national stage to end up looking, as Burt Flickinger once said, like a jackass. Support from local business leaders can dissipate in the face of one or two events that fail to bring in the promised tourist traffic. And, of course, many newer sports commissions - because they tend to represent smaller urban or suburban areas - are often at a competitive disadvantage in terms of facilities and financial support.
For example, the 10-year-old Coastal Fairfield County Convention and Visitor Bureau's new sports commission (which it launched with the help of a Tourism Challenge Grant from the Connecticut Department of Economic & Community Development), represents 13 communities in southwestern Connecticut. A little more than a year ago, the organization performed a feasibility study prior to startup that noted the region's new minor-league baseball facility in Bridgeport, the Long Island Sound's 30-mile coastline, numerous parks and small-college and semipro facilities. What it did not mention was how difficult it can be to schedule an event in an area lacking a strong central identity.
"You find yourself in competition with big markets like Chicago, all the way down to Parksville, Tenn.," Toler says. "Obviously, I don't have the facilities to compare to Chicago. Also, it's hard for me to pull people together behind a bid. We partnered with New Haven's new sports commission to bid for a National Softball Association tournament, and we needed 32 softball fields up and down the coast. I basically had to contact every parks and recreation director to get their opinions and approval, and then go to 13 mayors and get their support. It can be tough politically sometimes."
Don't take that as a waving of the white flag, though. Toler scored a coup by snatching the U.S. Intercollegiate Lacrosse Association NorthSouth All-Star Game from perennial lacrosse powerhouses Rutgers and Johns Hopkins universities, and he's continuing to push the desirability of southern Connecticut to pretty much anybody who will listen.
"Obviously, there are sports we can't do," Toler says. "But there are no events I'll completely write off. I'll consider a curling event. I booked a national darts tournament last year." He pauses, and laughs. "Really, we had a big success with darts."
Late this summer, the year-old Lehigh Valley (Pa.) Sports Commission will run its first major event, the Great Lehigh Valley Soccer Festival. Approximately 1,500 athletes and 2,500 spectators will come to town, and the commission says that over time, the annual event will inject $500,000 a year in direct spending into the local economy. Also in August, the Greater Raleigh (N.C.) Convention and Visitors Bureau will host a 200-team PONY fast-pitch softball tournament, which is expected to net local hotels and restaurants $2.1 million. Meanwhile, the 80 teams taking part in the East Coast Roller Hockey Association Nationals in Apex, N.C., will leave behind about $787,000, according to the Greater Raleigh CVB.
Numbers such as these typically accompany all sports commission press releases and news reports, and as the competition for events stiffens, those numbers are certain to rise. Whether they're accurate, however, will be anyone's guess. Taking a page from professional leagues and international Olympic committees, CVBs and sports commissions show an increasing tendency to use the highest available estimates in promoting events to their constituents. The dangers of this approach have led the NASC to downplay the use of multipliers in its educational sessions. As Eldridge says, "If you don't reach your estimate, you open yourself up for a lot of questions."
"The more we puff the numbers up, the more of a disservice we do," adds Schumacher. "Those numbers may make an event look good before the fact, but using inflated numbers causes people to be judged against those numbers. And also, our members have in some cases driven up the fees charged by athletic organizations by making these outrageous claims, so even if they win a bid they'll never be able to afford to bring the event back."
But even well-meaning professionals are helping to drive the cost of staging events higher by competing ever more vigorously to stage events. Consider that 19 cities bid to host the 2005 Summer National Senior Games, an extraordinary figure for an event made up of older athletes (who, one would expect, would be less likely to bring along large groups of family members). Pittsburgh, which was awarded the bid last November, announced it expected to reap $35 million "conservatively," according to Joseph McGrath, president and CEO of the Greater Pittsburgh Convention and Visitors Bureau, based on 12,000 athletes and 35,000 total visitors. (Orlando, Fla., drew 12,000 athletes when it held the event; other cities' figures have hovered around 9,000.) The event's budget will be about $2.5 million; the University of Pittsburgh School of Medicine paid a $30,000 hosting fee to the National Senior Games Association.
Buffalo's Kristen Wood is unfazed by such numbers, calling herself "a firm believer" that it is sometimes advantageous to bring in a high-profile event even if it comes with high costs. And yet, even she sees the potential ruinous downside of too much competition.
"Going after events is like having a good financial profile," she says. "You have to have a little of everything. Some are high risk, others aren't so high risk. Some you do because you're going to make a lot of money, others you do because it's the right thing to do. What's risky is some of the new CVBs that have more of a shotgun approach, that bid on everything that comes across their desk. If you're a sports commission, you're going to die doing that. You'll find out real quick which events are safe and which are not."