Indoor tanning joins the growing menu of health-club vanity services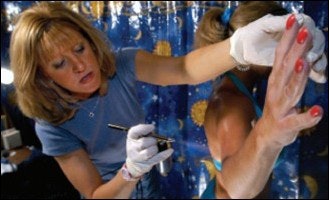 It's projected that this year the indoor tanning industry will break the $5 billion threshold. Twenty percent of that business is expected to be generated by facilities that offer sunless tanning, which uses spray-on solutions (a method referred to as "airbrush tanning") to darken the skin rather than UV rays.
One market segment offering significant growth potential for indoor tanning is the health and wellness industry. The fact that indoor tanning entrepreneurs are taking greater interest in the health and wellness sector shouldn't surprise fitness center operators, especially as they see increased demand from their members for vanity services - such as massage, acupuncture, and skin and nail care - traditionally the purview of day spas or salons. Now some tanning industry insiders are touting their product as the next big thing.
"People think of tanning as more of a chick industry, and in the day spas and salons, yes, there are more women. But men are there, also. On the health and fitness side, it's more equal," says Cindy Richardson, vice president of Natural Bronze, a West Palm Beach, Fla.-based company specializing in airbrush tanning. "There are both men and women who do body-sculpting competitions, for instance, and are looking for a tan that is natural looking and can be done fast."
"You'd be surprised to know that 30 percent of tanners are guys," adds Jason Eglian, president of All Around Tanning, a Cincinnati, Ohio-based distributor of UV tanning beds and accessories. "They want to look good, and tanning brings out their muscle definition."
But simply introducing a tanning salon to your club doesn't guarantee an instant profit center. According to the International Health, Racquet & Sportsclub Association, only 10 percent of IHRSA-member clubs report tanning as among their five most-profitable services. "The tanning industry has been around for 25 years, and there is opportunity within it. It is, however, a service-oriented business," says Joseph Levy of the International Tanning Association in Jackson, Mich. "You have to be dedicated to providing that service. You can't just stick a bed in the back of your gym and expect to succeed."
Nothing came easy for the staff at Gold's Gym Williamsville in Cheektowaga, N.Y., after it installed its three UV tanning beds four years ago. Even after downsizing its tanning operation by one bed, the club has had to continue advertising those services aggressively to ensure profitability. "We try to run specials on occasion, but the most important thing is keeping the beds in front of people. That way the people who are here all the time know we have them," says Gold's Gym Williamsville's customer service manager Marc Gracie. "We sell other stuff, too - goggles, oils, lotions." This multipronged strategy has paid off for the club, returning 70 percent on its tanning investment in 2002.
It's a figure worth noting, considering the substantial cost of purchasing and installing a commercial UV tanning bed, the latter cost depending largely on where the equipment is being installed. (Most commonly, small massage/changing rooms or storage closets are retrofitted to house tanning beds and booths.) Standard 24-lamp beds that use low-pressure lamps, which are 100watt tubular fluorescent bulbs, are generally priced between $3,000 and $10,000. Stand-up booths that incorporate the same technology, but in smaller footprints, start at $7,000. Tanning equipment that uses VHR, or "very high reflector" 160-watt fluorescent lamps, is slightly more expensive.
Top-of-the-line commercial tanning beds use high-pressure lamps that generate between 800 and 2,500 watts each. (Many low-pressure beds are equipped with one "facial" high-pressure lamp.) Because of their higher intensity, these quartz reflector lamps emit a greater ratio of softer UVA rays (which cause the skin to produce melanin, turning it golden brown) while filtering out all but about 1 percent of the skin-burning UVB rays. By comparison, low pressure tanning beds emit up to 9 percent UVB rays, just enough to produce the melanin required to tan, but they also let through a much higher percentage of UVA rays. The theory is that because high-pressure lamps cause little or no damage to the skin, they can produce a healthy-looking tan that lasts two weeks or more in as little as three 12-minute sessions (one low-pressure tanning bed session lasts 20 to 30 minutes). The cost of this more-efficient technology ranges between $25,000 and $35,000.
Whatever the type of equipment chosen, facility operators can try to recoup the cost of their investment using software designed to streamline the club's tanning operation. For example, a smart-card system called Scan-A-Tan controls access to and operation of tanning beds. Scan-A-Tan is compatible with a digital timer management system called T-Max that plugs into each tanning bed. To prevent users from unauthorized use (it's a common problem for abusers to bypass the system by unplugging the bed from T-Max and plugging directly into an electric outlet), Scan-A-Tan requires that each bed be activated with a smart card, each of which features a personalized chip-encoded memory.
Members must purchase from the club a smart card to which a specific dollar value can be added with cash or credit. Each tanning bed's card reader, working much like a debit machine, ensures proper fund authorization from the member's account before activating. If a member purchases, say, a $50 smart card and then proceeds to buy an $8 bottle of tanning lotion and a $15 tan, $27 will remain on his or her smart card.
With the Scan-A-Tan software, club staff members have the ability to track the tanning operation's finances, individual bed usage and customer usage (including preventing members from receiving more than one tan per day, and thus jeopardizing their health). The software also allows club staff to target frequent tanning customers or attract new ones using special promotional rates. "You can do bonus deals, where a person gets a $50 value on their card for a $40 purchase," says Eglian. "Or you can offer unlimited tans per month for a certain purchase amount."
Automation may be the way to go for clubs whose members place greater importance on speed than service. However, regular customers of Chrissy Cunningham's Healthy Glow Sunless Tanning, which operates as an independent contractor at Crystal Lake, Ill.'s HealthBridge Fitness Center, prefer being able to see a familiar face. That's because the application of the airbrush tan, unlike an entirely private session in a UV tanning bed or booth, requires them to disrobe in front of and be sprayed from head to toe by an attendant.
It takes about 15 minutes to evenly coat the entire body of an average-sized person with the super-fine mist, the active ingredient of which is DHA, or dihydroxyacetone, an FDA-approved agent that reacts with amino acids in the skin to pigment the outer layers without entering the bloodstream. The solution creates a streak-free tan that lasts for five to seven days. "It's a decidedly odd process. I mean, you have to strip down to your birthday suit to get sprayed," says Cunningham, whose clientele is predominantly women age 35 and older. "Securing the customer's confidence and making that person feel comfortable is important, especially with women in this age group. Because let's face it, a lot of them have had a couple of kids and don't look like they used to."
Cunningham also puts her clients at ease by sharing with them information she has gleaned from medical reports on skin care and tanning. For Cunningham's customers, the advice carries greater importance once they learn of her bout with skin cancer as a young adult. "It scared me so much I haven't laid out in the sun since the early '90s," says Cunningham, who cites that experience as a primary reason she chose a career in sunless tanning rather than UV tanning.
It's also been the route chosen by HealthBridge Fitness Center, an affiliate of northern Illinois' Centegra Health System. Cunningham attributes the facility's decision to offer sunless tanning to its "health-conscious" mission. "The company has embraced this concept," she says. "Hospital fitness centers like HealthBridge are more likely to offer this vs. tanning beds."
In addition to serving as a healthier alternative for medically based facilities and their members, sunless tanning salons cost less to operate. For example, Natural Bronze's airbrush tanning systems - each of which includes an airbrush, a compressor and several starter bottles of bronzing solution - cost less than $1,000. Each application consumes about 2 ounces of product, depending on the size of the person ("It's a square footage deal," says Richardson), and additional solution comes in 4-ounce bottles. The company also boasts a fully certified organization that trains fitness center staff how to administer the airbrush tan. "A lot of people don't like to be orange," says Richardson. "The actual technique is very important."
For airbrush tanning services, Richardson recommends that facilities charge between $25 and $60 per tan, depending on the customer base. "One high-end club in West Palm Beach charges $70 because that's what their clientele expects," she says. "You want to keep it profitable."
Meanwhile, Cunningham charges HealthBridge members $60 and non-members $72 for two full-body applications. During the first visit, the DHA bronzer is applied. Cunningham's clients are advised not to bathe for at least 12 hours after the first application, but 24 hours after being sprayed, they return to receive the second coat, which is clear. "They can wash fairly soon after that," she says. "Then they're tan."
And apparently, very happy, too. "I've had women cry, thank me and tell me how much I've helped change their lives," says Cunningham. "Once people are tan, they don't need to wear makeup because their aging lines don't show as much. Everyone looks healthier and better when they're tan."