Ski resort operators seek short-term solutions to the long-term problem of global warming.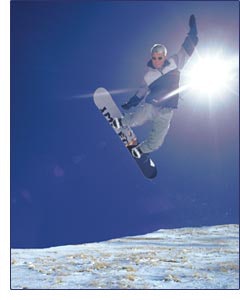 Polar ice caps melt. The sea level rises, swamping 80 percent of the world's major cities. Category 5 hurricanes lay to waste what the floodwaters spare. Crops the world over wither from drought.
Given the potential impact of global warming, the melting of snowpack and its effect on skiing doesn't seem overly important. But it's a problem that the ski resort industry, which generates more than $3.6 billion in revenue in the United States annually, has to -- or will eventually have to -- deal with. After all, another 1-degree rise in the earth surface's average temperature could be bad -- bad for business, bad all around.
Here and there, ski resort operators are becoming more active in seeking solutions, short-term though they may be. Andermatt, for example, a small resort in Switzerland, generated some raised eyebrows and international ink in May when it hired ice climbers to stretch $83,000 worth of white insulating fleece over an ice face to protect the melting toe of the Gurschen glacier, which has retreated by 60 feet over the past 15 years. "Some, they said we're crazy," Urs Elmiger, chief financial officer of the Andermatt ski area, told The Denver Post. "We needed a solution."
Other resorts, such as Mont Blanc in the French Alps -- where this June more than half a million cubic yards of the Argentine Glacier broke away from the mountain -- are repositioning themselves as summertime destinations for mountain biking, golf, Nordic hiking, canyoning and mountaineering. According to a story this summer in Agence France Presse, glacial melt, which is widespread in Europe, this year cost a number of Alpine resorts their summer skiing season. And in October, the British government held a conference on the impact of climate change on migratory species at Aviemore, Scotland, a former ski mecca that has essentially closed down during the past several years since the disappearance of the Cairngorms' snowcaps.
The view from within the United States shouldn't surprise anyone who has followed this country's longtime debate over the very existence of global warming. The release in October of a report, "Less Snow, Less Water: Climate Disruption in the West" (sponsored by the Rocky Mountain Climate Organization and the Washington, D.C.-based "Clear the Air"), prompted a mixture of soul-searching and denial in and out of the ski industry. The report predicted that snowpack and snowmelt in the Colorado River Basin could decline by as much as 24 percent by 2039 based on current precipitation and warming trends -- an alarming prospect for an area already having problems supplying water to a burgeoning population. Yet, Molly Cuffe, director of communications for Colorado Ski Country USA, had this to say: "We are concerned with global warming, but basically, we have an optimistic outlook on the future."
Colorado's higher elevations to a large extent protect it from what occurred last winter in the Cascade Mountains, where much of what used to come as snow fell as rain, forcing Washington's Summit at Snoqualmie to close for half of its 2004-05 season. But, notes Parker Riehle, vice president and general counsel of the Vermont Ski Areas Association, Colorado might escape one damaging global-warming effect only to be hit hard by another. "Look at this year's hurricane season," Riehle says. "Arctic temperatures can be every bit as much of a by-product of the global-warming phenomenon as snowmelt."
Unlike the National Recreation and Park Association and the International Health, Racquet & Sportsclub Association, the ski industry doesn't keep a high profile on Capitol Hill, so it has yet to lobby Congress or the Bush Administration on climate issues. The environment, however, is definitely on the radar of the National Ski Areas Association. In 2000, that group issued the Sustainable Slopes Environmental Charter, which sets out a blueprint for ski resorts to preserve the natural environment -- "a ski area's number-one asset," in the words of NSAA President Michael Berry.
Riehle says the tangible effects of this document on ski resorts in his state have been impressive. Killington has introduced an Air Quality Implementation Plan that has as its object the reduction of NOx emissions from diesel compressors used in snow-grooming machinery. Smugglers' Notch implemented the SkiCool program, through which skiers and boarders can buy higher-priced "green passes" that apply the extra dollars toward the purchase of renewable energy credits that help finance wind farms and farm methane generators. Stowe contributes a significant share of the cost for the town's trolley system and provides its employees with free passes to use the trolley for their commute. Mount Snow heats several of its buildings with energy recaptured from snowmaking compressors, and Sugarbush just landed a grant from the state to develop biodiesel generation for the resort's snow groomers and other vehicles.
For its part, the VSAA coordinates with Amtrak to market the Amtrak Ski Train, which runs between the Green Mountain State and New York City. It is a fact, however, that skiing enthusiasts come from all over and tend toward family-size vehicles to hold their loved ones and ski equipment -- and no amount of marketing is likely to put a large dent in the auto-centric ski culture. "I don't think you're going to find any ski areas telling people not to drive SUVs," Riehle concedes. "The dynamic of high energy prices is probably the greatest educator of all in terms of altering people's behavior."
Beyond that, the ski industry's biggest difficulty as it tries to tackle global warming is that, as laudable as its efforts have been, they represent a figurative drop in the bucket. Global warming is by definition a huge eco-problem -- it goes beyond overflowing landfills and polluted streams, and way beyond even acid rain. To paraphrase a popular slogan, in order to combat this particular problem humans will have to think, and act, globally.
"Global warming is a beast that Vermont can't take on by itself," concedes Riehle. "But we can certainly do everything we can in our power."