A national association of for-profit multisport centers may be just around the corner.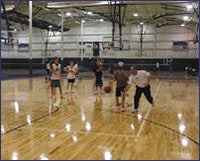 Outdoor sportsplex owners have the Sportsplex Operators and Developers Association. Operators of quality health clubs have the International Health, Racquet & Sportsclub Association. But owners, and especially wannabe owners, of indoor multisport centers - for-profit entities whose gyms and rinks most commonly accommodate basketball, volleyball, indoor soccer and inline hockey - don't appear to have an umbrella organization of their own.
A number of these entrepreneurs feel their specific operational mix and the unique demands needed to succeed in the market niche known as for-profit recreation haven't been particularly well-served by the sport-related associations already out there. To possibly correct this oversight, later this month a group of facility owners and multisport-facility consultants will convene in Chicago with the purpose of discussing the need for and potential viability of such an association, brought together - full disclosure - with the help of representatives of this magazine.
"There are real merits to a national association because you can share best practices and learn from others," says Rick Mason, at whose Verona, Wis.-based MAC Sport Center a member of the AB staff plays basketball. "We should be willing to share, rather than hoard information."
Norm Gill, a founder of the Louisville, Ky.-based consultancy Pinnacle Indoor Sports who will also be present in Chicago, sees the potential for added buying power when dealing with vendors, but agrees that the association's primary purpose will be educational.
"The purpose of the meeting will be to put together a mission statement," says Gill, "and more than likely, the stated goal will be to allow an opportunity for best-practices exchange - and commiserating when appropriate."
Another early task of attendees will be to look carefully at existing organizations to make sure a new association doesn't fall under the heading of reinventing the wheel.
On the face of things, an indoor multisport facility would seem to fit at least in part within the mission of several associations. IHRSA, for example, was formed at a time when "tennis club" and "health club" were nearly synonymous, and today's indoor gyms and health clubs are beginning to look more alike. Indeed, as Mason notes, multisport facilities, even though their focus is on sports camps, tournaments, high school and adult play, almost have to have some kind of fitness element to remain solvent.
"Ours is a multifunctional facility, with four high school-sized basketball courts the driving force behind the project," Mason says. "Verona is growing by leaps and bounds, and there's a lot of pressure for gym space, but you need to have other services besides a gym for cash-flow reasons. A lot of people are excited about the basketball and volleyball space, but the reality is that until 4 o'clock in the afternoon you can hear a pin drop in the gym."
With their team- and youth-sports focus, these facilities probably most resemble municipal recreation centers - except, of course, that city-owned facilities aren't built to turn a profit. That leaves out the National Recreation and Park Association. There are also several well-established sport-specific organizations serving owners of indoor soccer and inline hockey facilities. The trouble with these is that their focus is almost entirely on the tournaments taking place at member facilities, as opposed to nuts-and-bolts management issues such as construction, operation and finance. Philosophically, their purpose is "the sport first, the business second," Gill says - and he's even on the board of one such association.
Even more problematic is a recently formed group, The National Sports Center Consortium, which actually is focused on the business first. It's the exclusivity of the group, more than the purpose, which gives Gill pause.
"There's an underlying motivation to make money for the consortium and its members," he says. "There's nothing wrong with that, that's the business we're in." But, Gill notes, a charter membership is by invitation only, and costs $10,000 for an initiation fee, plus $2,500 in annual dues. Charter members are limited to the biggest players, with a minimum of five years in business, since the association is organized around the sharing of both sponsorship revenue from major partners such as Nike and of collaborative databases. (All charter members thus far utilize facility management software marketed by one of the association's founding partners.)
"It's a group organized to create buying power and some degree of information dissemination on how businesses can be run more profitably," Gill says. "They're getting together people who have been in business for five or more years - and thus are quote-unquote successful - for their own economic advantage. I think the angle we're looking at is to put together a group that genuinely is for best practices across a wide range of for-profit facilities. That's the main purpose, because those that probably need that information the most are those in their first five years of development, instead of those that have weathered the whole storm. If buying power evolves out of it, great, but other than that it's simply to make sure that there's an opportunity for the exchange of information."
As a founder of Soccer Blast International, Gill has been a developer of many indoor sports complexes, owning seven on his own and part of 15 in all. "I sold them off, because of the complicated local-market idiosyncrasies you had to master to be really successful, and because running them day to day was not what I enjoyed doing," he says. He's also a former general contractor, and he thinks he has seen the blueprint for his style of organization in the home building association to which he once belonged.
"Home building associations, no matter what their size, are made up of people competing with each other," he says. "But the main purpose of a home building association is to protect the industry and give the members some degree of buying power."
Mason says more than a dozen entrepreneurs in his region have called him with questions about his business, and even come for a visit, often asking if he'd be interested in an ownership stake in another, similar facility elsewhere. A number of them have even gone ahead and built their own centers. "I don't see it as a competitive situation," Mason says. "There's strength in numbers."