Reviews of Hook Me Up, Playa!; AthleticMindedTraveler.com; and I've Seen A Lot of Famous People Naked, and They've Got Nothing on You!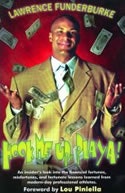 Money Baller
Career advice from a pampered, ex-professional basketball player? In Hook Me Up, Playa! (Wetherby Press, softcover, $15), former Sacramento King and Chicago Bull Lawrence Funderburke provides an insider's look at the financial fortunes and misfortunes of pro athletes and suggests money-managing lessons from which current and future athletes (and their parents, coaches and even fans) can learn. Despite a cover photo depicting the author decked out in what has to be a four-figure suit, Funderburke takes a no-nonsense approach to his topic and enlists the help of dozens of pro basketball, baseball, football and hockey players, who share their own experiences with money. Funderburke - whose hero, of all people, is former Federal Reserve Chairman Alan Greenspan - apparently practices what he preaches: He's studying to earn a master's degree in business administration, and the Lawrence Funderburke Youth Organization seeks to motivate young people to stay in school and lead positive lives.




Traveling Companion
When you're planning a road trip for business or pleasure, you don't always have time to pick up a book like The Athletic-Minded Traveler to find hotels, jogging routes, retail outlets and restaurants in your destination city that cater to healthy lifestyles. But now, athleticmindedtraveler.com - that book's snazzy online companion - makes it easy to log on and find a fitness fix in at least 50 U.S. cities. Billed as "the largest and most comprehensive healthy travel site on the web," the subscription-based portal features well-written copy, crisp photos and maps, and intricate details (such as the manufacturer and number of strength machines at San Diego's Omni Hotel). There are also relevant blogs and a "Corporate Solutions" section, which encourages companies to demonstrate a commitment to wellness when employees are on the road. Site plans call for the addition of at least 50 more cities, as well as real-time updates.
athleticmindedtraveler.com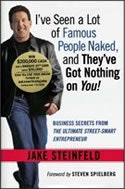 The Naked Truth
When Jake Steinfeld - the personal trainer who created the Body By Jake brand, founded the FitTV network and formed Major League Lacrosse - admits he's seen a lot of people naked, he doesn't mean naked naked. Rather, he's been around individuals like Tommy Hilfiger, Steve Jobs and Tommy Chong when they were stripped of the trappings of fame and fortune, and simply trying to run a successful business - whether designing fashions, creating software or playing potheads in movies. I've Seen A Lot of Famous People Naked, and They've Got Nothing on You! Business Secrets from the Ultimate Street-Smart Entrepreneur (American Management Association, hardcover, $21.95) - written in Steinfeld's informal style - seeks to help business owners improve their operations by building a high-profile brand, developing courage to take risks, turning failures into springboards for success and converting community goodwill into good business.