Degreed programs at colleges and universities are changing the face of motorsports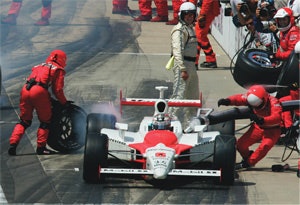 Students wishing to learn how to run college athletic departments or represent professional athletes have available to them myriad sports management degree programs across the country and abroad. But few accredited training options exist for those who aspire to work in, say, the Indy Racing League or NASCAR, the multibillion-dollar entity that currently represents the United States' fastest-growing sport.

Actually, that too is changing, thanks to new motorsports programs at schools like Indiana University Purdue University-Indianapolis and East Tennessee State University, which offers a master's degree program in sports management with a concentration in motorsports operations.

Kristi Willocks entered East Tennessee State's program in January and hopes the degree will steer her into life's fast lane. "I don't know 100 percent if it will help me," Willocks, who seeks a job in race track event planning, told the Associated Press in May. "But I think it will put me a little bit ahead of someone else who has a sports management degree."

NASCAR spokesman Ramsey Poston knows firsthand of the need for qualified people in the motorsports industry, which in 2003 employed more than 24,000 workers and had a $5 billion economic impact - in North Carolina alone. "It's so easy for people to focus just on drivers," Poston told the AP. "But beyond the drivers there are crew members, mechanics and engineers, accountants, PR professionals and marketing professionals."

In the mid-1990s, universities such as Clemson and Charlotte, both parked squarely in NASCAR country, began offering motorsports programs. But now, schools from California to China are keeping pace, proof positive to educators of motorsports' significant contributions to the American economy. "It has evolved from just a group of guys racing cars on an oval to an enormously large business that's generating billions of dollars in revenue," said Philip Bayster, chairman of the business department at Charlotte's Belmont Abbey College, which will debut a bachelor's degree in business management focused on motorsports this fall. "It's become so sophisticated that there has to be an upgrade in the talent levels of people who are part of the industry."