Seattle Sounders FC home debut features alcohol management public-service announcements booth.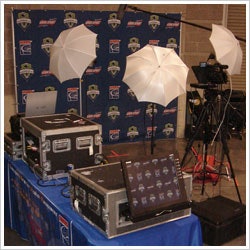 Soccer, meet sobriety. As 30,000 fans were introduced to the Seattle Sounders FC, Major League Soccer's newest franchise, during its March 19 home debut against the New York Red Bulls at Quest Field, about 60 attendees stopped by a booth hosted by alcohol-management alliance TEAM Coalition to film public-service announcements about responsible drinking. It marked the first time "Responsibility Has Its Rewards" PSAs were filmed in conjunction with an MLS club.
Fans read a script from a teleprompter and received a copy of their message electronically, with the hope that their take would be selected to be included in a PSA broadcast or video board announcement. A partnership between federal and state highway safety authorities, concessionaires, stadium service providers, the brewing industry and broadcasters, the "Responsibility Has Its Rewards" campaign promotes traffic safety, positive fan behavior, responsible alcohol consumption and designated driver programs at collegiate and professional sports venues and entertainment facilities. Newly minted Seattle soccer enthusiasts put their spin on a familiar designated-driver theme: Sounders Fans Don't Let Fans Drive Drunk.