The Williston (N.D.) Parks and Recreation District broke ground on a new recreation center last month. The 224,000-square-foot facility (pictured) is being built on the Williston State College campus, thanks to a 12-acre land donation from the school.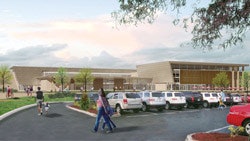 The Williston (N.D.) Parks and Recreation District broke ground on a new recreation center last month. The 224,000-square-foot facility (pictured) is being built on the Williston State College campus, thanks to a 12-acre land donation from the school. Included in the $64.5 million project will be an Olympic-size pool, instructional pool and a water park; indoor tennis and basketball courts; a synthetic turf field; a 200-meter track; a fitness center; batting cages and a senior center. Additional funding could add an elevated walking track and wave pool. Designed by JLG Architects of Williston working with Sink Combs Dethlefs of Denver, the recreation center is set to become one of the largest in the nation when completed in March 2014.
Ranked the worst playground in the city by the San Francisco Parks Alliance and the San Francisco Recreation and Parks Department, Boeddeker Park is getting an $8 million facelift. The renovation will demolish and replace the 30-year-old wood play structure and construct a new basketball court, a tai chi patio, a walking path, a stage and a clubhouse. Fences that divide the park will be removed, increasing visibility and park safety. The renovation is expected to take between 13 and 16 months.
The St. Louis Cardinals will break ground this month on the first phase of a seven-block, $700 million Ballpark Village adjacent to Busch Stadium. The initial phase, planned to be complete by Opening Day 2014, will construct a plaza area covered by a retractable glass roof and featuring a 40-foot LED screen, team hall of fame, restaurant and beer garden. It also will address improve parking, surrounding streets and infrastructure for the additional phases. Design Collective of Baltimore provided the architecture and planning services.
First Pitch
The Litchfield (Conn.) Parks and Recreation Commission is considering plans for upgrades to its Community Field. One plan would include a new recreation office complex, an expansion of the Little League baseball field, new tennis courts, a movie screen and other improvements totaling $1.1 million. A second plan, estimated at $4.6 million, would also add a gymnasium and require reconstruction of the entire site... Middlebury College has selected Sasaki Associates of Boston to design a new fieldhouse adjacent to its Kenyon Arena. The facility will include a 200-meter indoor track with synthetic turf infield, seating for 500, locker rooms, classrooms and office spaces, and will serve as an indoor practice area for the school's athletic teams. It also will accommodate NCAA track meets and special events. The project is expected to break ground this spring... San Francisco Sate University is proceeding with the construction of a new $80 million student recreation and wellness center. The center will include a two-court gym, a multiuse court, a climbing wall, a weight and fitness area, a jogging track and indoor pool, all to be built with LEED Gold certification in mind. Construction is expected to begin in 2014. WRNS Studio of San Francisco is leading the design... Trustees at Michigan State University have approved the planning of a two-story expansion to Spartan Stadium. The $18 million project will construct new locker rooms, concessions areas, a media room and a recruiting room. Once a feasibility study is completed, the Board of Trustees must approve construction.
Grand Openings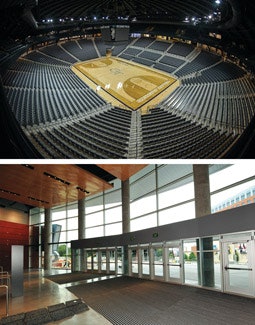 Georgia Tech's men's and women's basketball teams tip off their seasons this month in the new McCamish Pavilion (pictured). Retaining only the roof structure of the old Alexander Memorial Coliseum, the $50 million arena encompasses an additional 30,000 square feet and seats 8,600. Designed by Populous of Kansas City, the new layout features a concourse with open visibility to the court, a high-definition video board and other A/V upgrades, and a theatrical-lighting system... Construction wrapped up last month on LaBahn Arena, a 100,000-square-foot addition to the University of Wisconsin's Kohl Center. The three-level addition provides an ice rink for the men's and women's hockey programs, seating for 2,400 fans and locker rooms. As part of its quest for LEED-Silver certification, the arena is the first construction project in the United States to feature BubbleDeck, using plastic bubbles and steel reinforcement in place of concrete to reduce overall weight and materials. The project also includes the construction of locker rooms for the school's swimming programs, the relocation and remodeling of the men's and women's basketball locker room, as well as expanding the sports medicine area to include a treadmill pool and whirlpool... The North Shore School District in New York has finished construction of a new sports complex. Featuring a synthetic turf field, an eight-lane track and supporting facilities, the $3.8 million complex will serve the district's high school, middle school and three elementary schools. Designed by BBS Architects of Patchogue, the project also required the installation of a stormwater management system and special precautions to protect an adjacent wetland area... In preparation for its shift to NCAA Division II, Lindenwood University has completed a new student-athlete center on its St. Charles, Mo., campus. The $9 million project offers student-athletes locker rooms, offices and meeting rooms for football, men's and women's lacrosse, men's and women's soccer and women's field hockey, as well as study areas for athletes. The football locker room features branded leather furniture and secured lockers with individual fans to air out equipment. The project was designed by LePique & Orne Architects of St. Charles.