When Kim Clark took over as the University of Houston's director of campus recreation in 2012, one of the first things she noticed was the poor condition of the lockers. ...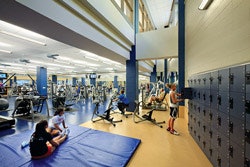 (Photo © Hastings+Chivetta Architects Inc./Fentress Photography)
When Kim Clark took over as the University of Houston's director of campus recreation in 2012, one of the first things she noticed was the poor condition of the lockers. "We had a lot of doors off hinges and locks that were not functioning," says Clark of the 10-year-old laminate-and-particle-board lockers.
She heard about them, too, from the student users who were expected to follow the recreation center's policy of storing their belongings in a locker but were unable to find lockers that actually functioned - or worse yet, functioned when they locked up their backpacks, but not when they returned to claim them. "Then we were in a situation where staff, out of necessity, were trying to break into lockers just to help students out," Clark recalls. "It was a nightmare for us, and a big PR issue, as well."
The recreation department hired an employee whose sole purpose was to check and repair lockers - fixing doors, tightening hinges and changing batteries in the digital locks. "We were doing that three to four days a week, and even doing that, we could not keep all of the lockers functioning," says Clark, recognizing that hiring a student to do daily locker checks would only temporarily alleviate the problem while the department tackled the much more involved issue of replacing its lockers.
"We looked into the possibility of just replacing the locks, but we didn't just have an issue with locks," she says. "We had two issues: the hinges and the lock mechanism." Replacing the hinges was out of the question; they were inset into the side of the locker and would make it difficult to attach a different type of hinge. "It wasn't worth putting a new door and lock on them," adds Clark. "We needed to replace the entire enclosure."
Situations like that at the University of Houston tend to be rare, says Marcy Ream, vice president of sales and marketing at Canton, Ohio-based Digilock, stressing that the function of a locker necessitates durability. "Every company that makes lockers builds them to be tanks and to last as long as possible, because they are something you're going to put personal belongings in."
Problems will and do occur when the locker style is not suited to the environment in which it is placed. "You wouldn't want laminate in a locker room environment," says Steve Kistner, general manager of St. Louis-based locker manufacturer Spec-Rite Designs, explaining that high moisture levels could cause the material to swell and warp. "You want to look at not only the locker itself but the components of the locker," including things like locks, hinges and fasteners, he adds. "Those are going to be the things that will wear out or malfunction the quickest."
Even when the right model is selected for the job, lockers won't last forever, and if they did, a facility owner may have other reasons to want to replace them. Says Ream, "You're probably going to want to upgrade your lockers for aesthetic reasons before you have to do a whole lot of repairs on them."
While locker manufacturers stress the durability and longevity of their products, many styles are designed with retrofitting in mind, Ream says. "The bodies are built and the hinge construction is done such that the hinge can be popped and the door can be upgraded to a new style."
Reusing the existing body and hardware can save a significant amount of money over having to fully replace lockers. For example, says Kistner, "if an LA Fitness buys out a Lifetime Fitness, maybe all they really need to do is swap out the doors to a different color." Often, the old doors can be salvaged, as well. Used doors that have no issues other than simply clashing with the new décor can be a boon for other facility owners looking to save money or earn LEED points.
The savings go beyond material costs. "Usually you have a facility person on staff who can do that replacement rather than getting an outside contractor or installer to come in and do major renovation work," says Ream. "Also, depending on what building permits allow you to do, you can do it without having to turn that area into a construction zone."
Metal lockers, however, don't work that way. The construction of metal lockers usually involves a door that is welded or riveted onto the body. The connection creates a stronger hold, but it also takes more effort to remove the doors. From a labor standpoint, says Ream, it just makes more sense at that point to replace the entire set of lockers. But, she adds, "it's cheaper to pull out a whole room of metal and change that over than to upgrade the doors on a higher-end type of product."
Metal lockers also tend to be extremely durable, says Ream, who has worked with schools reusing metal lockers from the 1930s, updating them with a coat of paint. (See Design Details, p. 66.) "Metal can last a very long time," she says. "Wood can also last a very long time in the right facility. It depends on the priorities of the facility."
"We're looking for longevity in terms of maintenance and repair, and solid and sturdy hinge mechanisms," says Clark of the UH Recreation Department's priorities. Metal replacement lockers fit the bill and had been discussed, but the material wouldn't pair well with the rest of the facility's design. Moreover, the department also wanted a product that would help combat MRSA and other threats to user health.
"We're leaning toward phenolic," says Clark. "We recognize that the cost is higher, but that is a product that will give us 50-plus years and eliminate some of the health issues."
Clark has been working with different locker companies identified during a November visit to the 2012 Athletic Business Conference & Expo, weighing the pros and cons of each option in an attempt to avoid having the recreation center find itself in the same situation 10 years down the road.
Choosing locks is less of a commitment than the lockers they secure, given the ease of replacing them. "Changing out locks is not a difficult thing to do," says Ream. "Probably 30 percent of our business is lock replacement." While a variety of lock options are available, most lock manufacturers work with the same basic three-hole configuration. On a surface-mount locker, that means the locks can be switched out with relative ease, and even recessed locks can be easily replaced using a conversion plate to cover up whatever excess opening may be left due to design differences between the old and new locks.
Still, some locks are better suited to certain situations than others, depending on the type of facility and the users. As with metal lockers, Ream says, electronic locks don't like moisture.
The lockers at the UH Recreation Center utilize electronic locks, a feature that Clark plans to abandon in the next generation. "We were replacing batteries monthly, and in some of our high-use areas, we didn't feel like we were getting more than a month, a month and a half out of our batteries," she says. "That gets very costly when you start thinking about ongoing maintenance."
Instead, Clark is looking at lower-maintenance, dial-style locks that still allow students to select their own combination. "Our main concerns related to the lock mechanisms are durability and longevity," she says, "and we're looking for something that won't have us incur an additional cost by replacing batteries on a regular basis."
There is no such thing as an indestructible locker. Metal dents and scratches, wood can warp, some locks require new batteries, and all of these things should be expected as part of preventive maintenance to extend the life of a product. "Anybody putting in a locker system should always check with whoever is selling it," says Ream. "Get your cleaning and use instructions. Educate your users on what they should and shouldn't do, such as not overstuffing a locker, because that will break the locks and cause frames to bow."
And then pay attention, she adds. "Although your users should be using lockers properly, they are the ones who are going to cause the problems with them."
With proper care, even the most basic lockers should last at least 10 years, says Ream, while other models come with as long as a 25-year warranty. "I really believe that generally the lockers outlast the members' need for them. The small repairs that have to be made aren't going to be a big thing."
But when the small repairs become so frequent that someone must be hired to tend to them daily, it's time to move on. "So much of it is situation-dependent from a product standpoint," Ream says. "There are a lot of different drivers in terms of how much a facility can take on."