"It sucks to win silver." That's what American forward Natalie Darwitz told Joe Micheletti on MSNBC, minutes after Team USA lost the women's ice hockey gold medal to Canada last night, 2-0. As I heard those words, I was instantly compelled to flip back to NBC's Olympic coverage, just to catch a glimpse of what was happening there. Anything would be better than sour grapes.
The two goals scored in the game were as many as either team had given up all tournament. These longtime rivals were clearly the class of the field. I just wish Team USA had stayed classy to the end.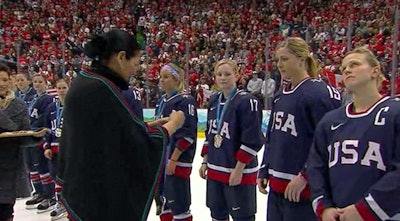 After Finland received its bronze medals, Team USA players, several of them fighting back tears, accepted their silvers as a chant of "USA! USA!" filled Canada Hockey Place. It may have started with American fans. Who knows? What was readily apparent, though, was that this vastly partisan Canadian crowd had enthusiastically joined in.
The medal-winning teams were lined up at ice level during the entire ceremony, but on the sportsmanship podium, Canada stood taller still.
UPDATE: Uh O Canada.
Turns out, once the cameras went dark and the stands at Canada Hockey Place cleared, the gold medalists returned to the ice in full regalia to smoke cigars and drink beer and champagne. According to an Associated Press report, one player even tried to drive the ice resurfacing machine.
"In terms of the actual celebration, it's not exactly something uncommon in Canada," Steve Keough, a spokesperson for the Canadian Olympic Committe told the AP.
Not uncommon, but perhaps illegal. Marie-Philip Poulin, the 18-year-old phenom who scored both of Team Canada's goals against the United States, was witnessed holding a beer. The legal drinking age in British Columbia is 19.
"I don't think it's a good promotion of sport values," Gilbert Felli, the International Olympic Committee's executive director of the Olympic Games, said of the celebration. "If they celebrate in the changing room, that's one thing, but not in public. We will investigate what happened."