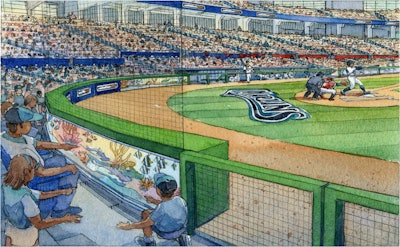 With home attendance in the tank for 2010, the Florida Marlins are pulling out all the stops when it comes to the fan experience in their baseball-only ballpark scheduled to open in 2012. Among the truly unique features in the retractable-roofed stadium's design are 600- and 450-gallon aquariums flanking the home plate area and serving as barriers between the field and the first row of seats. Predictably, it didn't take long for People for the Ethical Treatment of Animals to start giving the Marlins some barrier grief.
"Being exposed to the loud crowds, bright lights and reverberations of a baseball stadium would be stressful and maddening for any large animals held captive in tanks that, to them, are like bathtubs," wrote PETA executive vice president Terry Reiman in a letter to Marlins owner Jeffrey Loria. PETA, which has long protested the use of animal hides in sports, went on to suggest marine-life artwork or robotic fish as alternatives to the real thing. Tanks, but no thanks. "I hope to hear that you have decided to leave fish in the ocean where they belong," Reiman concluded.
"Designed and built in Ft. Lauderdale by the world's leading custom aquarium manufacturer, Living Color Enterprises Inc., the aquariums have been designed to utilize the latest cutting-edge technology and will incorporate unique features to ensure the safety and health of the many species of aquatic life that will inhabit them," reads a description of the displays on the Marlins' web site. "To safeguard the exhibits from unexpected impacts, Lexan - the material used in bulletproof windows - will be installed in front and in back of the acrylic panels to protect the aquarium from foul balls, errant pitches or any other unexpected contact."
What impact the spectacle of captive sea creatures will have on the Marlins' ability to captivate audiences is anybody's guess. They remain Major League Baseball's bottom feeders in terms of home attendance, drawing a reported 16,182 fans on average to Sun Life Stadium through 35 games this season. Though 2012 ticket pricing is not yet available, an aquarium view will certainly come at a premium price. For roughly half the cost of one ticket to a field-level seat behind home plate in Sun Life Stadium (sans aquariums), a family of four could visit Miami Seaquarium a mere 15 miles away.
Just don't let PETA find out you made the trip.