Today's lesson in turning lemons into lemonade comes to us from CNBC sports business reporter Darren Rovell.
Washington Nationals rookie pitching sensation Stephen Strasburg complained of shoulder tightness as he warmed up for his scheduled start on Tuesday night, and was scratched from the lineup. That left 40,043 fans - nearly half of whom, based on Nats' 2010 home attendance figures, would not have made the trek to Nationals Park had they known winless Miguel Batista would be taking the mound - feeling somewhat cheated, never mind that Batista wound up shutting out the Atlanta Braves, 3-0. As the winning pitcher put it, "Imagine if you go to see Miss Universe, then you end up having Miss Iowa."
Sensing the Nationals had dropped the ball in terms of public relations, as well as potential revenue generation, Rovell contacted two industry experts for their damage-control thoughts.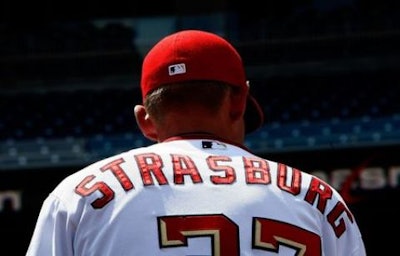 Bill Sutton, principal of Bill Sutton & Associates, a marketing and revenue enhancement consultancy, offered this suggestion: "I would have immediately given all fans two dollar food vouchers. As all teams know, nothing actually costs two dollars. I guarantee you their per cap concession spending would have gone through the roof." Conservatively estimating that half the fans in attendance would be induced by the vouchers to buy food they otherwise would have done without, and spending $3 out of pocket in the process, Rovell puts the lost revenue total at $60,000.
Moreover, Sutton added, "They missed the boat by not saying something like, 'We want to thank you for being here tonight and that's why if you bring your ticket to the box office, we'll give you $25 off any ticket plan for 2011."
In another attempt to drive future ticket sales, Tony Funderburg, president of the minor league River City Rascals, told Rovell that he would have offered fans the chance to redeem their July 27 ticket toward a special limited-edition T-shirt or other giveaway at a future Nationals game. According to Funderburg, "It costs very little money to make things that make fans happy."
Cheaper still, yet much more limited in its reach, Rovell's own idea would be to stage an impromptu Strasburg meet-and-greet with 50 fans on the field after the game, where a Nationals intern could take photos and gather e-mail addresses for photo distribution at no cost to the club.
"When you have 40,000 people coming into your stadium, you have to find a way to give them a hug, and the Nationals didn't do it," Sutton told Rovell. "The father and kid who dreamed all week long of seeing Strasburg pitch went home feeling deprived, and it didn't have to be that way, even when it was clear Strasburg wasn't taking the mound."