With a season-ticket promotion that takes the spirit of Minor League Baseball giveaways to a loftier level, the Milwaukee Brewers are sweetening the deal for fans who purchase or renew season ticket packages of 20 games or more for 2011. The team is providing opportunities to join Miller Park's grounds crew, take batting practice, operate the stadium's retractable roof, travel as part of the Brewers contingent to the 2011 MLB Amateur Draft and even run in the Klement's Famous Sausage Race.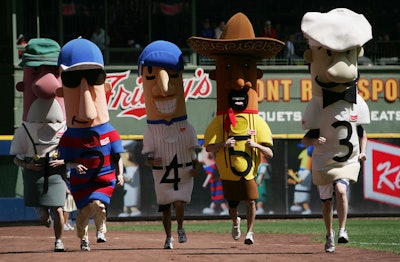 Each day between Jan. 17 and Feb. 25, one seat holder will be selected to win the prize designated for that day. The winner of the final day's drawing will sign a one-day Major League Baseball contract, complete with a full Brewers uniform and one day's pay at the league's minimum salary. "This has been an exciting off-season for Brewers fans, and this program is designed to reward our Season Seat Holders for their exceptional support," Rick Schlesinger, Brewers executive vice president of business operations, said in announcing the promotion - referring in part to the team's headline-making trade that brought Kansas City Royals ace and 2009 Cy Young Award winner Zack Greinke to Milwaukee in December. "Our goal was to come up with a promotion offering prizes and experiences that are priceless."
A complete list of prizes can be found here.