The adjusted graduation gap between NCAA Division I football players and the general full-time male student body continues to be sizable, particularly for Football Bowl Subdivision (FBS) conferences. That's among the numerous findings in the second annual installment of the College Sport Research Institute's NCAA Division-I Football Adjusted Graduation Gap report, released Thursday.
The introduced this first-of-its-kind report last year. The latest installment utilizes the published four-class average graduation rates for the 2000-2003 cohort (the most recent available) and removes data related to part-time students. The result is a comparison of how football players, who are also full-time students, stack up against the general full-time male student population. Overall, NCAA Division I football players graduated at a rate of 54 percent during that four-year period at the beginning of the new millennium - 13 percentage points behind the male student population at large. The gap is even greater when comparing FBS football players to FCS football players.
The problem is not limited to a few "football factory" schools, according to CSRI director and report co-author Richard Southall. Rather, it is pervasive throughout the FBS. Among the evidence cited in the report:
• Only two NCAA Division I football conferences - the Southwestern Athletic Conference and Mid-Eastern Athletic Conference - had positive adjusted graduation gaps. Football players from those conferences graduated at rates greater than the full-time male student body.
• For the second year in a row, the Pac-12 (formerly the Pac-10) had the greatest negative AGG, with Pac-12 football players graduating at a rate 26 points lower than full-time male students at Pac-12 universities.
• The top nine spots in the 2011 NCAA Division I Football AGG Report are all Football Championship Subdivision (FCS) conferences: SWAC, MEAC, Big South, Southern, Colonial, Northeast, Missouri Valley, Patriot League and Southland. The Big Sky Conference had the largest negative AGG (-22) of all FCS conferences, replacing last year's worst FCS conference, the Ohio Valley, which had a 4 point improvement in its AGG (-16).
• Eight of the "Bottom Ten" spots are held by FBS conferences: Sun Belt, Mountain West, Big 12, Southeastern, Western Athletic, Atlantic Coast, Big Ten and Pac-12. The Big East and Conference USA had the smallest FBS AGGs (-14).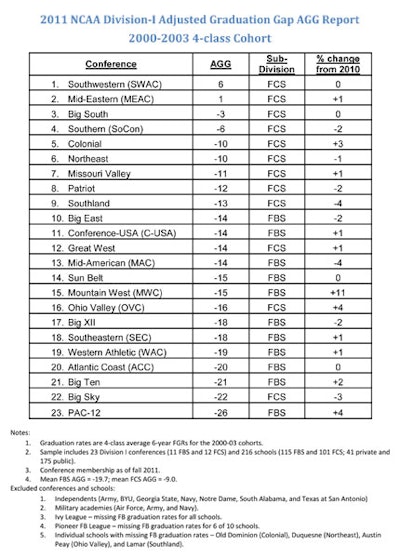 Click here to see PDF.
The graduation rate disparities reflect two main issues, Southall says. First, FBS football players are more likely to be "special admissions." It is speculated that a sizable portion of FBS football players enter college with academic preparation, abilities, and/or interests different from other full-time male students at their respective institutions. Second, football players also make significant time commitments to their sport, particularly during the fall term. The NCAA reports FBS football players' time commitment, including travel, is comparable to that of a 40-hour work week.
"Being a football player at the FBS level is - in everything but name - a full-time job," Southall said in a statement. "Being a full-time student also requires a 'full-time' commitment. Regardless of whether these players have access to expensive academic-support services, study halls and an army of tutors, there are only 24 hours in a day. When faced with this situation, the AGG reveals many college football players struggle to graduate at rates comparable to their fellow full-time male students."
CSRI now plans to use its AGG analyses to examine how such factors as socioeconomic status, educational background and sociocultural demography may contribute to football players' negative graduation gaps.