Spread of Knowledge
Another packed lineup of educational seminars fed ABC attendees' desires for everything from new programming ideas to maintenance solutions, and staff management tips to facility design considerations. Popular among attendees were sessions on social media and technology, including Chris Yandle's "Building a Social Media Strategy for College Athletics." Yandle, assistant director for communications and public relations at Georgia Tech, began his lively presentation by driving home this important fact: social media is not a one-person show. It requires a team; in this case, members from the university's public relations, marketing, ticket sales and customer service departments, to name a few.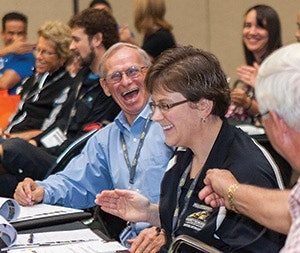 Yandle also tackled one of the most common questions in regard to social media management: how to effectively measure ROI. The common thought is likes and/or followers, but as Yandle put it, "your followers and likes don't mean anything." Ultimately, it's whether or not you achieved the strategy you laid out prior to diving into the social media world, such as increased ticket sales.
Perhaps less savory than putting together a social media strategy but still high on attendees' radar were seminars on safety and security, such as "Emergency Preparedness: Planning For An Active Shooter," led by University of Houston campus recreation directors Kim Clark and Rachel O'Mara. Clark and O'Mara offered advice to help campus rec leaders improve their emergency action plans and also shared their personal experience with putting their own action plan into play — the night they got a call that there was a shooter in their rec center.
It started at 10:08 p.m. on Nov. 12, 2012, when a call of "Code Red" went out. Over the next two hours, Clark and O'Mara dealt with a variety of challenges, which included false media reports and incorrect student social media posts. Though the incident turned out to be a false alarm, it provided invaluable insight for the department, as well as ABC attendees.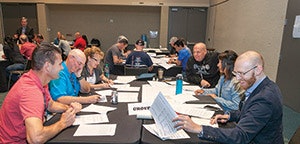 Working overtime
For those looking to delve a little deeper during their time at ABC, the preconference workshops on Wednesday delivered. Hastings & Chivetta Architects reprised its popular interactive session on facility design, "Designing Your Dream Facility: Survival of the Fittest." Following a brief introduction, attendees were divided into groups, assigned new identities to represent various project stakeholders and given a set of guidelines — including budget, size and program priorities — and the tools needed to design a collegiate recreation facility. Hours of collaboration and deliberation ended with creative designs, unusual solutions, and of course, budget overages. A notable feature nearly each solution included that was absent from the original guidelines? "Room for future expansion."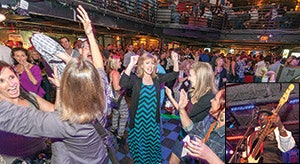 New this year, the architects at RDG Planning and Design presented the results of a survey conducted this fall on recreation facility use in their workshop, "Recreation: Past, Present and Future." The session focused in large part on attendees' predictions for the future of fitness, which were written on notecards and posted on a timeline for all to see. Among the group's predictions was the idea that by 2025, fitness equipment would record all of an individual's movements and be tied to insurance rates.
"Three hours flew by, mostly because our participants were so engaging," says RDG's Jack Patton. "They were very interested and conversant on all the topics and research we presented. We are ready to do this again … soon."
 
Song and Dance
ABC has established a reputation for hosting outstanding welcome receptions, but this year's reception at BB King's Blues Club was one for the books. The BB King All-Star Band put on an incredible show, with their infectious energy drawing a huge crowd to the dance floor.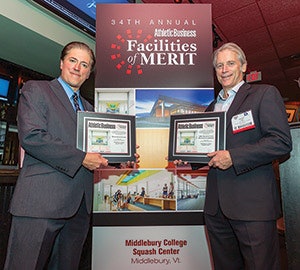 A Reception of Merit
This year's Facilities of Merit winners gathered at Marlow's Tavern on Friday night to toast their successes with signature cocktails and top-notch hors d'oeuvres. Not all honorees were able to make the event, but luckily, AB editor Dennis Van Milligen was happy to stand in, as he did for the representative of Middlebury College in a photo with ARC/Architectural Resources Cambridge's Phil Laird celebrating the success of the new Middlebury College Squash Facility.
 
In Good Company
Like his own approach to business publishing, ABC 2014 keynote speaker Bill Taylor told a packed audience that it's not enough to do a little bit better the things that others are already doing. True separation in today's business world requires innovation — looking at what's already being done in a completely different way.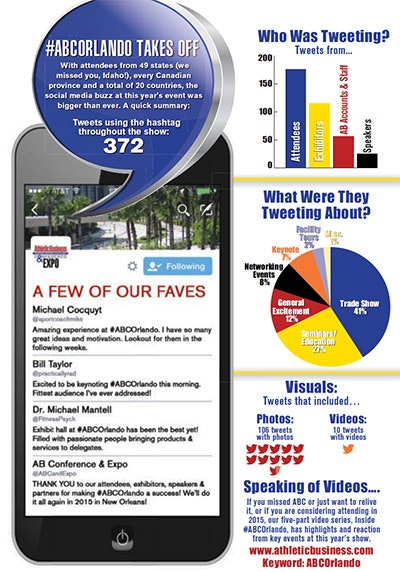 To illustrate his point, the founding editor of Fast Company magazine highlighted the business model of Cirque de Soleil. Recognizing that one of the largest expenses of any traditional circus is the purchasing, housing, feeding and health care of animals, Cirque's visionaries saw a circus experience involving only human talent — a decision that cut operational costs by 40 percent. Moreover, emphasizing the ensemble cast over individual, high-salaried circus stars cut an additional 20 percent of overhead, which boosted Cirque's profit prospects immediately upon its 1984 launch.
In 2014, the entertainment giant boasted revenues of $1 billion, having sold 10 million tickets in 25 countries.
 
A Walk in the Park
If Haines City is "The Heart of Florida" — as the official slogan goes — then look no further than its 30-acre recreation campus, opened in 2009, for a pulse. More than a thousand users flood the park's play areas, tennis and basketball courts, and lakeside green spaces on a daily basis, and the beat goes on well into the night. A band shell serves as centerpiece to 10 to 15 special occasions annually, including the time the city set a world record for the number of simultaneously lit sparklers, and an elegant banquet facility hosts roughly 130 events (weddings mostly) each year at $1,785 per eight hours of access.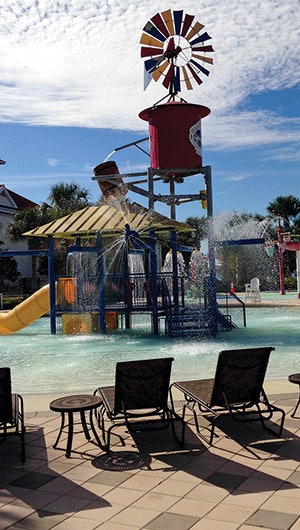 Few areas in the park are more popular than its aquatics facility. A lap pool, used by two high school swim teams, is separated by shaded picnic tables from a water play structure complete with dump bucket, slides and sprays. The aquatics area's capacity of 251 is met 15 minutes after the gates open at noon, and misters are used to keep cool the 100 or so patrons waiting their turn outside. Holders of season passes ($50 for individuals, $100 for families up to five) go to the front of the line, and the facility can be rented for two hours at a time for $390 (including lifeguards). The city's aquatics profits have soared to $500,000 annually from the $70,000 generated by two city pools 15 years ago. Not only is the facility popular among residents of Haines City (population 21,000), it draws patrons from as far away as Tampa (60 miles to the west).
"No one chooses to live in a city because of its exceptional police and fire departments," tour guide Gordon Broadhead, recreation supervisor for Haines City Leisure Services, told ABC attendees in justifying Haines City's roughly $25 million investment in 2009. "Police and fire save lives. Leisure services makes life worth living."
 
A Magic Afternoon
Attendees who toured the Amway Center in downtown Orlando got an inside look at the now four-year-old home of the NBA's Orlando Magic and its extensive variety of retail and hospitality spaces, each offering a different fan experience — from the elegance of fine dining to the cartoonish whimsy of a kid-centric store.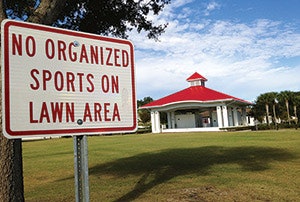 Merchandise is available on two of the building's five levels, in no fewer than 14 retail outlets. In addition, 16 hospitality spaces range from a courtside club sponsored by a high-end auto dealership to upper-level outdoor terraces, with some spaces available for rent when the arena is otherwise dark.
When the building fulfills its true purpose, events in any given year can take the form of 45 basketball games, 36 hockey games (Amway is home to the East Coast Hockey League's Orlando Solar Bears) and between 25 and 30 concerts. The facility also hosted the 2012 NBA All-Star Game and second- and third-round games of the 2014 NCAA Men's Basketball Tournament.
 
Together, Defining What's Next
ABC next visits the popular party destination of New Orleans, offering attendees a veritable jambalaya of educational and social opportunities. Those who joined the ABC fun in NOLA in 2012 know this is a "can't miss." Mark Nov. 19-21 on your calendar today.