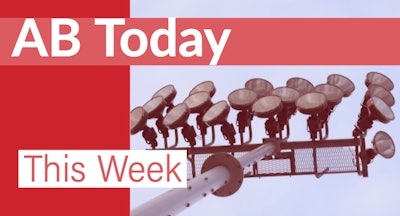 Happy Friday, and happy first day of fall!
Here's a look at all of the stories that really caught the eyes of AB's editorial team this week:
We began announcing the outstanding facilities that earned our 2017 Facilities of Merit awards this week.
Check out each of these cool 'glideshow' presentations we put together for each facility for photos, comments from judges, facility info and more.
Kline Athletic Center, Dickinson College
Aqua Sports & Spa, Tokyo, Japan
Merrimack Valley YMCA, Andover, Mass.
Roberts Pavilion, Claremont McKenna College
Great Plains Recreation Center, Calgary, Alb.
This is only half of the list! Check AB Today next week as we continue to reveal this year's award winners, and view past winners here.
Now, to the news highlights...
Elsewhere on the internet…
Have you checked out the Ultimate AB Workout Playlist yet? It's an eclectic mix of top tunes submitted by you, our readers, and it's a great companion for your next sweat session. Check it out, and contribute your own song here. We're continually accepting contributions, so keep 'em coming!
Did we miss anything this week? Email me with news tips and story ideas: jason@athleticbusiness.com