The new home of Terrapin football at the University of Maryland College Park — Jones-Hill House — will open June 14.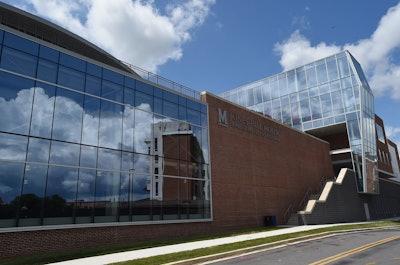 The state-of-the-art facility in Cole Field House upgrades the student-athlete experience with a 24,000-square-foot strength and conditioning area with 22 custom weight racks that include Perch video technology to capture reps and speed of movement and facial recognition software to track student-athletes. Custom flooring from PLAE includes 40 yards of turf where the athletes can do speed development, acceleration and plyometric work. Each of 126 lockers in the locker room features a recliner with ottoman, a custom turtle shell wireless phone charger and vents in all storage spaces to cool and dry clothing and equipment. Lighting in and around the lockers is controlled via app. The sports medicine space — triple the size of the previous area — offers hydrotherapy pools and two 45-foot plunge pools. — TestudoTimes.com
Cornell College celebrated a virtual groundbreaking for its $19.5 million renovation and expansion of the new Richard and Norma Small Athletic and Wellness Center in Mount Vernon, Iowa. Designed by Milwaukee-based design firm Kahler Slater, which is partnered with Mortenson, the project includes a new wellness and fitness center, renovated locker room facilities, an expanded lobby, classrooms, and a 20-yard functional fitness turf area.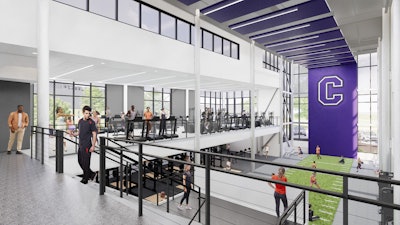 Scheduled to be completed in fall 2022, the renewed Richard and Norma Small Athletic and Wellness Center will become a vital hub of campus life. It will also support Cornell's work to recruit new students, enhance athletic programs, and secure competitive events. — Kahler Slater
Auxiliary gymnasium and weight room update. June 1st. pic.twitter.com/8midNbwkCo

— Chelsea Athletics June 1, 2021

In Chelsea, Mich., a new auxiliary gym and weight room for the Chelsea High School are under construction. The new Chelsea Bulldogs gym will feature two practice basketball courts, a competition court and a 6,500-square foot weight room, which will provide more space for the school district's athletic teams and the community. The new facility is slated to open for the 2021-2022 school year. — Mlive.com