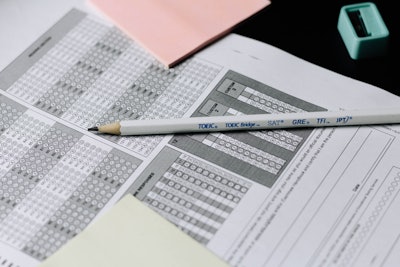 The NCAA Standardized Test Score Task Force recommended that initial-eligibility standards for high school students preparing to play Division I or II sports no longer include a standardized test score requirement.
The recommendation comes after nearly six months of work by a group representing both divisions and led by David Wilson, president at Morgan State.
"This work reflects the NCAA's commitment to continually reviewing our academic standards based on the best available data and other relevant information," Wilson said. "We are observing a national trend in NCAA member schools moving away from requiring standardized test scores for admissions purposes and this recommendation for athletics eligibility aligns directly with that movement."
The task force was formed as a result of the NCAA's eight-point plan to advance racial equity. Reviewing initial-eligibility requirements, particularly the SAT/ACT score component, was a significant part of that plan.
Throughout its work, the task force engaged several groups for feedback, including governance groups, the Knight Commission on Intercollegiate Athletics, the National Association for College Admission Counseling and the testing agencies, specifically the College Board and ACT. The group also surveyed Division I and II membership for additional input.
This input, as well as data presented by NCAA research staff and external bodies, helped inform the group's recommendation.
The Division I Committee on Academics and Division II Academic Requirements Committee will consider the recommendation at their next meetings in February 2022. Any potential changes to initial-eligibility requirements must be reviewed through the legislative process in each division.