Source: S.R.Smith
S.R.Smith has just launched a new series of commercial grade, 316 stainless steel pool deck equipment anchors that will help extend the life of pool deck equipment.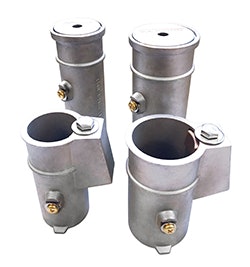 Marine grade stainless steel provides high corrosion resistance from harsh weather and pool environments. In addition, stainless steel rail goods will benefit from affixing to stainless steel anchors as similar metals are more compatible with each other. Dissimilar metals tend to experience galvanic corrosion which can cause discoloration. S.R.Smith manufacturers a comprehensive line of ladders and rail goods, as well as other commercial swimming pool deck equipment including starting blocks, lifeguard stands, diving boards, slides and ADA compliant pool lifts. For more information visit srsmith.com or call 800.824.4387.
About S.R.Smith
S.R.Smith is the worldwide leader of residential and commercial pool deck equipment. Founded in 1932, S.R.Smith is headquartered in Canby, Oregon with additional manufacturing in Portland, Tennessee and Queensland, Australia. S.R.Smith products are featured on some of the finest pools around the world. For more information, visit srsmith.com.