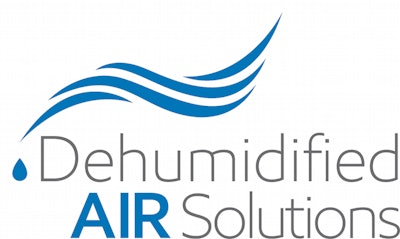 Source: Dehumidified Air Solutions (DAS)
New Ownership of the HVAC industry's top three dehumidifier brands, Seresco, Dectron and PoolPak takes the dehumidification industry to a whole new level
Buffalo, N.Y. -- Specified Air Solutions (SAS), a leading manufacturer of semi-custom HVAC equipment, announces the formation of two new divisions, Dehumidified Air Solutions (DAS) and Dehumidified Air Services (DASV) that will create a new and unprecedented level of indoor pool dehumidification design, manufacturing and equipment service in North America.
SAS acquired the three leading indoor pool mechanical dehumidification brands of Dectron®, PoolPak® and Seresco® in the last 18 months and now operates them under DAS.
While Dectron, PoolPak and Seresco will continue to operate as three distinct brands, each going to market through their separate sales representative networks, all three brands will benefit from the resources, scale and expertise that DAS brings to the marketplace.
"With the combined strength, shared services and market resources of the dehumidifier industry's top three brands, DAS is positioned to deliver trouble-free, state-of-the-art, indoor pool dehumidification systems and services that are unprecedented in the HVAC industry," said Charley Brown, CEO/President, SAS.
The formation of DAS brings, according to Brown: more than 85 years of combined expertise in dehumidification; the largest product offering in the industry; the best-in-class design and selection software, and the creative and engineering resources for future innovations that will drive the market. Architects, engineers, contractors and end-users can rely on DAS to solve the challenges associated with natatorium construction and retrofit design.
Another ongoing challenge of the dehumidification industry has been post sale service, maintenance and support. DASV now solves this critical issue by combining and aggressively expanding the service and technical support teams of all three dehumidifier brands to create a single national network of highly trained, factory-direct service personnel capable of servicing every region of the country from a local office. DASV will support and augment the existing service divisions of DAS's authorized manufacturer representatives.
DASV will also expand the use of its proprietary WebSentry® Internet monitoring control systems to further differentiate the DAS brands and amplify their service and remote trouble-shooting capabilities. WebSentry's ability to remotely monitor, record analyze and report on over 100 critical dehumidifier functions in real-time, as well as sending trouble alerts that prevent major problems from occurring, is an industry game-changer. WebSentry also gives DASV the capability to fine tune and analyze dehumidifier performance remotely, and adjust parameters to ensure optimal equipment performance without the need for an in-person service visit.
DAS and DASV take the indoor pool dehumidifier industry to a whole new level in a way that no single manufacturer could have done, according to Brown. This provides Seresco, Dectron and PoolPak customers with an incomparable level of equipment value, after sales support, and value-added services.
For more information, please visit www.DehumidifiedAirSolutions.com; or email: SteveMacDonald@DehumidifiedAirSolutions.com; or call (716) 852-4400.
About Dehumidified Air Solutions: DAS, Buffalo, N.Y., is the leading manufacturer of indoor pool dehumidifiers in North America. DAS is comprised of three unique brands of Dectron, PoolPak and Seresco, which are all strengthened by shared services. DAS is a division of Specified Air Solutions (SAS), a market-leading manufacturer of semi-custom commercial and industrial HVAC equipment with multiple brands in a wide variety of HVAC end markets including heating, dehumidification, dedicated outdoor air and cooling. SAS is a portfolio company of The Sterling Group, a Houston-based middle market private equity firm.