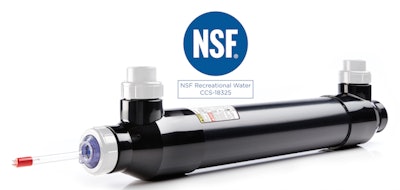 SOURCE: Pentair
SANFORD, N.C. – April 10, 2018 −Pentair today announced its popular BioShield UV System received NSF approval to CCS (Component Certification Specification) # 18325, as a water conditioning device suitable for chloramine reduction in most commercial swimming pool applications.
The Pentair BioShield UV System delivers a reliable solution to help maintain a safe and efficient pool operation. The product's advanced engineering provides clean water and air conditions that help ensure a safe and healthy swimming environment. For example, the BioShield low-pressure UV lamp offers up to 12,000 hours of continuous operation and reduces chlorine usage by up to 50% while eliminating chloramines to improve the air and water quality of aquatic facilities. In addition, the unit provides instant and ongoing protection against chlorine-resistant microorganisms such as Giardia and Cryptosporidium.
"We are pleased to now offer an affordable, dependable UV product that is approved for use in hotel, motel, apartment, condo or HMAC aquatic complexes and will help to safeguard pool environments," says Ken Gregory, director of compliance and safety, at Pentair.
To earn NSF approval under CCS-18325, Pentair's BioShield UV underwent rigorous testing and evaluation to verify the product met requirements for use in treating pool water. The BioShield UV is certified as a Water Conditioning Device and was not evaluated by NSF for supplemental or secondary disinfection. NSF International also audited Pentair's manufacturing facility to verify compliance to the standard requirements. As a result, Pentair's BioShield and related marketing materials can now bear the NSF CCS-18325 approval mark and are listed on NSF International's website. NSF works closely with state, local and national regulatory authorities to gain recognition and acceptance for the NSF mark.
For more information, please call 800-831-7133, link here to view product information or visit www.pentaircommercial.com.
About Pentair Aquatic Systems (commercial division)
Pentair Aquatic Systems provides leading edge equipment, accessories and water technology solutions to the swimming pool, aquaculture and environmental water monitoring industries. Aquatic Systems produces a broad line of products from pumps and filtration equipment to thermal products, automated controls, lights, automatic cleaners, water purification and treatment technology, UV sterilizers, electromagnetic flow meters, irrigation controls, and more. Applications for Aquatic Systems products include maintenance, repair and renovation of existing in-field equipment, as well as planning and engineered solutions for new installations in North America, Europe, and emerging markets such as China, Latin America and other countries.
About NSF International
NSF International is a global independent organization that writes standards and protocols, and tests and certifies products for the food, water and consumer goods industries to minimize adverse health effects and protect the environment. Founded in 1944, NSF is a Pan American Health Organization/World Health Organization Collaborating Center on Food Safety, Water Quality and Indoor Environment.
ABOUT PENTAIR PLC
Pentair plc (NYSE: PNR) is a global company dedicated to building a safer, more sustainable world. Pentair delivers industry leading products, services and solutions that help people make the best use of the resources they rely on most. Its technology moves the world forward by ensuring that water is plentiful, useful and pure, and that critical equipment and those near it are protected. With 2017 revenues of $4.9 billion, Pentair employs approximately 18,400 people worldwide. To learn more, visit www.pentair.com.