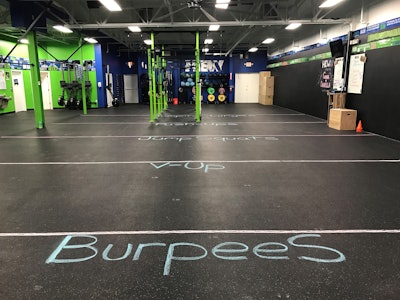 PINECREST, FL – (May 2018) – "It's Not Complicated, Hard Exercise Works" is what the newest fitness franchise coming to Miami believes. Downtown Dadeland is pleased to announce Hard Exercise Works (HEW) has signed a lease at the revitalized urban lifestyle center. Slated to open early 2019, HEW will occupy over 3,800 square feet and will be the franchise's first location in Miami-Dade County. HEW simply believes that as with anything in life, hard work is what gets your results. Hard Exercise Works combines endurance, strength and bodyweight training to give you a quick, fat burning, muscle building, high intensity workout like nothing you have ever experienced before.
"We believe HEW is more than a gym, we are a community," said Justin Ziegler, owner of HEW. "We are thrilled to continue spreading our approach to fitness and share our passion for healthy living with the Miami market."
HEW joins Downtown Dadeland's growing roster of fitness tenants, which includes Corpo Yoga Studio and Orangetheory Fitness. The specialty studios at the 127,635-square-foot center focus on creating unique and dynamic experiences that reinvent the concept of working out. The HEW model will complement the existing fitness options at Downtown Dadeland and will further establish the center as a lifestyle destination.
HEW members start with a structured program to help really set the tone for their fitness journey. The HEW franchise has a programming team that creates a completely new routine every day to constantly confuse the body, which is critical to improving fitness and avoid plateauing. The gym ensures that members never experience the same workout twice, combining a wide range of moves including: Rope climbs, kettle bell swings, sprinting, pull-ups, squats, rowing, deadlifts and burpees to name a few.
The creators of the HEW concept believe that working really hard for a short period of time will yield you the same physical results as working moderately hard for a longer. Manny M from the Coral Springs location says HEW is "always challenging, never easy or boring. My favorite fitness concept, bar none." The innovative gym emphasizes the importance of hard work and creating a community of likeminded-folks to achieve fitness goals and gain confidence in the process. The fitness franchise has locations in three states and continues growing.
"With each new tenant, we strive to bring to our customers a new, memorable experience," said Shane Hillsley, Managing Director of Rosehill Group. "We trust the residents in our surrounding communities will be impressed by HEW's unique and proven approach to exercise."
Downtown Dadeland has been undergoing a major transformation since Rosehill Group took over the center in 2014. Rosehill Group is a fully integrated, private commercial real estate investment company created by the principals of Duncan Hillsley Capital and Pebb Capital.
Located on 7250 North Kendall Drive, Downtown Dadeland offers a fresh urban vision, bringing together dining, shopping, and health and fitness establishments to create a dynamic and vibrant destination. Valet parking, street parking and underground parking are available. Parking is free with retailer validation.
For leasing information, please contact Rafael Romero at rromero@crec.com, or Steven Henenfeld at shenenfeld@crec.com, or visit www.downtowndadeland.com/leasing-opportunities/.
About Downtown Dadeland
Downtown Dadeland is an inventive town center consisting of residences, office space, retail and restaurants. Located directly across the street from the highly successful Dadeland Mall, Downtown Dadeland presents a strong mixed use presence in one of the South Florida's most fervent retail areas. This innovative complex encompasses over 127,635 square feet of retail space and is home to world class dining and shopping accessible by pedestrian friendly walkways and courtyards along with an abundance of complimentary parking available in the underground parking garage. Dadeland's optimal location adjacent to one of Metrorail's busiest stations and immediate proximity to neighborhood office, retail and hotel facilities guarantee a steady influx of foot and vehicular traffic to the center. Downtown Dadeland also offers a fresh, urban living experience with a unique metropolitan feel. The exceptional values found at Downtown Dadeland make this refreshing life attainable to a wide array of young professionals and families, offering a luxurious, convenient lifestyle at an affordable price. All of this makes Downtown Dadeland a very attractive venue in a well-established and bustling suburban neighborhood.