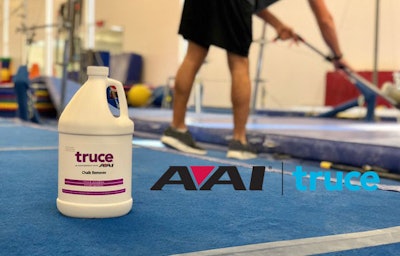 SOURCE: American Athletic Inc.
May 23, 2019 – Imagine a gym where all the mats are chalk-free and the balance beam color was truly suede instead of a powdery white. Then realize it all happened without a lot of effort or the use of harsh chemicals. Seems like a dream to most club owners, but American Athletic, Inc. and Truce have joined forces to make this a reality.
"There are a lot of cleaners in the market that say they can clean chalk off of mats and equipment," said Steve Cook, National Sales Manager for AAI. "Those products still leave a residue and a white chalky look to the surface. They also have a strong smell you wouldn't want to use in a gym. The products made by Truce really work and are safe to be used around kids, so the partnership was a no-brainer for us."
Truce values the health of all families and prides themselves on supplying products with less chemicals making a more sustainable environment. Their vision is that every place is clean, while using safe products, making healthier surroundings for everyone. Partner that with AAI's long tradition of providing quality equipment to gyms across the world who need a product to clean and help maintain their equipment, results in a win-win for everyone!
"Most companies like ours are not required to list their product contents," says Matthew Witenstein, Director of Business Development for Truce. "We have nothing to hide, so we list all the ingredients right on our website. No matter what type of facility you run, you take pride in ensuring the safety of your families, coaches & employees. Now you can enjoy peace of mind while getting the job done with AAI & Truce products."
The partnership will allow gym clubs to purchase the all-purpose or mat cleaner from AAI or through their dealer network. The products will help clean their facilities and maintain the equipment they use on a daily basis. Be on the lookout for tutorials, samples & promotions at the Regional and National Coaches Congress!
About American Athletic, Inc.
Since 1954, American Athletic, Inc. has been manufacturing world-class gymnastics equipment. Headquartered in Jefferson, Iowa, the company operates three facilities totaling over 240,000 square feet and employs about 100 people. AAI is the official supplier and partner to USA Gymnastics and is proud to partner with the Federation Internationale De Gymnastique (FIG) and National Collegiate Athletic Association (NCAA). For more information on AAI, please call (800) 247-3978 or visit www.americanathletic.com.
About Truce
Since, 2008 Truce has been producing a safe, simple and effective family of cleaning products that are derived from traditional, familiar ingredients. Headquartered in Tempe, Arizona, the company is part of a co-working warehouse space, MAC 6, that is comprised of 25 local companies. Truce is an official supplier of USA Weightlifting and American Athletic, Inc. For more information please call (833) 971-0187 or visit https://trucebusiness.com.