MINNEAPOLIS, Minn., June 1, 2021 – Trex Commercial Products, a leading national provider of architectural railing systems, is about to become part of Olympic history thanks to its involvement in the recent renovation of Hayward Field in Eugene, Oregon. The renowned University of Oregon facility is set to host this month's Olympic Track and Field Trials.
"It is truly an honor for our name to be spoken in conjunction with the Olympics," said Laura Rygielski Preston, president of Trex Commercial Products. "We are proud to be a small part of such a monumental event, and we hope spectators appreciate the unobstructed sightlines and breathtaking views of the surrounding hillside made possible with our railing."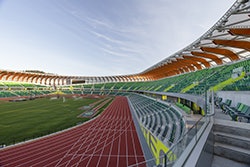 Home to the University of Oregon's track and field team for nearly a century, Hayward Field is considered to be among the sport's most hallowed ground in the U.S. The illustrious facility offers athletes an unparalleled stage to push their limits, while also providing the ultimate fan experience. The newly renovated landmark features a nine-lane track, comfortable seating, robust in-stadium amenities, and facilities for training and sports medicine.
Doubled in capacity from 10,500 to 25,000 seats, the world-class arena still offers an intimate setting positioning spectators on top of the action with the first row just mere feet from the outside lane. Fans seated in the upper and lower bowls can cheer on their favorite athletes while enjoying clear views of the field and the breathtaking surrounding scenery, courtesy of Trex Commercial Products' custom engineered railing. More than 15,000 linear feet of aisle, glass, cable and drink rail are featured throughout the interior and exterior of the arena, complementing the open and airy design of the structure.
"We are extremely proud of the work we put into this project, and we are eager to see fans interact with it as they watch competitors from around the country compete for a chance to represent the United States at the Summer Games in Tokyo," added Rygielski Preston.
As one of the premier track and field facilities in the world, Hayward Field is not only home to the Oregon Ducks but has also hosted nine NCAA championships, five Olympic Trials and six national championships. In 2022, the World Athletics Championships will be front and center in Eugene – the first time they will have ever been held in the U.S. In addition to its state-of-the-art amenities, the newly renovated landmark features a baton-inspired tower designed to "tell the story of the first 100 years of Oregon track and field," along with an iconic wood roof that pays homage to the state's history and forest lands.
To learn more about Hayward Field, visit https://hayward.uoregon.edu. For more information about Trex Commercial Products, visit www.trexcommercial.com.
# # #
About Trex Commercial Products
Trex Commercial Products is a national leader in architectural railings for commercial applications. Since 1990, the company has been committed to elevating the abilities of all people to safely access and enjoy amazing life experiences, while building an industry-leading reputation for quality and customer service. Based in Minneapolis, Trex Commercial Products, Inc. is a subsidiary of Trex Company, Inc. To learn more, visit www.trexcommercial.com.
About Trex Company, Inc.
Trex Company is the world's largest manufacturer of high performance wood-alternative decking and railing, with nearly 30 years of product experience. The #1 brand in outdoor living is proud to be to Fortune magazine's 2020 list of the world's 100 Fastest-Growing Companies and to Forbes' 2021 List of America's Best Mid-Sized Companies. Stocked in more than 6,700 retail locations worldwide, Trex outdoor living products offer a wide range of style options with fewer ongoing maintenance requirements than wood, as well as an environmentally responsible choice. For more information, visit trex.com. You also can follow Trex on Twitter (@Trex_Company), Instagram (@trexcompany) Pinterest (trexcompany), or Houzz (trex-company-inc), "like" Trex on Facebook, or view product and demonstration videos on the brand's YouTube channel (TheTrexCo).